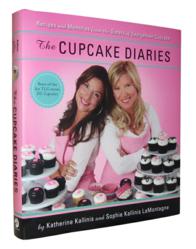 San Francisco, CA (PRWEB) October 31, 2011
THE CUPCAKE DIARIES is a delightful memoir with recipes by the sisters and stars of the hit TLC series DC Cupcakes. Katherine Kallinis and Sophie Kallinis LaMontagne inspire readers with their recipe for success: equal parts determination, smarts, and the belief that if you do what you love, you can't fail.
When Katherine and Sophie took a leap of faith and quit their secure jobs in fashion and finance to open a small cupcakery together, they knew they were risking it all. But from an early age, their Greek grandmother Babee instilled in them a love of baking and a fire to follow their dreams. From the moment they opened the doors to Georgetown Cupcake, crowds have been clamoring for their sweet, wholesome treats and they sell as many as 10,000 cupcakes a day. And for two seasons, fans have been following their escapades—including making a giant gorilla, a slot machine, and a wedding gown out of cupcakes—on the hit TLC series, DC Cupcakes.
Georgetown Cupcake's meteoric rise is the realization of a dream rooted in the special bond that Sophie and Katherine formed with each other from childhood. THE CUPCAKE DIARIES (HarperOne; hardcover; $23.99) is a tribute to that bond, the memories they share, and the important lessons they learned, both about baking and about life. The book follows their personal journey that started in their grandmother's kitchen years ago. Arranged by season, the Kallinis sisters reveal secrets of their business success and include over 30 delicious recipes including their bestselling red velvet cupcake and their Grandmother's delicious Greek Easter bread.
Cover to cover, recipes, tips, heartfelt stories, and gorgeous photography burst from every page. THE CUPCAKE DIARIES is a celebration of what it takes—luck, courage, family support, and determination—to go from dreaming to doing.
Among the many celebrity fans of the cupcakes are:
Sasha Obama, who had her tenth birthday party at Georgetown Cupcake
Kim Kardashian, who loves the cupcakes so much she had them at both her wedding shower and also gave them away as gifts to her wedding guests
Nancy Pelosi, John Kerry and so many other members of Congress that the store delivers to Capitol Hill daily
LeBron James, who stopped in for a dozen red velvet cupcakes and tweeted about it
About the Authors
Katherine Kallinis and Sophie Kallinis LaMontagne are the stars of TLC's DC Cupcakes. They opened Georgetown Cupcake on Valentine's Day 2008, and since then their cupcakes have won numerous awards and high praise from the likes of Oprah Winfrey and Martha Stewart. Katherine's favorite favor is a toss-up between Peanut Butter Fudge and Salted Caramel and Sophie's favorite flavor is Chocolate Hazelnut.
Visit the authors online: The Cupcake Diaries | http://www.tlc.com/dccupcakes | http://www.georgetowncupcakes.com
And watch the upcoming TLC DC Cupcake specials:
DC Cupcakes: My Sweet Wedding Premieres Friday, November 11 at 10 PM ET/PT on TLC

Sisters and owners of "Georgetown Cupcake," Sophie and Katherine take on their biggest project ever - Katherine's wedding! While the bride-to-be is distracted by all the decisions she must make for her California wedding, Sophie does the heavy lifting in the store on top of planning several surprises as matron-of-honor. Katherine has no idea what Sophie is cooking up for her – an elaborate bridal shower in Toronto, an ambush bachelorette party in DC and the biggest, sweetest cupcake creation ever for her wedding day. But the stress and strain of planning takes its toll on both sisters, and it's a fight to the finish to get Katherine down the aisle in the dress of her dreams for the night of her life. For additional show information, visit http://www.tlc.com/dccupcakes.