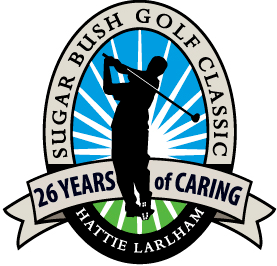 On May 23, 2012, Hattie Larlham will host the 26th annual Sugar Bush Golf Classic presented by The Middlefield Banking Company at Sugar Bush Golf Club. This annual tournament raises funds for Hattie Larlham while offering golfers a day of enjoyment on one of Northeast Ohio's most beautiful courses.
The local celebrities in attendance will include Bill Wills, co-host of WTAM 1100's Wills and Snyder, and Bob DiBiasio, vice president of public relations for the Cleveland Indians. Former Cleveland Indians Manager Mike Hargrove is also expected to participate.
Both morning and afternoon tee times are available. Single-entrant registration costs $125 and team registration for a group of four costs $500. The deadline to register is May 12, 2012.
An awards presentation and meal will follow both the morning and afternoon rounds.
As part of the tournament experience, Hattie Larlham is offering participants a Golfer's Play Package for an additional $25. The package gives golfers two mulligans, two chances to 'Hit the Circle' on a Par 3, one chance to 'Guess Your Drive', a spot in the putting contest and two celebrity shots.
There will also be a raffle, with tickets available for $10 each or in sets of three for $25. The raffle's grand prize is $1,500 cash. Second prize is a golf package for four at Barrington Golf Club, and third prize is a Hattie's Café & Gifts gift basket.
The Middlefield Banking Company is the presenting sponsor of the tournament. Other sponsors include Cleveland Indians Charities, Medical Mutual, Printing Concepts and the Fraternal Order of Eagles #2436.
The Sugar Bush Golf Club makes the event possible each year by donating the labor of the staff members and the use of the course at no cost to Hattie Larlham.
The Sugar Bush Golf Club is located at 11186 State Route 88 in Garrettsville, Ohio.
For more information, and to register, contact Helen Herold at 330-274-2272, ext. 3069 or visit www.hattielarlham.org.