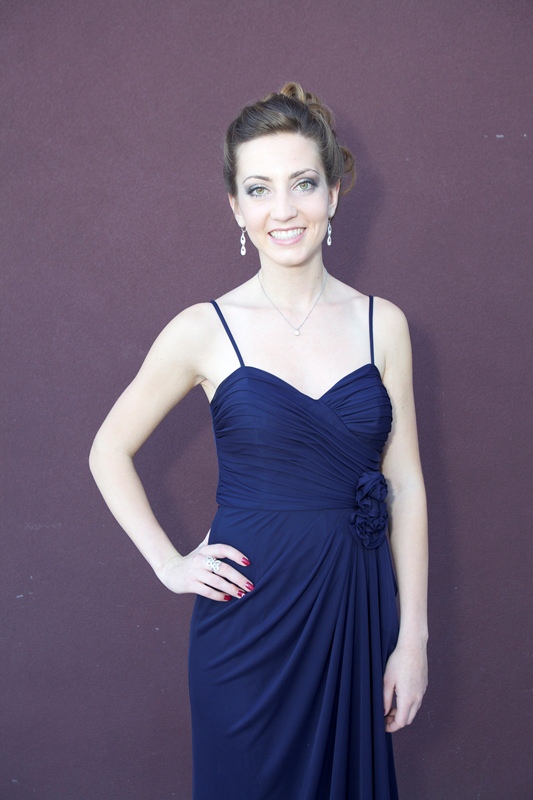 Scottsdale resident and Pinnacle High School senior Alyssa Coughenour has been selected as the 2012 Youth of the Year for the Boys & Girls Clubs of Greater Scottsdale.
The Youth of the Year program has been an integral part of the Boys & Girls Clubs of America for more than 60 years and is the highest honor given to members of the organization. Finalists are chosen based on their dedication to the Club, community and family, academic performance, moral character, life goals, leadership, poise and public speaking ability.
Coughenour is a member of the Thunderbirds branch of the Boys & Girls Clubs of Greater Scottsdale and has been involved in a variety of educational and community service programs. It is here she learned about respect and importance of respecting others, something she encourages younger members to understand. She credits her favorite Club program, the PROUD Lock-In, for teaching her how to trust and respect her peers and counselors.
Coughenour hopes to attend Duke University and pursue a career in Public Relations.
The 2012 Youth of the Year announcement was made at the organization's annual Celebrate Youth Gala & Auction held on Saturday, March 31, at Talking Stick Resort in Scottsdale. The event, which was attended by more than 600 members of the community, raised $235,000 for the Clubs.
As the 2012 Youth of the Year from the Boys & Girls Clubs of Greater Scottsdale, Coughenour will receive a $5,000 scholarship from General Dynamics C4 Systems and $1,000 gift card courtesy of American Express. Each of the eight runners-up will receive a $1,000 scholarship from General Dynamics C4 Systems and a $500 American Express gift card.
Representing the Boys & Girls Clubs of Greater Scottsdale, Coughenour will continue on to the state-level competition with other organizations from across Arizona. The state finalist will be announced during the Arizona State Youth of the Year Legislative Breakfast to be held on April 17, 2012, at U.S. Airways Center. The winner of the state competition advances to the Pacific Region Youth of the Year competition held later this year, with the opportunity to continue to the national event.
Below is the award-winning speech that Coughenour gave at the event:
My facial muscles tense, my forehead wrinkled, I fixated my eyes on the inside of my eyelids. Moments earlier, they had been forced shut by an intruding red blindfold and the hands of someone whom I trusted. She twisted the cloth behind my head to ensure my blindness.
It was two years ago at the PROUD Lock In, a Boys and Girls Club event, and it was the single experience that embodies what I've learned about respect.
The first experience I can remember about respect was when I was Kindergarten. My name being Alyssa sounds similar to Listen, and so when the word was said through the microphone, I always perked up. Feeling like a clever Kindergartener, I realized Laura was not talking to me and I could keep talking during announcements. But the day Laura actually said my name in front of all my peers, I learned maybe I shouldn't talk while others are talking- a basic rule of respect, but the foundation for what I'd learn in years to come.
At the club, I'd show up in my metallic purple pants and my bright polka dot backpack. I had an odd fashion sense back then, but not once did I receive a rude remark, not once did I feel weird in my purple pants. It wasn't like that at school. At school, comments about my purple pants and poufy hair made me want to hide. It was when I got to the club that I could be myself and that I got respect.
At a young age, I learned how to respect others. However, it was the PROUD lock-in that taught me why respect was so important.
When I was blinded at the event, it only took me a few minutes to realize how dependent I was on other people. Being blind opened my eyes to circumstances other people have to live with, and I experienced first-hand what it would be like if I was not as fortunate as I am.
To this day, you'll find the framed PRIDE Award, an award I received at the PROUD Lock-in, on top of the antique rollover desk in my room. It reminds me of the most important lesson I've learned in the past eighteen years- respect. People who respect others unique differences are proud of themselves for appreciating everyone regardless of their color, disabilities, or quirks. Thus, pride lies in respect, and respect, thanks to the Thunderbirds Branch, is something I have begun to fully comprehend.
Thank you.
About The Boys & Girls Clubs of Greater Scottsdale
Since 1954, Boys & Girls Clubs of Greater Scottsdale has provided more than 100,000 Northeast Valley youth with a positive, supervised environment to explore the power of their potential. Today we serve 16,000 children and teen through the organization's nine branches and 12 outreach sites in Northeast Valley neighborhoods. The Club offers more than 100 youth development programs emphasizing five core areas: the arts; character & leadership development; education & career development; health & life skills; and sports, fitness & recreation. For more information please visit www.bgcs.org.