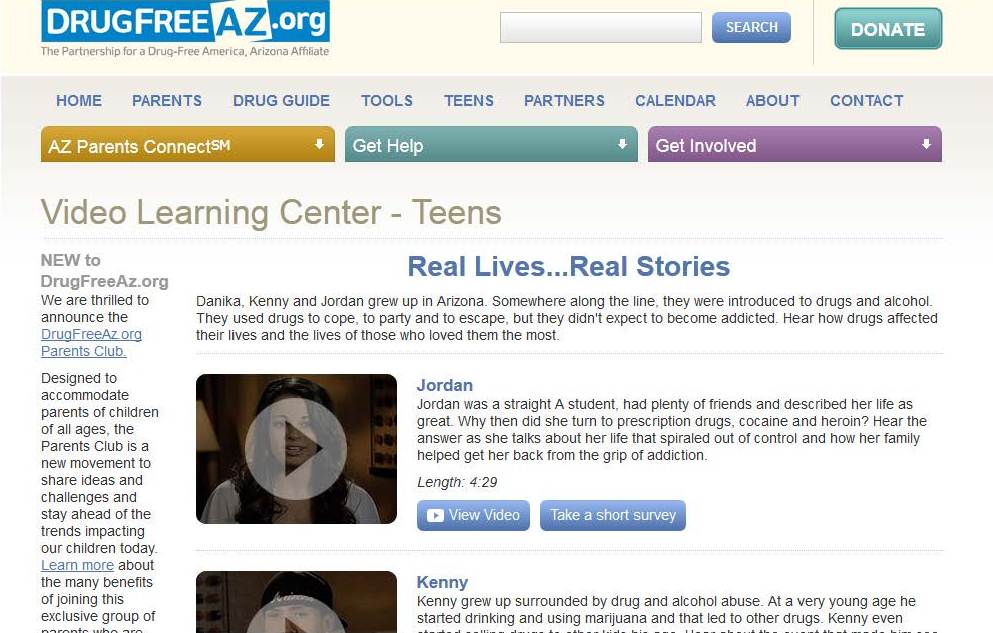 (Phoenix, Ariz.) – Family life can be hectic. Whether it's a full schedule of extracurricular activities for teens or a busy work week for the parent, the hustle and bustle oftentimes can act as blinders to what may be going on with your teenager. For this reason, DrugFreeAz.org created a Video Learning Center – an online space for parents, teens and healthcare providers – designed to prevent underage drinking and drug use before it starts.

"The Video Learning Center provides a series of short length video modules created specifically for families and those who can influence a child's decision on whether to try drugs," said DrugFreeAz.org CEO Leslie Bloom. "All of the stories feature Arizona parents and teens that have had their own life experience with drugs or alcohol, so that those utilizing the Center can learn from personal experiences of their surrounding community members."

The parent-targeted video series is designed to help parents understand why kids use drugs, how to talk with their child and how to help reduce their chances of experimenting with these substances. It also includes next steps for those parents that suspect or know their child is using drugs or drinking.

The teen video series gives viewers a look inside local teens' personal experiences where they learn why some teens use, how they needed professional help to stop their use and how their parents and family played a role in getting their lives back.

For healthcare providers, including physicians, nurses and dentists, the Video Learning Center provides resources available to them and their patients, in addition to videos which are designed to help them understand their role in substance abuse prevention and education by featuring Arizona physicians and the president of the American Academy of Pediatrics, Arizona Chapter.

Funding for the Video Learning Center was made possible by a number of Arizona companies, including UnitedHealthcare, Thunderbird Charities and The Arizona Republic/12 News Season for Sharing.

"DrugFreeAz.org's continued dedication to raising awareness about substance abuse is invaluable for parents, teens and the medical community in Arizona," said United Healthcare CEO, Jeri Jones. "Education, awareness and communication are the best tools available for parents to address underage drinking and drug use with their children, and DrugFreeAz.org has done a tremendous job in providing an easily understood resource with its Video Learning Center."

"This is an exciting initiative for our organization and we are grateful to have such wonderful partners in our community, who, through their generous financial support, made the Video Learning Center possible," said Bloom.

For more information on DrugFreeAz.org or to utilize their free Video Learning Center visit http://www.drugfreeaz.org/video-learning.

About DrugFreeAz.org:
DrugFreeAz.org - The Partnership for a Drug-Free America, Arizona Affiliate is a 501(c) (3) non-profit statewide organization with a volunteer board of directors. Their mission is to prevent and reduce youth drug and alcohol use through community education and awareness by providing parents, caregivers, healthcare providers, educators and others with educational tools, information and resources.