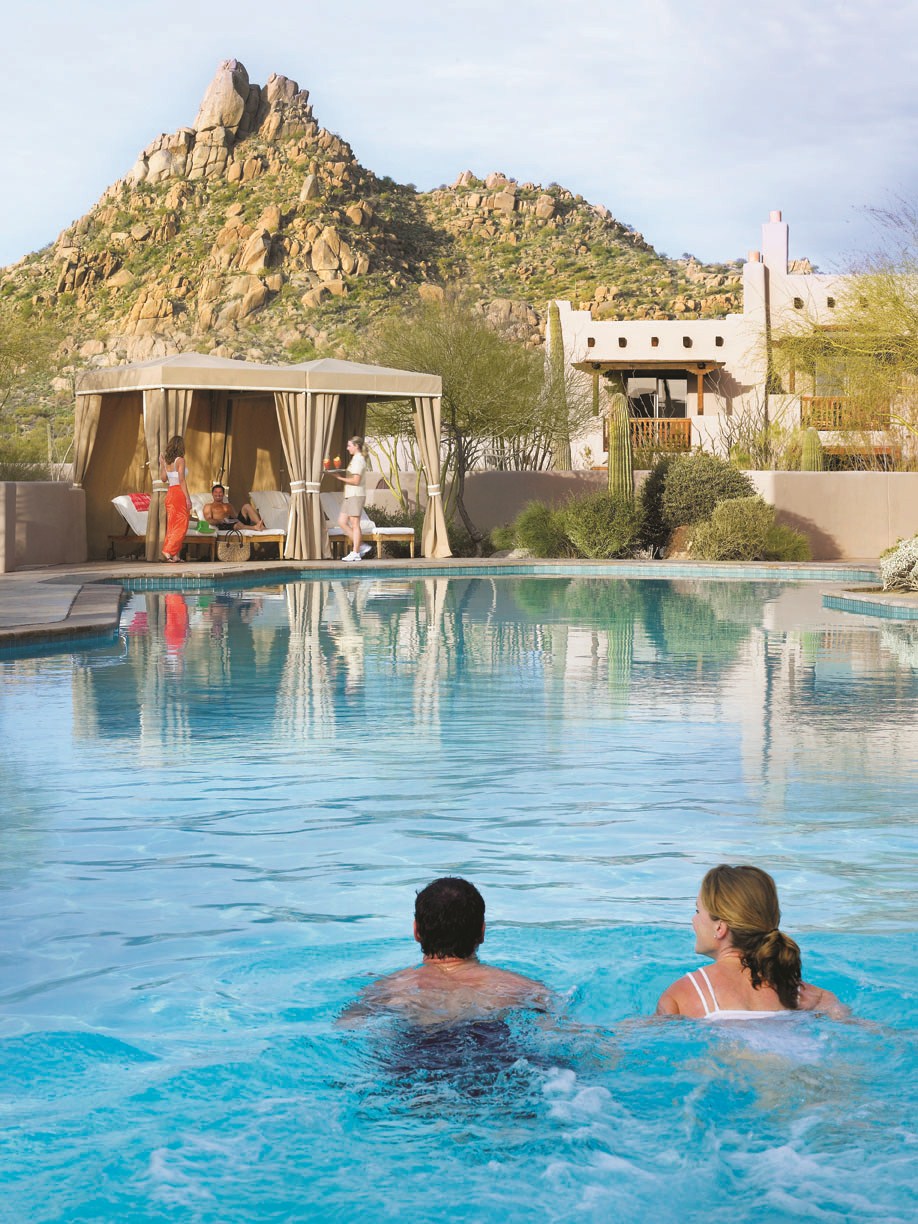 SMACNA Arizona (the Sheet Metal and Air Conditioning Contractors National Association's Arizona chapter) has kicked-off the Eighth Annual SMACNA Arizona 100-Degree Contest in which the public is asked to guess the first 100-degree day of 2012.
The launch of this year's contest coincides with the celebration of Arizona's 100th birthday celebration.
The winner will receive a weekend getaway at the Four Seasons Resort Scottsdale at Troon North, including a two-night stay for two, two 50-minute spa treatments and breakfast for two in Crescent Moon. In addition, the 100th, 500th and 1,000th entrants in the contest will each receive $100 gift cards.
Last year, David Williams of Phoenix correctly guessed that April 1 would be the first 100-degree day of the year. Other previous winners of the contest are Jessica McLeod of Ahwatukee in 2010 and 2007, Carrie Aranda of Mesa in 2009, Carrie White of New River in 2008, David Cooper of Goodyear in 2006 and Monica Lagno of Ahwatukee in 2005.
To enter the contest, visit the SMACNA Arizona website, www.smacna-az.org. Participants will be required to provide their contact information; along with the date and time that they think the first 100-degree reading will occur at Phoenix's Sky Harbor International Airport. Only one entry per day, per person will be accepted. No same-day entries will be accepted. In the event of a tie, a drawing will be held. The contest will end when the temperature reaches 100 degrees at the Phoenix airport as reported by the National Weather Service.
"This contest is fun for everyone – whether they are associated with SMACNA Arizona or not," said Carol Goguen, SMACNA Arizona's executive director. "It is also designed to help those unfamiliar with the organization gain insight about how and why SMACNA Arizona contractors lead the heating, ventilating and air conditioning industry."
The organization's technical manuals are the accepted standards for sheet metal and air conditioning and they are constantly striving to update them or publish new editions to move the industry forward in the areas of new applications, new materials, safety and training.
The union contractors who comprise the SMACNA Arizona chapter are dedicated to progressive actions that improve both the trade and the construction industry.
SMACNA Arizona is committed to quality work and ensuring quality workers for the future. SMACNA is an international association of union contractors in the sheet metal and air conditioning industry representing 4,500 contributing contractor firms. The organization is focused on upholding the highest standards of quality and excellence in all facets of the sheet metal and air conditioning industry. To demonstrate that commitment, SMACNA Arizona has contributed more than $2.5 million statewide toward skills training and apprenticeships programs. For more information on SMACNA Arizona, visit www.smacna-az.org or call (602) 734-0214.