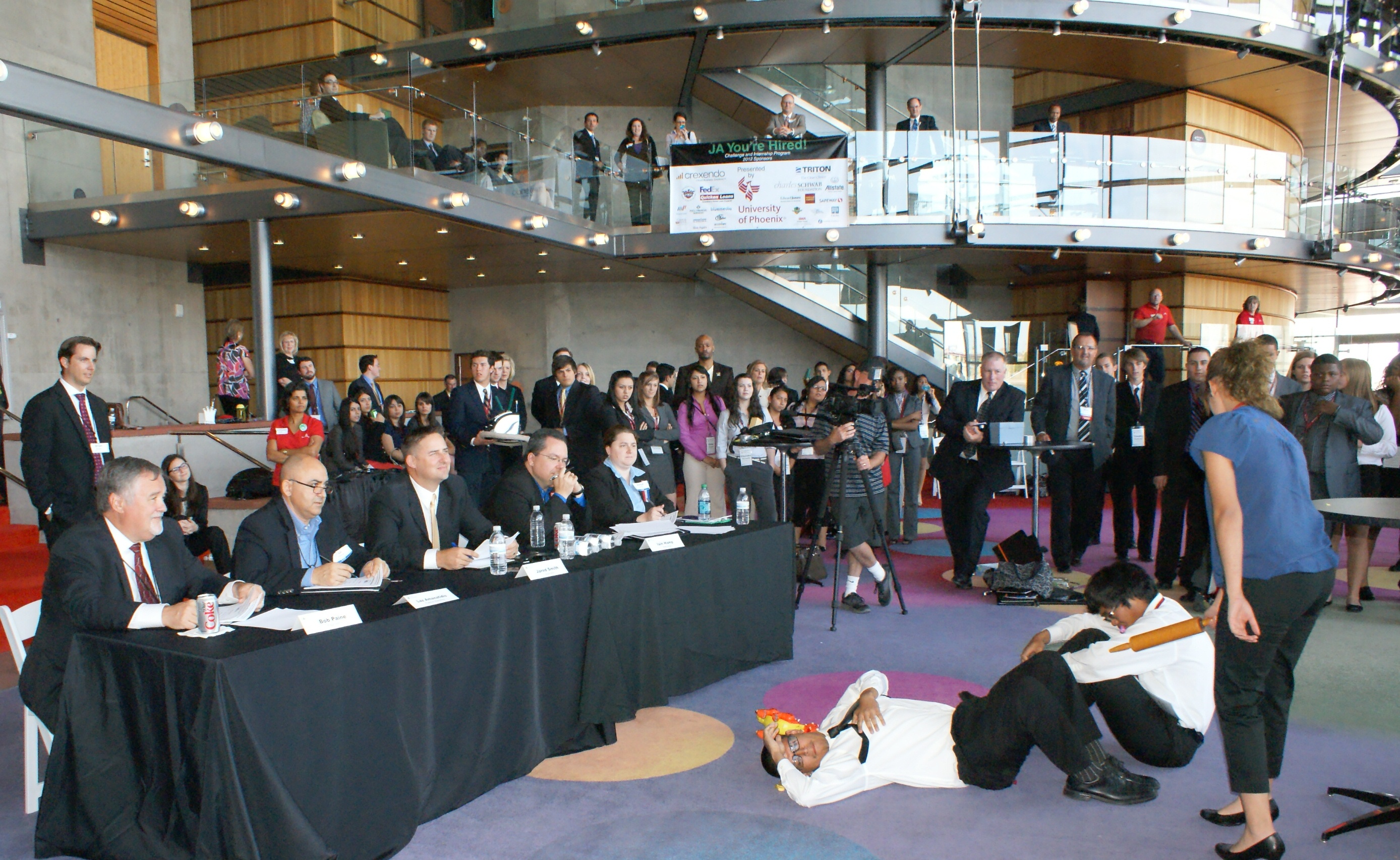 The Tempe Center for the Arts was recently swarming with Arizona high school students ready to show-off their newly mastered business skills, such as interviewing techniques, resume writing, ethics, problem solving and interpersonal communications. They honed these skills with help from Junior Achievement of Arizona's (JAAZ) "JA You're Hired!" program for weeks before the day-long challenge brought them face-to-face with real hiring managers. The JA You're Hired Challenge was presented by University of Phoenix.
More than 350 students from nearly 20 high schools from across the Valley attended "JA You're Hired", an annual workshop and competition designed to learn the ins and outs of the business world outside text books and classrooms. Participating schools were: AAEC South Mountain, Alhambra HS, American Leadership Academy, Basha HS, Cactus Shadows HS, Campo Verde HS, Chaparral HS, Desert Vista HS, GateWay Early College, Gilbert HS, Girls Leadership Academy, Highland HS, Hamilton HS, Metro Tech, Mountain View HS, TILT Leadership Group, Valley Christian HS and Vail Academy HS.
During the event, students focused on job aptitude and competence, business networking, work readiness skills and leadership, all taught by Valley business professionals and hiring managers. The program also challenged the students in competitive events where they put their interviewing, presentation and resume writing skills to the test in a realistic environment. .
To prepare for the big day, students have been meeting with business volunteers to review and practice the skills taught in the JAAZ's curriculum. From mock-interviews to team-building, creative marketing to elevator pitches, "JA You're Hired!" was a chance for each school to share what they have learned, improved and perfected. Additional professional development through summer internships in finance, higher education, nonprofit, retail and project management is also available to participating students to prepare them for a promising future in a variety of fields.
"Our goal is to give young people the knowledge and skills they need to plan for their future and make smart academic and economic choices," said Melissa Leasher, director of program development for JAAZ. "The students are learning invaluable lessons that will help them enter and succeed in the job market. It also provides local companies with a wealth of diverse young talent from which to build their workforce for the future."
As a leader in higher education and the pioneer in online education, University of Phoenix lent its expertise to develop the online curriculum, which students can access throughout the year and participate in self-directed learning.
"University of Phoenix is built on the belief that education enables individuals to improve their lives," said Dr. Bill Pepicello, president of University of Phoenix. "These kids are our future and University of Phoenix is committed to helping them achieve success the same way we help our University students – by providing them with the practical, real-world knowledge needed to compete in a growingly diverse economy."
This year's "JA You're Hired! Challenge" program was made possible thanks to the generous support of University of Phoenix and community partners such as Suns Foundation, Triton Technologies, Crexendo, Allstate, bluemedia, Charles Schwab, FedEx, Manpower, SHRM and others.
About University of Phoenix
University of Phoenix is constantly innovating to help students balance education and life in a rapidly changing world. Flexible schedules, challenging courses and interactive learning can help students pursue personal and career aspirations without putting their lives on hold. As the flagship university of Apollo Group, Inc., University of Phoenix serves a diverse student population, offering associate, bachelors, masters and doctoral degree programs from campuses and learning centers across the U.S. as well as online throughout the world. For more information, visit phoenix.edu.
About Junior Achievement of Arizona
Junior Achievement is a 501(c)(3) not-for-profit organization which believes that every child deserves an education in economics and finances in order to inspire and prepare them for success in a global economy. Serving Arizona's youth since 1957, JA prepares young people for the real world by showing them how to become self-sufficient, how to create jobs which make their communities robust, and how to apply entrepreneurial thinking to the workplace. Junior Achievement of Arizona reached nearly 83,000 students during the 2010-2011 school year. For more information on Junior Achievement or ways to get involved, please call 480-377-8500 or visit www.jaaz.org.