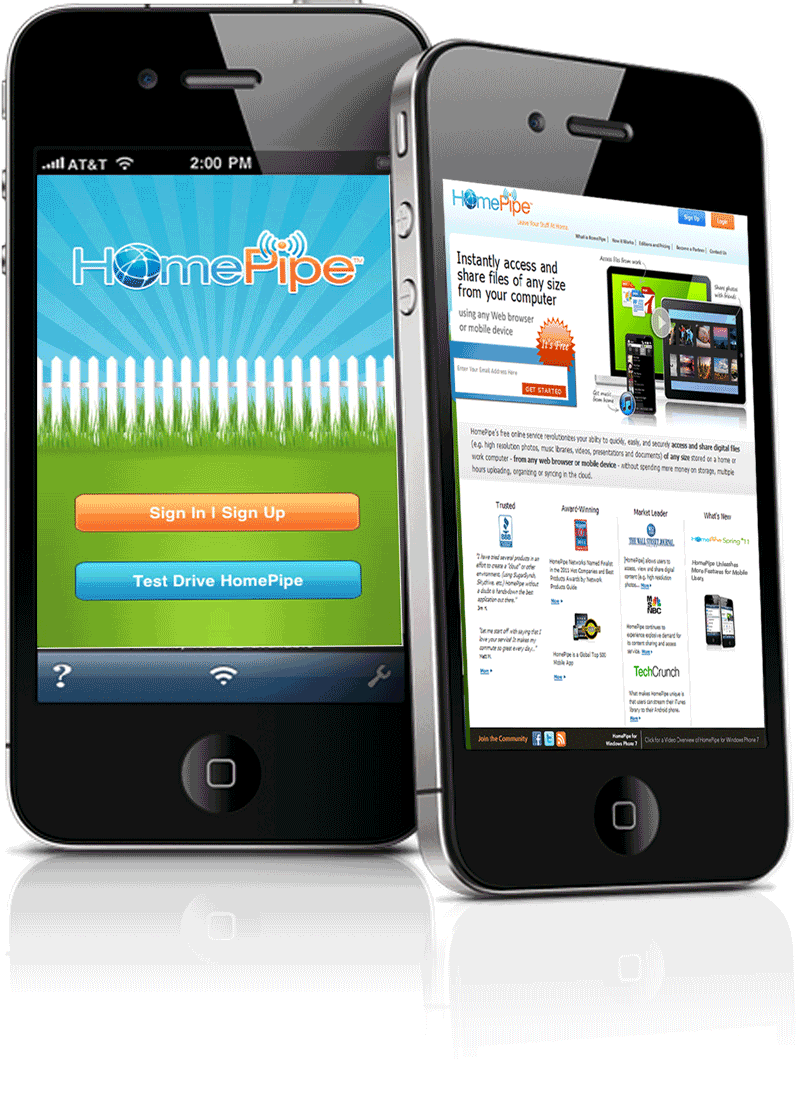 HomePipe NetworksT
(www.homepipe.net)
, the leading innovator in digital content access and file sharing for the mobile community, today announced the release of the HomePipe 2.0 service, including its new SecureShare features, Collaborative Computing capabilities and A La Carte Playlist generation. The new offerings further demonstrate HomePipe's vision of on-the-go digital content access, offering an easy and secure way to tap into digital files from any device, without paying extra for unnecessary storage in the cloud.
With HomePipe, users have their digital files at their fingertips, regardless of file size or type, and independent of system or content location. By utilizing HomePipe's apps, users can access and share their digital assets simply and securely where they want, when they want, without the hassle of uploading, syncing or organizing files in the cloud.
HomePipe's enhanced mobility features include:
HomePipe SecureShare: With SecureShare, HomePipe users can now easily share digital content with everyone in their network by importing contacts from Outlook, as well as Gmail, Yahoo!, Hotmail and other email providers directly into HomePipe. Enhanced security features enable users to protect sensitive information by providing selective access, and requiring specific recipients to login securely before viewing private files.
Collaborative Computing: HomePipe eliminates the hassle of downloading, syncing and organizing documents in the cloud, or paying for expensive cloud storage. Using Appler, AndroidTM, and Windowsr Phone 7 devices, users can open any document from their hard drive, edit, and resave the document back into HomePipe. Once saved in HomePipe, any recipient can immediately and securely access the updated document - no drag and drop required.
A La Carte Playlist Generation: HomePipe's new A La Carte Playlist capability enables users to generate playlists from multiple iTunesr and MP3 libraries on the fly using Apple, Android, or Windows Phone 7 devices. With one click, HomePipe's app populates a list of all folders containing music files, and allows users to select from those folders creating a single, unique playlist. And please don't stop the music just to send a text. HomePipe's Now Playing feature enables users to stream music, or browse photos or documents, on Apple, Android, and Windows Phone 7 devices, while simultaneously using other applications.
To learn more about these and other features,
click here.
Editions & Pricing
HomePipe is available in four editions designed to cater to the needs of individuals and businesses. HomePipe Standard edition is available for $23.99/year, and offers consumers unlimited access to any digital file, regardless of size. HomePipe Group edition provides collaborative access for 2-9 users, and includes all standard features, as well as APIs for Website/Application Integration. HomePipe Enterprise Edition provides collaborative access for an unlimited number of users, and includes all standard features and APIs, as well as customized corporate branding. HomePipe continues to offer its free Lite Edition, providing users up to 11 content accesses per month from any mobile device.
HomePipe Apps are available for Apple, Android, and Windows Phone 7 devices. The app for Apple iOS devices is available in the iTunes Store. Android users can download the app from the Amazon Appstore for Android, Android Market or search for HomePipe for Android. For Windows Phone 7, go to the Zune Marketplace and search for HomePipe.