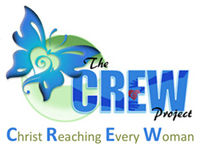 Elkridge, MD - Newly formed non-profit organization The Crew Project expands its list of supporters.
Hoopla Doopla, along with Ronald McDonald House and other organizations, have joined the list of supporters at newly formed non-profit organization, The Crew Project.
About The Crew Project
CREW (Christ Reaching Every Woman)... bringing the Word of God to the Nations.
We are a newly formed Non-Profit Organization aimed at bringing the Word of God to every woman. We will host conferences, during which we will enjoy Praise and Worship, special speakers, testimonials, and informative workshops. We also will be a part of different outreach ministries. We want to transform women's hearts and empower them to be open to everything Jesus wants for them, as it says in 2 Corinthians 2:14, "But thanks be to God, who always leads us in triumph in Christ, and manifests through us the sweet aroma of the knowledge of Him in every place".
For more information, visit www.thecrewproject.com.
About Hoopla Doopla

Hoopla Doopla, Inc. is a leading cash back shopping website, providing coupon codes, discounts, daily deals and cash back from over 1700 online stores. They exist to provide a better overall online shopping experience, and to put money where it belongs - In people's pockets! They also provide expert advice on bargain hunting, online shopping safety, budgeting, and more, offering them a smarter, safer online shopping experience.