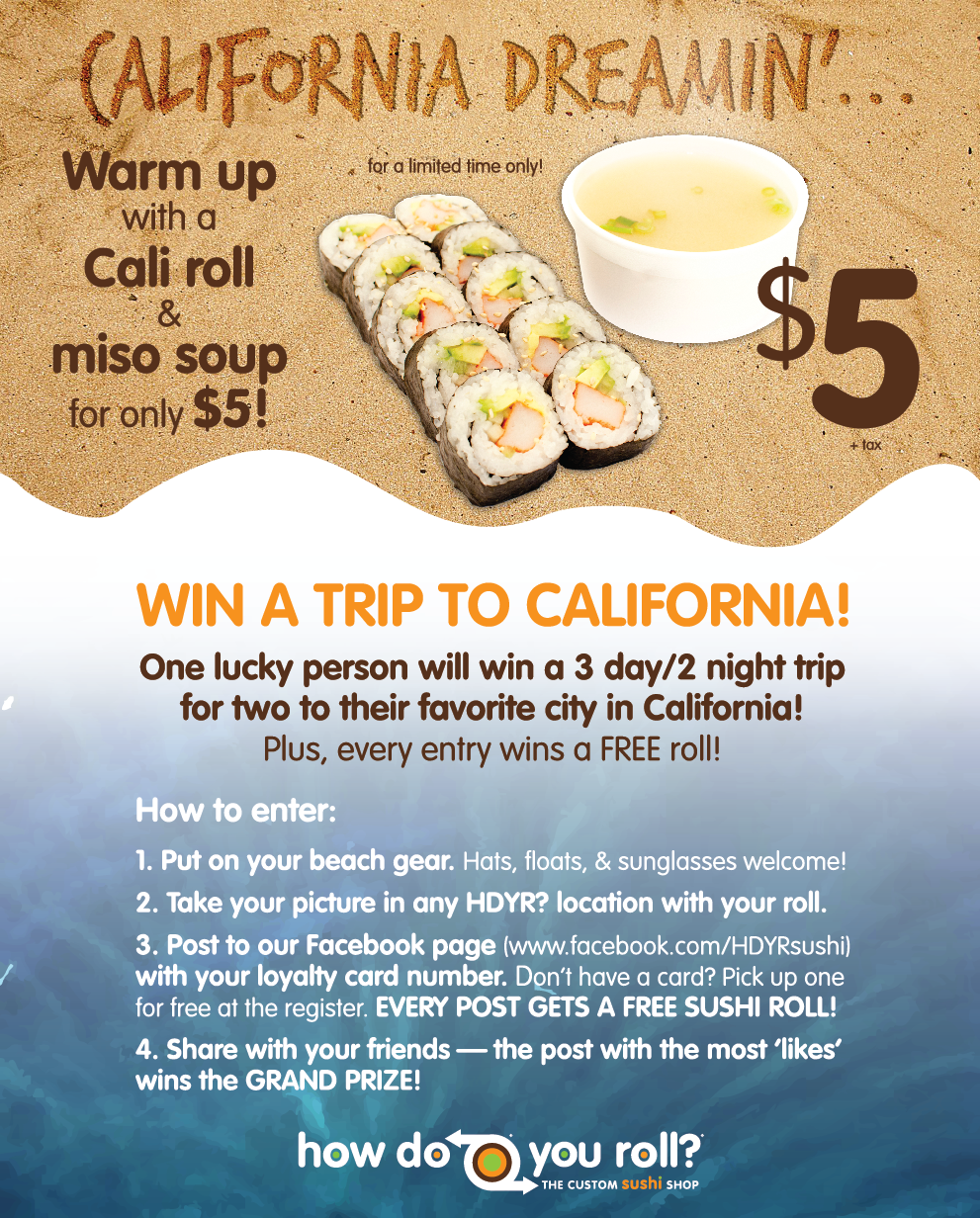 AUSTIN, Texas — With temperatures falling, How Do You Roll? offers sushi fans the opportunity to warm up with a classic California roll and miso soup combination while dreaming about sunnier days. Beginning Nov. 17, the "California Dreamin'…" campaign will run for a limited time and customers can purchase the duo for $5 at any How Do You Roll? location.
"People usually don't think of sushi as a hearty option during the winter," said Katie Theuer, chief marketing officer. "The campaign is designed to change that perception by placing our most popular roll adjacent to the warm imagery."
While the California roll and miso soup are the only pair valid for the deal, How Do You Roll? offers other hot menu items like green tea and edamame. How Do You Roll? also allows customers to build their own unique rolls, with many cooked and spicy options- making for a different kind of hot.
In addition, consumers will have the opportunity to enter a contest to win a three day, two night trip for two to California. To enter, contestants must take a picture in their beach attire at any How Do You Roll? location and post it to the How Do You Roll? Facebook page. Each person who enters will automatically receive a free roll through the How Do You Roll? Frequent Roller program. Contestants who don't have a Frequent Roller card can obtain one for free from any How Do You Roll? location.
"We want people to have fun with our brand," Theuer said. "The contest part of the campaign is meant to inspire consumer creativity and to promote further interaction with How Do You Roll?"
After posting, contestants are encouraged to share the picture with their friends, as the grand prize will be given to the person who posts the photo that receives the most "Likes." The contest will run Nov. 17 to Jan. 31. Official rules can be found on the How Do You Roll? website.
Founded in Austin by brothers Yuen and Peter Yung, How Do You Roll? is an Asian fast-casual franchise that began in 2008. Since its conception, the restaurant chain has rapidly grown to include locations in Austin, College Station, Houston and San Antonio. The franchise has immediate plans to continue growing nationwide, with restaurants opening soon in Florida, California and Arizona.
###
Press Contact: Brittany McGee (512) 394-6104