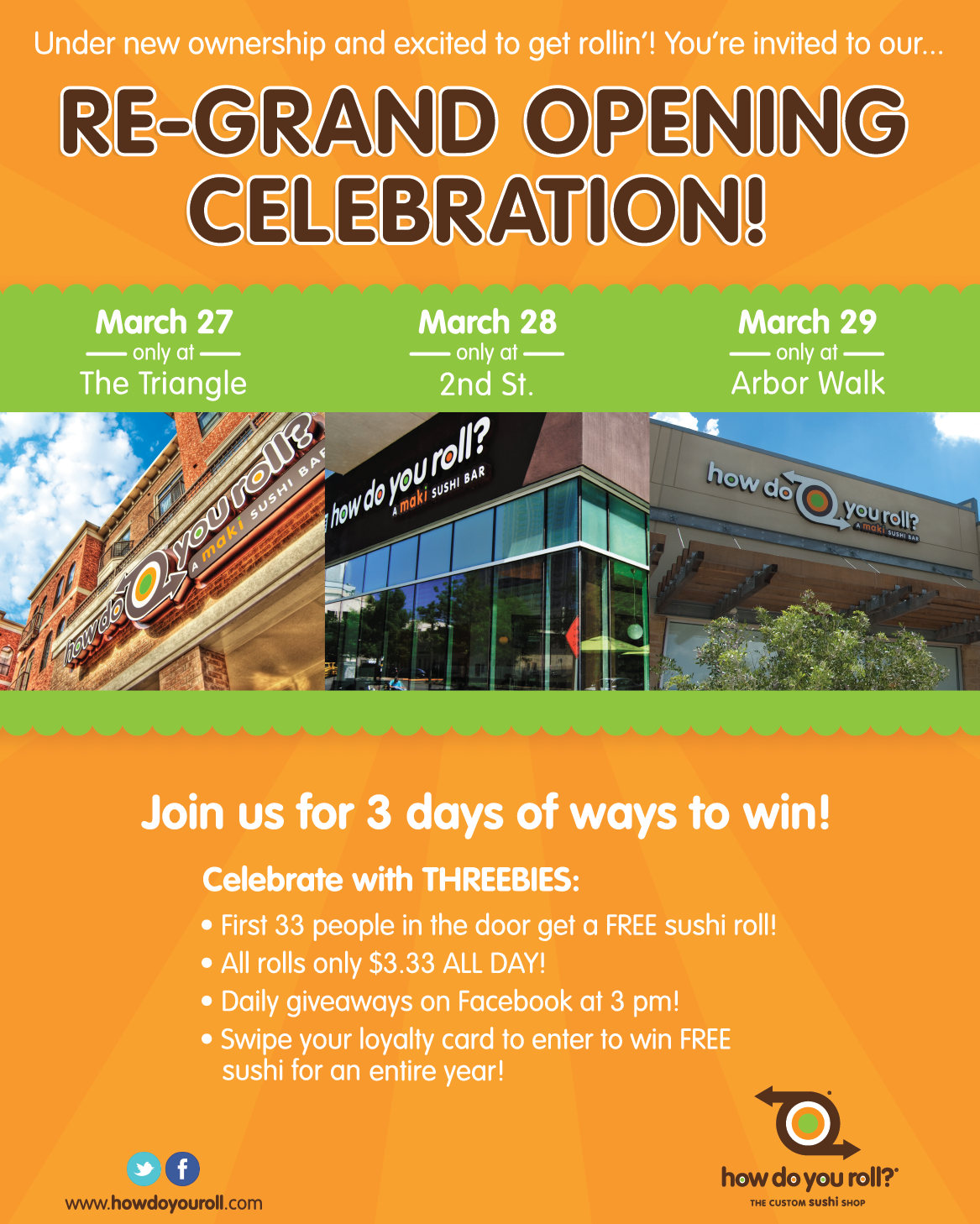 AUSTIN, Texas (March 21, 2012)— How Do You Roll? at the Triangle, 2nd Street District and Arbor Walk Shopping Center will hold their re-grand opening events next week. The re-grand openings come after recently being purchased by the corporate headquarters HDYR, LLC.
The three-day celebration will occur at one location each day, with free rolls given to the first 33 people in the door and rolls priced at $3.33 for the rest of the day. On March 27 the Triangle will be the first to offer this special, followed by the 2nd Street District on March 28. Finally the flagship location in the Arbor Walk Shopping Center will celebrate on March 29. Furthermore, any members of the company's electronic loyalty program who use their card on any of the three days will be entered to win free rolls for a year.
How Do You Roll? began franchising in 2010, selling the original two locations in the Arbor Walk Shopping Center and 2nd Street Districts. Purchasing these locations positions the company for further growth.
"We are excited for corporate to operate these three restaurants," said Yuen Yung, CEO. "The ability to use the locations for testing new products, programs, and promotions as well as training new franchisees will be a huge asset as we expand our brand."
About How Do You Roll?
Founded in Austin, Texas, by brothers Yuen and Peter Yung, How Do You Roll? is an Asian fast-casual franchise that began in 2008. There are currently seven locations open in Texas, two in Arizona and one each in California and Florida. How Do You Roll? prides itself on furthering cultural fusion, encouraging consumer creativity and offering a variety of healthy foods
# # #
For More Information, Contact:
Brittany McGee
Public Relations and Marketing Associate
(512) 394-6104