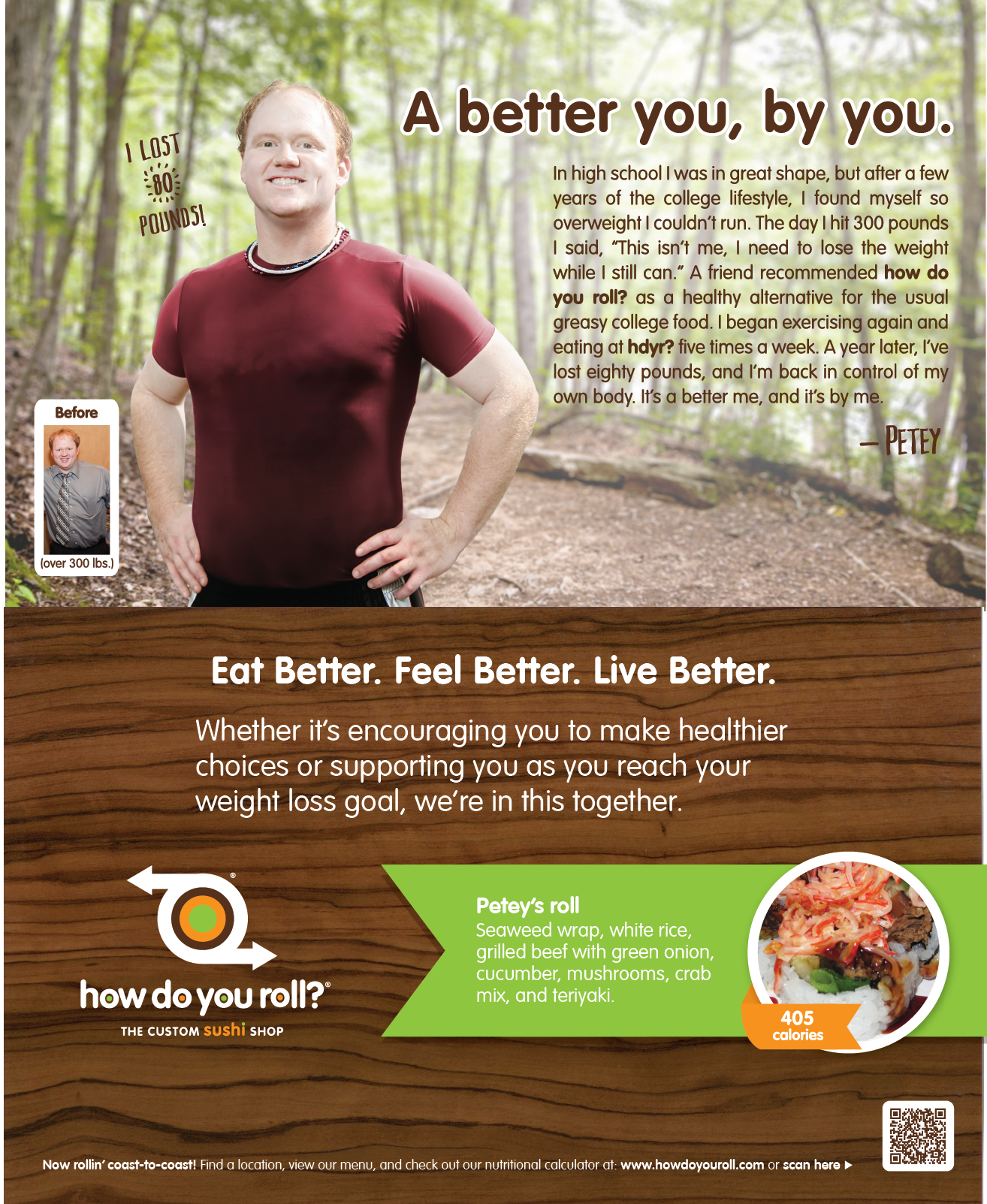 AUSTIN, Texas –
How Do You Roll?
has rolled out its first branding campaign "A Better You, By You," focusing on real consumer experiences.
"This campaign is all about empowering people to make better decisions in their everyday lives," said Katie Theuer, chief marketing officer. "With so many healthy options on our menu, we hope to contribute in a small way to making people's lives better by providing food that not only tastes great, but they can feel great about eating."
The first two stories come from
Anna Petersen
of Austin, Texas and
Patrick "Petey" Surber
of College Station, Texas. Petersen eats How Do You Roll? for the energy she needs while coaching swimming. Surber has made How Do You Roll? part of his
every day diet
which has aided in his weight loss of 80 pounds.
"I work out really hard so I like to eat light for lunch," Surber said. "How Do You Roll is perfect because it's a few veggies, rice and meat. It's nothing heavy or greasy so it's become the staple of my lunches every day."
The campaign promotes betterment, one of the company's core values, and empowers consumers to pursue goals with the help of How Do You Roll? How Do You Roll? encourages customers to share their stories on the brand's website. Stories that truly stand out could be highlighted in future marketing materials.
About How Do You Roll?
Founded in Austin, Texas, by brothers Yuen and Peter Yung, How Do You Roll? is an Asian fast-casual franchise that began in 2008. How Do You Roll? leads the sushi revolution as the first build-your-own-roll, quick-service restaurant. There are currently 16 locations open nationwide. How Do You Roll? prides itself on furthering cultural fusion, encouraging consumer creativity and offering a variety of healthy foods.
# # #
For More Information, Contact:
Brittany McGee
PR/Marketing Associate
brittany@howdoyouroll.com