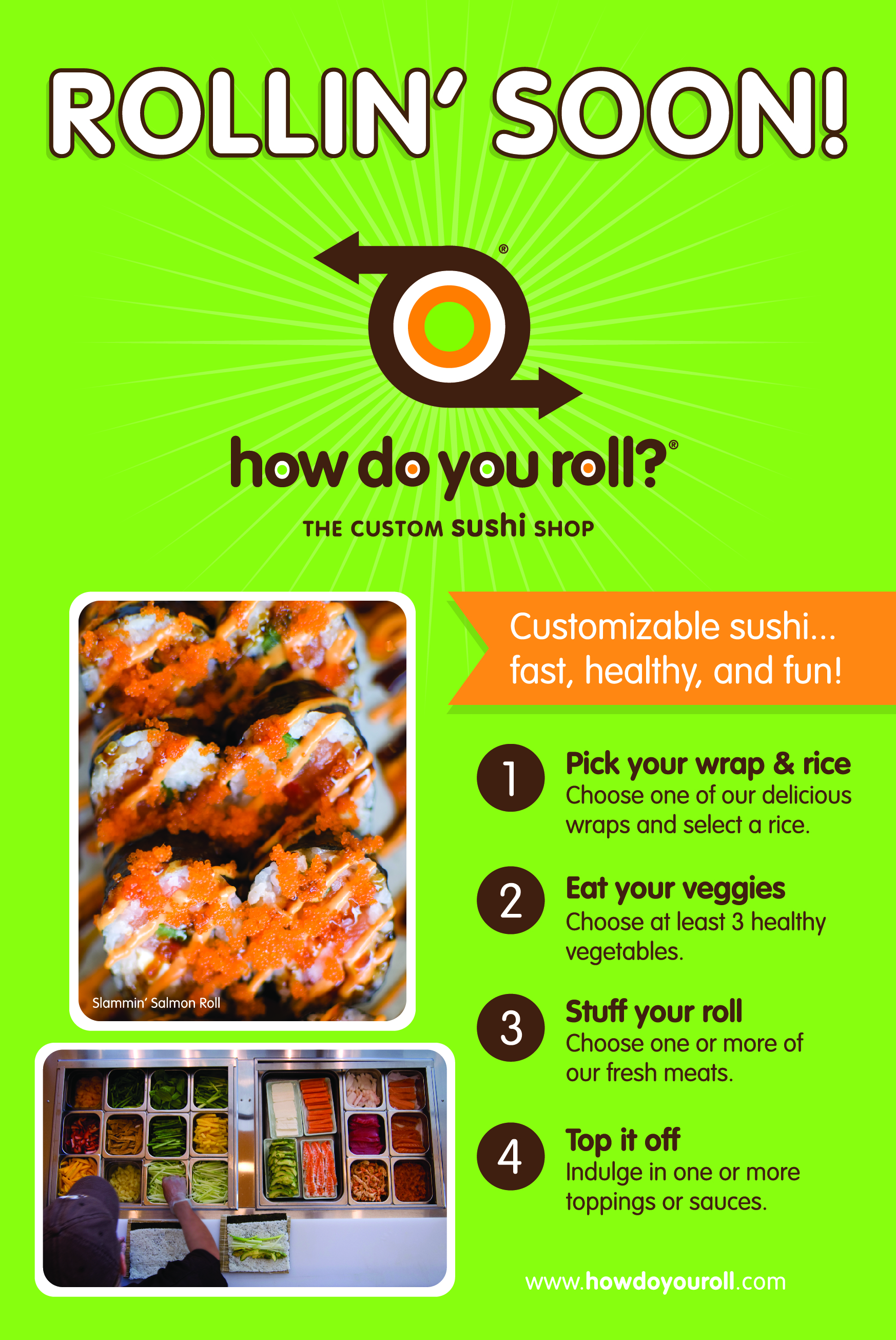 CHARLOTTE, N.C. (April 20, 2012) – Charlotte will soon become home to two How Do You Roll? franchise-owned, custom sushi shops. Opening this summer in both the Overstreet Mall in the BB&T Center and Ballantyne shopping center, the fast-casual restaurants will provide the community with opportunities to completely create their own rolls.
"With our model, everyone can get exactly what they want, at a reasonable price and in a short amount of time," said Yuen Yung, chief executive office. "How Do You Roll? makes sushi more accessible and offers the consumers a unique experience in the process."
Upon entering the restaurant, consumers follow a line and build their own sushi rolls picking from a range of ingredients, including grilled chicken for those not accustomed to raw fish. How Do You Roll? appeals to a variety of dietary needs by offering gluten-free and vegan ingredients.
Though the two restaurants will be owned by different franchise groups, it's a family affair. Brothers Joe and Tom Sherlock will be developing under Roots Run Deep Ventures, Inc. and their sister Lorraine Bennett will open under Roll It, Inc.
The two Charlotte restaurants are a part of the rapid nation-wide expansion that How Do You Roll? has begun. How Do You Roll? recently opened franchises in Phoenix and Tucson, Ariz.; Marina del Rey, Calif.; and Jacksonville, Fla. There are plans to open a total of six franchised locations by the end of the second quarter and have 30 open by the end of the year.
About How Do You Roll?
Founded in Austin, Texas, by brothers Yuen and Peter Yung, How Do You Roll? is an Asian fast-casual franchise that began in 2008. How Do You Roll? leads the sushi revolution as the first build-your-own-roll, quick-service restaurant. There are currently eleven locations open; one each in Phoenix and Tucson, Arizona; Marina del Rey, California; Jacksonville, Florida; and one each in College Station, Houston, San Antonio and four in Austin, Texas. How Do You Roll? prides itself on furthering cultural fusion, encouraging consumer creativity and offering a variety of healthy foods.
# # #
For More Information, Contact:
Brittany McGee
Public Relations and Marketing Associate
brittany@howdoyouroll.com
(512) 394-6104