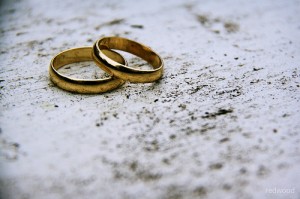 Single adults now outnumber their married peers, but that certainly doesn't mean people aren't falling in love. A variety of factors are at play, and one of them is that more people of all ages are living together, including those over 60 – at steadily increasing rates. For many in this age group, (re)marriage is ruled out for a variety of personal and economic reasons.
"Blending your past with your present is a challenge for many who get married and it is even more complicated for many close to retirement age and who likely have grown children," said Jackie Perlman, principal tax research analyst at The Tax Institute at H&R Block. "Whether an older couple in love is married or not, an awareness of the tax and estate implications of the relationship can save money and avoid headaches."
Following are among the considerations for those over 60 who are thinking about getting married.
Update W-4
Newlyweds of all ages should update their W-4. This form determines how much federal income tax is withheld from paychecks based on marital status and the number of allowances claimed. As more allowances are claimed, less tax is withheld.
Change tax filing status
Even married couples who choose not to combine their finances are required to file their taxes using one of the two options available to married people. Changing your filing status from single to married filing jointly or married filing separately can change tax results dramatically.
Determine marriage penalty/bonus
The more similar a couple's income, the more likely they are to experience the marriage penalty, which is defined as the married couple paying more in taxes than they would if they were single. The opposite is true for couples whose income is dissimilar; they could end up paying less as a married couple. Phase-out limits and credits that are not doubled for those married filing jointly can also impact whether there is a penalty or a bonus.
Consider residence sales
If one house is sold as a result of combining two households, meeting the 2-out-of-5 rule will help ease the tax burden of the gain. If the seller owned and used the home as a main residence for at least two of the past five years before selling it, usually the seller can exclude up to $250,000 of the gain from taxable income. Joint filers can exclude up to $500,000 if they meet these three requirements:
Either spouse meets the ownership test
Both spouses meet the use test
Neither spouse excluded gain from a home sale in the previous two years.
Review estate planning
Making sure the assets in your estate go where you want them to and with the best tax outcome is a challenge in estate planning. For those considering remarriage after 60 it could be further complicated by two sets of children, who legally could be poised to become beneficiaries and heirs – or rivals. Wills and trusts should be reviewed and updated if needed, as should the named beneficiaries for your IRA, 401(k) and life insurance. And, prenuptial agreements should be considered.
Investigate possible loss of pensions, alimony, Social Security benefits, etc.
For some, remarriage can mean the end of income they have come to rely on, such as pensions, alimony and Social Security benefits. For these reasons and many others, having a frank discussion about your respective finances should happen before you head to the altar and you should consider meeting with a tax professional.
The financial advantages/disadvantages resulting from marrying vary based on individual circumstances. And, of course, tax planning can play a significant role no matter how young at heart the couple is or how much money they have.
So, stop snickering about grandma's new gentleman caller because he just might move in with her.