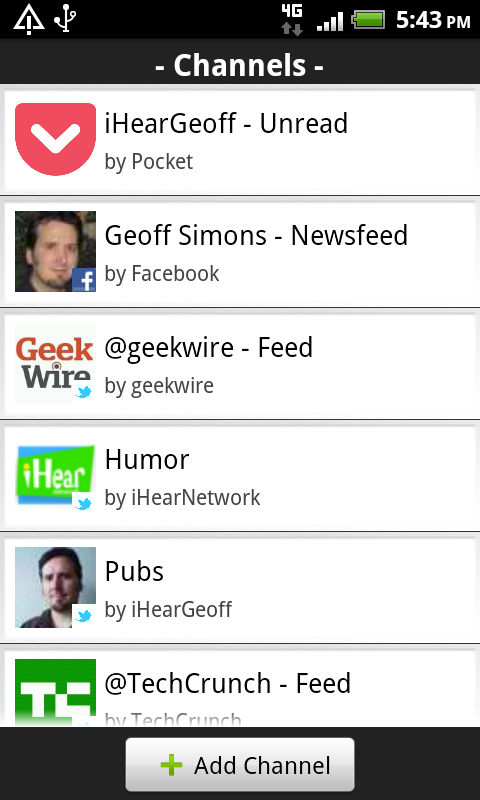 Seattle, Wash. – Who hasn't felt overwhelmed by the daily barrage of news, tweets, pictures and status updates? For many people, dealing with "information overload" on a smartphone's small screen is tiresome, distracting and stressful – all problems that are solved by iHear Network's new Android app. As the first social news narrator for Android, the app works by reading personalized content out loud. This enables people to listen to the blogs, columns and news they crave while they're on-the-go – creating a truly mobile content consumption experience.
"Think of iHear Network as Pandora Radio for social news consumption," explained Paul Simons, CEO. "iHear lets users safely and instantly access content wherever and whenever they choose to do so, without being glued to a screen."
iHear Network makes it easy for users to create their own personalized listening experiences. Here's how it works:
After you download iHear Network on to your Android phone, connect the app to Facebook, Twitter, or your Pocket account.
Create custom channels consisting of tweets, Facebook updates or articles saved to Pocket's content-shifting service. iHear uses the latest text-to-speech technology to read this content out loud.
Subscribe to channels that have the content you care about, such as sports, business, news or entertainment, and use iHear to have updates read to you.
Add, delete or revise your subscriptions to channels whenever you want.
Choose what content you want to hear, and select from multiple "voices" to read it. There are more than 35 premium voices available for purchase through the app!
"With iHear Network, people can keep up on the social news and current events they need to know about while their hands are occupied, like during a workout or when walking the dog," explained Simons. "We're helping people unlock more time in their day by allowing them to be both active and informed, so that they can do what they really want to do later."
Download iHear Network via Google Play. To learn more about iHear Network, visit www.iHearNetwork.com.
###
About iHear Network
iHear Network is the first social news narrator for Android that uses text-to-speech technology to read articles, news and social updates out loud. Access content wherever and whenever you choose to do so, without having to stop to view a screen, and personalize your listening experience by choosing from a variety of channels or creating your own news feed by integrating Pocket, Twitter and Facebook accounts. iHear Network is based in Seattle, Washington. The iHear Network app is available at www.iHearNetwork.com