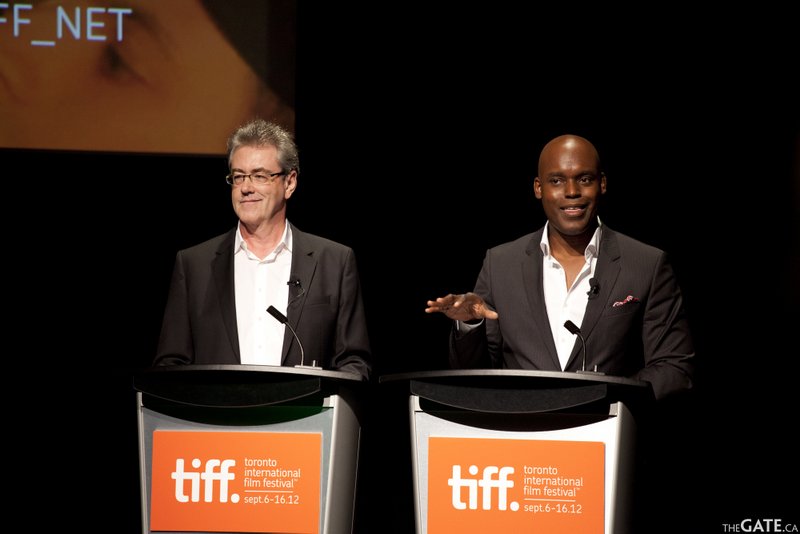 Faces of poverty-stricken children, heart-breaking stories of war torn nations and endless tears. The most you would expect from a Film Festival. Toronto International Film Festival (TIFF) begs to differ from this stereotype. Piers Handling, CEO and Director of Tiff, and Cameron Bailey, Artistic Director of the Toronto Film Festival made the first announcement of films to premier at 37th Toronto International Film Festival at TIFF bell light box. The announced films include 17 Galas and 45 Special Presentations, including 38 worlds premieres.
Opening up with Rian Johnson's action packed Looper, audience was glued to their seats as the sounds of gunshots and fast paced scenes of time travel astonished the excited crowd.
Toronto audiences will be the first to see the world premieres of films from directors Andrew Adamson, Ben Affleck, David Ayer, Maiken Baird, Noah Baumbach, J.A. Bayona, Stuart Blumberg, Josh Boone, Laurent Cantet, Sergio Castellitto, Stephen Chbosky, Lu Chuan, Derek Cianfrance, Nenad Cicin-Sain, Costa-Gavras, Ziad Doueiri, Liz Garbus, Dustin Hoffman, Rian Johnson, Neil Jordan, Baltasar Kormákur, Shola Lynch, Deepa Mehta, Roger Michell, Nishikawa Miwa, Ruba Nadda, Mike Newell, François Ozon, Sally Potter, Robert Pulcini & Shari Springer Berman, Eran Riklis, David O. Russell, Gauri Shinde, Ben Timlett & Bill Jones & Jeff Simpson, Tom Tykwer & Andy Wachowski & Lana Wachowski, Margarethe von Trotta, Joss Whedon and Yaron Zilberman. Toronto audiences will be the first to see world peremiers of films from celebrity directors such as Ben Affleck,Neil Jordan,Dustin Hoffman and many others.
" We are thrilled to announce so many exciting and prestigious films today, with many more to follow", said Handling. "This year's Festival is looking particularly strong with bold, adventuresome work coming from established and emerging filmmakers". In a separate interview to ilovefilm, Handling mentioned that including a global context and showcasing the work of filmmakers all over the world would be the X factor for this year's film festival. He said that TIFF is committed to discover true talents and find the good talents regardless of where they are based.
Answering a question on the commercialization of Gala Presentation, Agreeing that they appear commercial, Bailey emphasized that TIFF is showcasing a lot of other movies that made by emerging filmmakers and has different genres. He added that TIFF is committed to versatility and new ideas.
The Toronto film festival runs from September 6 to September 16 2012.
View all of the latest films and news for TIFF 2012 at
www.ilovefilm.ca