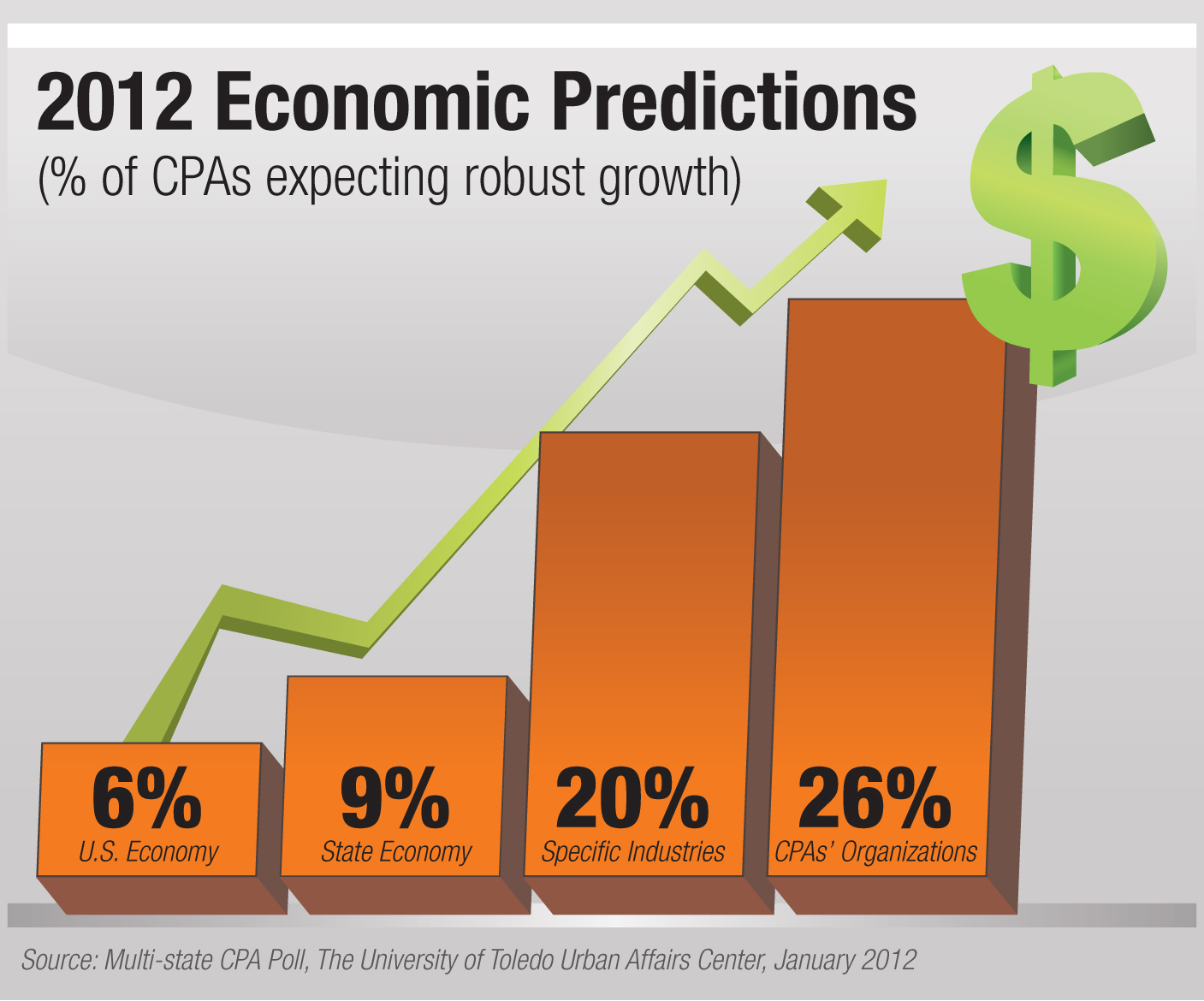 According to a new multi-state survey, CPAs are more optimistic about business growth predictions for 2012 in their respective states than the nation as a whole. Ultimately, those polled were most confident about their own industry, and their own companies. Information technology tops the list of capital investments planned in the coming year. Survey respondents also anticipate some new hiring in the next 12 months. Health care costs continue to be a top concern of businesses along with government regulation and uncertainty in the tax laws.
The Business Outlook Poll was conducted for state CPA organizations in Indiana, Michigan, Ohio and Pennsylvania by The University of Toledo Urban Affairs Center in late in 2011. It polled nearly 13,000 CPAs in who are partners or sole owners of public accounting firms or serve as CEOs, CFOs or presidents of companies in various industries. More than 2,100 CPAs completed the survey.
According to Jeanette Eckert, researcher from The University of Toledo Urban Affairs Center, "The poll showed that CPAs in the four states feel confident about the prospects for growth in the industries they work in and serve, but still have concerns about factors beyond their control. This includes increasing health care costs and government regulation, and the lack of available credit to grow theirs or their clients' businesses."
Cautious Optimism – Jobs and Spending
Only six percent of CPAs who responded predict robust growth in the United States, but the numbers climb as they evaluated the growth outlook for their own state (9 percent), industry (20 percent), and organization (26 percent). The CPAs surveyed did not report significant decreases in workforce or revenues since the financial crises took hold, and say they expect both areas to increase marginally in the next year. These CPA business leaders expect marginal (53 percent) or substantial (7 percent) revenue growth in the next year, with marginal (32 percent) and substantial (two percent) growth in employment. Less than 10 percent of respondents predict a reduction in employment.
Information technology topped the list of investment and spending priorities over the next year. Sixty percent of CPAs say their organizations plan to invest marginally or significantly more in this area followed by 40 percent planning capital spending increases. Product development and marketing/advertising will remain relatively flat with more than 50 percent citing no change in either category.
Business Concerns
CPAs and their clients listed the ability to obtain funding as a significant area of concern. About 76 percent do not think small businesses have access to adequate credit to grow or sustain their operations. According to 70 percent of those polled, the financial crisis and forecasts for slow growth greatly reduce their or their clients' ability to obtain loans. CPAs also cite health care costs as a concern, with 98 percent of those surveyed responding affirmatively when asked if the cost of health care benefits was a worry for businesses in their states. Some are looking into this area for savings, with 94 percent agreeing that companies are reevaluating employee/benefit costs, while 63 percent are aware of companies dropping or reducing employee health insurance coverage. Labor costs, workers' compensation, and public pension funding were also seen as problems, with public pension exposure taking the highest percentage among the three.
Survey results also provide an interesting glimpse into public accounting trends, since 72 percent of respondents were from public accounting firms. Interestingly, 77 percent of CPAs cited slow pay or no pay for services rendered a problem they and other businesses in their state are facing. That may account for why managing receivables will be a top business focus for 83 percent of CPAs and their organizations this year, followed by strategic planning (76 percent) and upselling services (73 percent).
About Taxes
Many respondents, 73 percent, somewhat or strongly agree that the current tax climate is a problem for businesses in their state. More than half of the respondents (61 percent) agreed that companies are taking advantage of available tax breaks, but few were using current low-interest rates as an opportunity to grow. Despite a general attitude that taxes, including specific taxes on business, and regulatory costs are a hindrance to businesses overall, CPAs overwhelmingly said those factors would not cause them to move their business/practice to another state.
About the Survey
The Survey was conducted between Nov. 11 and Dec. 7, 2011, by The University of Toledo's Urban Affairs Center for the Indiana CPA Society, the Michigan Association of CPAs, The Ohio Society of CPAs and The Pennsylvania Institute of CPAs. Combined, these organizations represent the professional interests of more than 70,000 CPAs.
The survey focused on current economic conditions and the effects it is having on businesses. The questions were selected to quantify what CPAs are seeing in their day-to-day operations, their clients' organizations, and to gather opinions on how best to improve economic conditions in their respective states.
The Urban Affairs Center is an applied research unit of The University of Toledo. The Center has been serving the Northwest Ohio community for over 30 years and partners with local, regional and state governments, nonprofits and industries to analyze problems and identify solutions with the goal of promoting economic vitality and strengthening local communities
NOTE TO EDITORS: For more information, you may download the Executive Summary (pdf).
For state-specific releases or local CPA interviews in a particular state, please contact:
Indiana CPA Society
Jenifer Groth, APR
Public Relations and Social Media Manager
(317) 726-5010 (office)
jgroth@incpas.org
Michigan Association of CPAs
Debbie Gibb
Vice President, Communications and Membership
(248) 267-3727 (office)
DGibb@michcpa.org
Ohio Society of CPAs
Amy Johnson
Vice President, Communications
(614) 764-2727, ext. 341 (office)
(614) 975-2225 (mobile)
ajohnson@ohio-cpa.com
Pennsylvania Institute of CPAs
Kathleen Miller
Manager, Communications
(856) 366-3393 (mobile)
kmiller@picpa.org