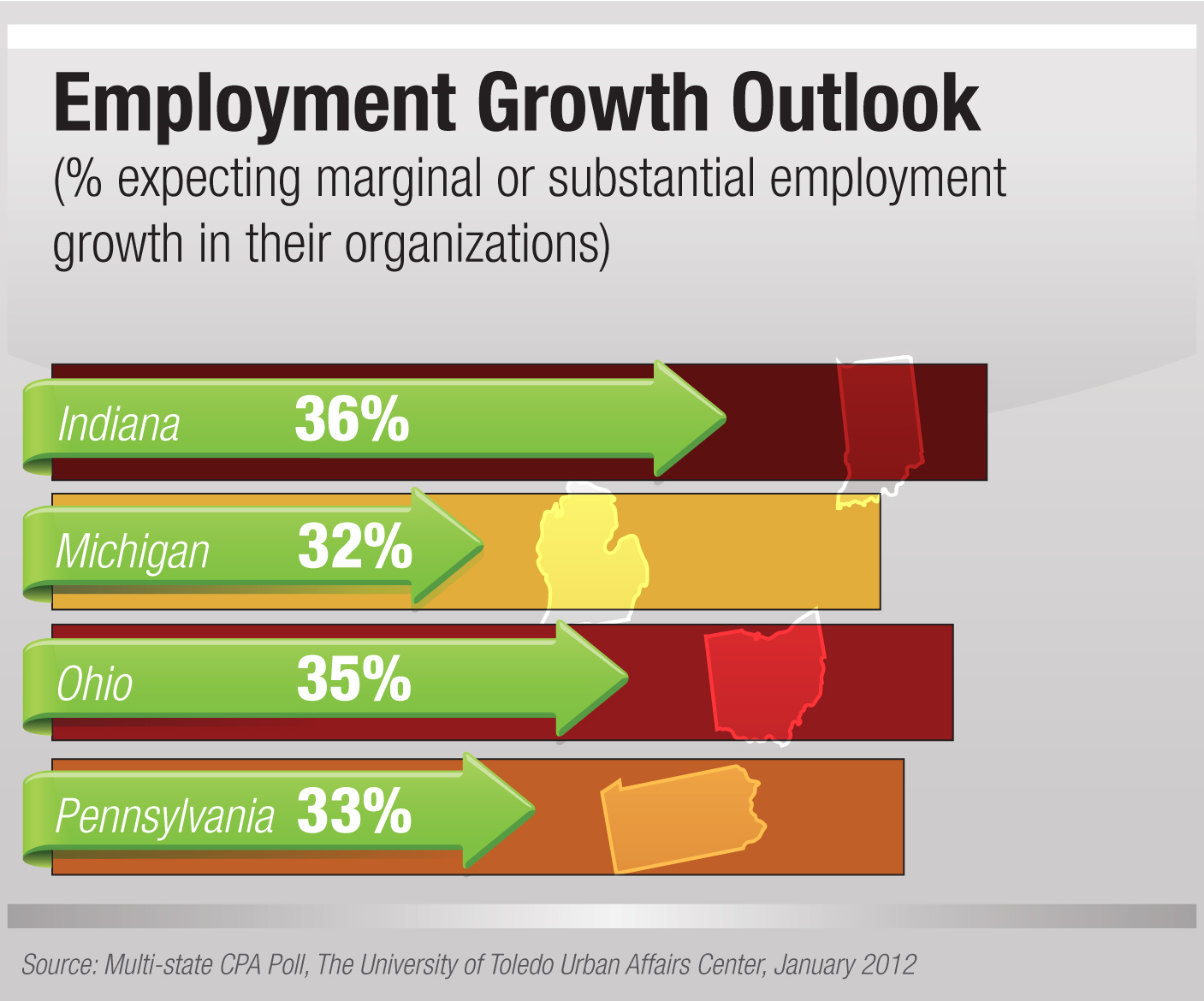 The results of the multi-state Business Outlook Poll indicate that Indiana CPAs are more optimistic about the economic growth for their industries and organizations during the next six months than they are about the nation's or the state's economy. More than 60 percent expect revenue growth in their organizations over the next year, and many also expect marginal increases in capital spending, wages and salaries, and spending on information technology. Areas not expected to increase include product development and advertising/marketing.
The survey also brought to the forefront several business concerns Indiana CPAs share with CPAs from the states of Michigan, Ohio and Pennsylvania. Government regulation continues to be a top concern of businesses, along with health care costs and uncertainty in the tax laws. Other issues were the lending environment/sources of capital and slow pay, or no pay, for services rendered with more that 80 percent and 75 percent, respectively, identifying them as problems that businesses are facing.
The Indiana CPA Society, Michigan Association of CPAs, Ohio Society of CPAs and Pennsylvania Institute of CPAs all worked in conjunction with a team from the University of Toledo Urban Affairs Center to design the survey. The Business Outlook Poll respondents included partners or sole owners of public accounting firms or serve as CEOs, CFOs, or presidents of companies in various industries.
"Indiana CPAs are respected business advisors and have a unique perspective on the state's business climate," said Charles Johnson III, CPA, chair of the Indiana CPA Society and managing principal for Engaging Solutions, LLC in Indianapolis. "While this poll shows concern about the national and state economy as well as specific areas like health care and government regulation, CPAs are more optimistic about growth opportunities for their own firms or businesses, and the industries they serve. Predictions for revenue growth, increased capital spending, and an investment in information technology are signs that the economy is improving and headed in the right direction."
Jobs and Spending – Cautious Optimism
Only 6 percent of all multi-state CPAs who responded predicted robust growth in the U.S., but the numbers climb as they evaluated state (9 percent), industry (20 percent), and organization (26 percent) growth. The CPAs surveyed did not report significant decreases in workforce or revenues since the financial crises took hold, and say they expect both areas to increase marginally in the next year. Indiana business leaders expect marginal (52 percent) or substantial (7 percent) revenue growth in the next year, with marginal (34 percent) and substantial (2 percent) growth in employment. Less than five percent of Indiana respondents predict a reduction in employment.
When discussing their investment and spending outlook over the next year, more than 60 percent of the total respondents expect marginal to substantial increases in information technology, with Indiana CPAs expecting the highest increase at 63 percent. As for capital spending, only 40 percent of CPAs expect marginal to substantial increases. Product development and advertising/marketing will remain relatively flat with 65 percent in Indiana citing no change in product development and 61 percent citing no change in advertising/marketing spending.
Business Concerns
CPAs and their clients listed the ability to obtain funding as a significant area of concern. About 76 percent of all respondents, 73 percent in Indiana, do not think small businesses have access to adequate credit to grow or sustain their businesses. According to 71 percent of Indiana CPAs polled, the financial crisis and forecasts for slow growth greatly reduce their ability or that of their clients to obtain loans. CPAs from all four states cite health care costs as a concern, with 98 percent of those surveyed responding affirmatively when asked if the cost of health care benefits was a worry. Some Indiana CPAs are looking into this area for savings, with 95 percent agreeing that companies are reevaluating employee/benefit costs, while 64 percent are aware of companies dropping or reducing employee health insurance coverage.
The lending environment and slow pay/no pay for services rendered also were seen as problems for businesses in all four states. Two other areas of concern for businesses in Indiana are finding and retaining qualified employees and "brain drain."
About Taxes
The majority of all respondents, 73 percent, somewhat or strongly agree that the current tax climate is a problem for businesses in their state. Only 16 percent of Indiana CPAs agree that changes in the tax climate have helped the U.S. economic recovery. More than half of the respondents (61 percent) agreed that companies are taking advantage of available tax breaks, but fewer Indiana CPAs (35 percent) agree that businesses are using current low-interest rates as an opportunity to grow. Despite a general attitude that taxes and regulatory costs are a hindrance to businesses overall, only six percent of Indiana CPAs said those factors would cause them to move their business/practice to another state.
About the Survey
Members of the four state CPA organizations were polled between Nov. 11 and Dec. 7, 2011. More than 2,100 CPAs responded, including 239 from Indiana. The survey focused on current economic conditions and the effects it is having on businesses. The questions were selected to quantify what CPAs are seeing in their day-to-day operations, as well as to gather opinions on how best to improve economic conditions in their respective states.
NOTE TO MEDIA: For more information, you may download the Executive Summary(pdf). To view the national press release, click here.
To schedule an interview with an INCPAS CPA leader regarding the survey, contact Jenifer Groth, APR, at (317) 726-5010 or jgroth@incpas.org.
About INCPAS
Currently, more than 7,000 CPAs in public practice, industry, government and education are members of the Indiana CPA Society. INCPAS serves the public interest as well as its members. Its members are required to abide by the CPA profession's code of conduct. INCPAS members also receive access to quality educational programs provided by the Society, resources that enable them to better perform their job functions, and peer networking for information sharing that broadens their skills and knowledge base. Indiana CPA Society members are the most highly qualified and competent CPAs in Indiana. Make sure your CPA is a member of the Indiana CPA Society.