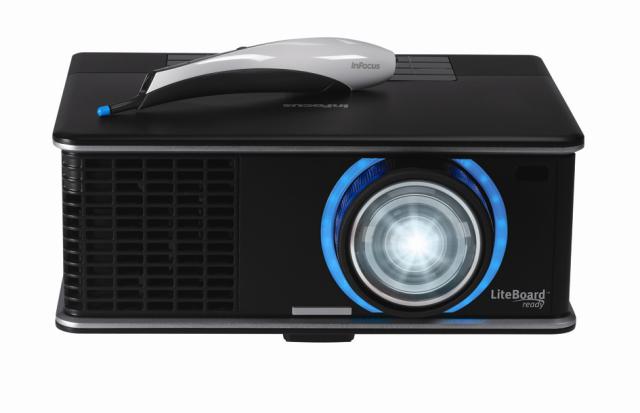 InFocusr Corp., a digital display technology leader and visual collaboration champion, today announced it won the
2010 Scholastic Administr@tor Head of the Class award
for its
IN3916 interactive projector
. The only other product to receive this new annual distinction was Apple's iPad. As the company's second-generation interactive projector, the IN3916 makes it easy and affordable to use interactive digital content in the classroom to inspire, engage and collaborate.
"Superior technology along with classroom interactivity shouldn't have to be expensive," said
Scholastic Administr@tor's
Brian Nadel, a veteran technology journalistic and classroom technology expert who also gave the interactive projector an
A rating on his Tech Tools blog
. "From the minute I turned on the projector, I was really impressed with the product's ease of use and functionality. I truly think interactive projectors, especially the IN3916 from InFocus, have the potential to change how students learn in the future."
The IN3900 series was designed with the educator in mind. The InFocus LiteBoardT interactive technology allows teachers and students to interact with projected images at the screen or up to 40 feet (12.2 meters) away. Teachers are free to move around the room, and the redesigned LiteBoard Wand is comfortable to hold and easy to use by both children and adults. Unlike other interactive projectors, the IN3916 does not require calibration and its wand includes motion stability algorithms to ensure smooth cursor movement.
After launching the industry's first interactive projector in 2009, InFocus spent countless hours with teachers and administrators across the country to better design and refine the new models-the IN3914 and IN3916.
"Interactive displays only work when they put learning directly into the hands of students," said Chris Craft, a South Carolina middle school teacher and interactive education ambassador for InFocus. "The thoughtful design of the IN3916 makes it a great teaching tool for classrooms, from its room-filling audio to the ability to network all of the classroom's computers to the display."
Scholastic Administr@tor's
Head of the Class awards were chosen by Nadel, who researches thousands of educational products a year, including netbooks, software, projectors and calculators. The requirements for the Head of the Class award are that the product or service needed to be available during 2010 and have the potential to radically change the way students learn and teachers teach.
Availability
The IN3916 (WXGA, 1280x800) model is available now for $1425. The IN3914 (XGA, 1024x768) model is also available now for $1225.