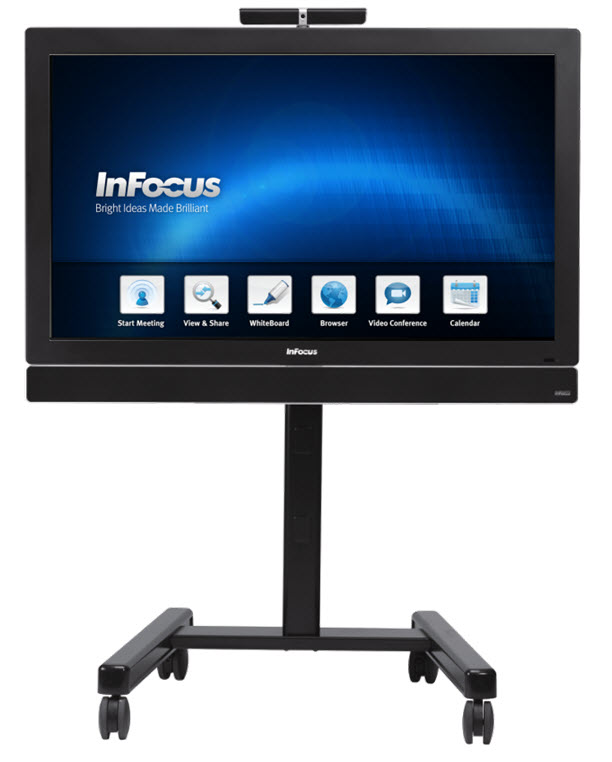 -
InFocusr Corp.
, a digital display technology leader and visual collaboration champion, today unveiled
MondopadT
, a giant 55-inch HD wall tablet that combines intuitive touch collaboration applications with Vidtel's any-to-any, cloud-based video conferencing to offer a disruptively priced all-in-one collaboration display.
Connected with High-quality Cloud Video Conferencing
InFocus has partnered with Vidtel, a cloud video conferencing service provider, to make business-grade video conferencing as easy as making a phone call. Unlike traditional video conferencing, Mondopad requires no upfront infrastructure investment or IT resources, and it connects to all SIP and H.323 standards-based end-points and many proprietary video conferencing platforms-from popular free consumer video conferencing applications like Google Chat, to enterprise telepresence systems from Polycom and Cisco. Vidtel has solved significant
video conferencing interoperability issues
so organizations don't have to hassle with adopting the same equipment and service to connect with external partners.
The Mondopad's 720p HD video camera and soundbar are designed specifically for video conferencing to eliminate conference room clutter and enhance the audio quality of dialogue.
"Although the tremendous productivity and efficiency benefits are well established, video conferencing deployments among SMBs remain limited due, at least in part, to the relatively high cost and complexity of traditional solutions." said Ira M. Weinstein, senior analyst and partner, Wainhouse Research. "The combination of the Mondopad wall tablet and the Vidtel managed service yields an affordable, high quality, standards-based visual collaboration solution that is easy to install, manage, and use. It is just this type of solution that will help video conferencing break into the SMB space."
Transforming Conference Rooms into Collaboration Rooms
Offering a 55-inch full-HD 1080p (1920x1080) LCD display and designed for multi-touch from the ground up, Mondopad changes the way people interact with information and each other. Sharing documents and visuals in a meeting is extremely easy, whether users are local or remote. Mondopad's multi-touch display works with Word, PowerPoint, Excel, PDF, JPGs and more. Presentation, whiteboard and annotation applications-including a complete set of writing and drawing tools-open the dialogue, increase engagement, and make it easy to brainstorm and quickly save and distribute ideas. Multiple Mondopads on the same network support multi-party whiteboard sessions.
Share, View and Control Content from Anywhere on Any Device
Local or remote users can easily share, view and control presentations from their PC, tablet or smartphone. The Mondopad's WiFi ensures meeting participants have the right level of access: from authorized users being able to connect directly to a corporate network through the display, to meeting guests being able to easily deliver documents to the display or access the Internet without connecting to an organization's private network. Remote participants are able to see what's on the Mondopad via a Web page served by the Mondopad.
"From small businesses to the enterprise, InFocus now offers a business-grade HD video conferencing and all-in-one collaboration solution at an incredibly low price of entry," said Mark Perini, InFocus VP/GM visual solutions. "Mondopad offers a future-proof collaboration solution with none of the expense, setup, maintenance or updates traditionally required."
Administrators Can Monitor and Manage Mondopad from Anywhere
IT administrators and managed service providers can securely monitor and manage the Mondopad from anywhere. Embedded Intel vPro technologies and compatibility with industry-leading remote monitoring and management software provide immediate access for controlling, analyzing and administering the Mondopad as a hooked IT asset. Administrators can also add their own Windows applications to the Mondopad.
Availability
Mondopad is scheduled for delivery in July 2011 for $5,949 USD with video conferencing services starting at less than $49 per connection per month. Resellers can place Mondopad orders through Ingram Micro Part Number INF5520.