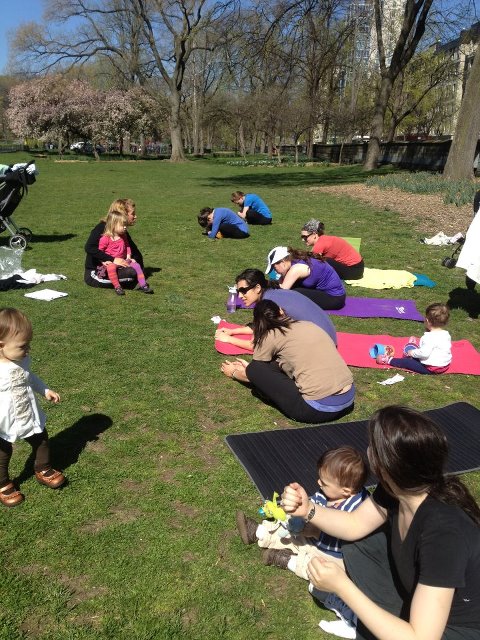 inSHAPE Fitness- Kid Friendly Central Park Boot Camp

inSHAPE Fitness- Kid Friendly Central Park Boot Camp
New York, New York- April 10, 2012- Join popular fitness experts from inSHAPE Fitness, the leader in gym-free fitness, for a high-energy workout that is suitable for both beginners and experienced athletes. Using the inSHAPE Fitness-branded trio of exercise pairing, precision of movement, and proper pacing, your instructor will guide you - not yell at you - through one of the best outdoor workouts of your life.
"We warm up, get your heart rate up, and work all major muscle groups, along with focusing on better posture, balance, agility, and flexibility," says Kim Watkins, owner and head trainer of inSHAPE Fitness.
"The kid-friendly boot camp in Central Park was wonderful! As a brand new mom, I was a little scared that my body wouldn't be up to the challenge, but Kim made everything so fun and accessible, " says boot camp member, Nicole Shugar
By moving at their own pace, boot campers make the most of their ability level, with a little push perhaps to new levels, and leave the session feeling great. Body weight is the primary mode of resistance (inSHAPE may bring light weight bands or ropes) so the only thing that boot campers need to bring is a bottle of water and a mat/towel. "I welcomed the soreness the next day knowing that I had gotten a great workout. I can't wait for the next session. Also the setting in Central Park was so beautiful," continues Nicole.
Boot Camp sessions take place at Pioneer's Gate, the northeast entrance of Central Park, a quiet section of New York City. Located within a 5-minute walk of the 2/3 train stop at 110th Street, or the 6 train at 110th Street (it's about a 10-minute walk from the B/C train stop at 110th Street), the back drop of the sessions is the Harlem Meer and Nature Center.
*Kid-Friendly sessions are as follow:
Wednesday Sessions: 10AM
Monday, Wednesday, Thursday & Friday Sessions: 6PM
$25/Adult
ABOUT PIONEER'S GATE, CENTRAL PARK
Central Park, which has been a National Historic Landmark since 1963, was designed by landscape designer and writer Frederick Law Olmsted and the English architect Calvert Vaux in 1858 after winning a design competition. Most visitors pass through the entrances to Central Park without realizing that the names engraved on them champion important cultural values of mid-19th-Century New York. Most of these breaks in the Park's simple stone perimeter wall bear the inscription of a calling or of a specific profession. While they're rarely used today, these names were meant, in part, to provide Park visitors with clear and simple meeting spots. A numbering system like the one used for the City's streets was rejected by the Board of Commissioners of Central Park, who held that the Park's very purpose was to escape New York's grid. They suggested the gates instead be named after the workers who made New York City the great metropolis it had become.
ABOUT inSHAPE FITNESS
Founded in 1997, inSHAPE Fitness has created a world where it's cooler NOT to be a member of the gym, where people can live healthy, active lives without the use of fancy equipment and without the waste of time it takes to travel to and from an exercise facility. inSHAPE works with clients to devise and deliver practical and efficient exercise programming based on logistics, abilities, goals, and schedules. inSHAPE is also the creator of the GO Band™, a portable mini-resistance band, which is revolutionizing the way people attack their in-home strength routines. http://www.inshapellc.com
MEDIA CONTACT:
W2 Public Relations
Whitney Woznick
561.329.2974
*Limit one child per parent, please.
Register at http://inshapellc.com/showevent.php?month=5&year=2012
###