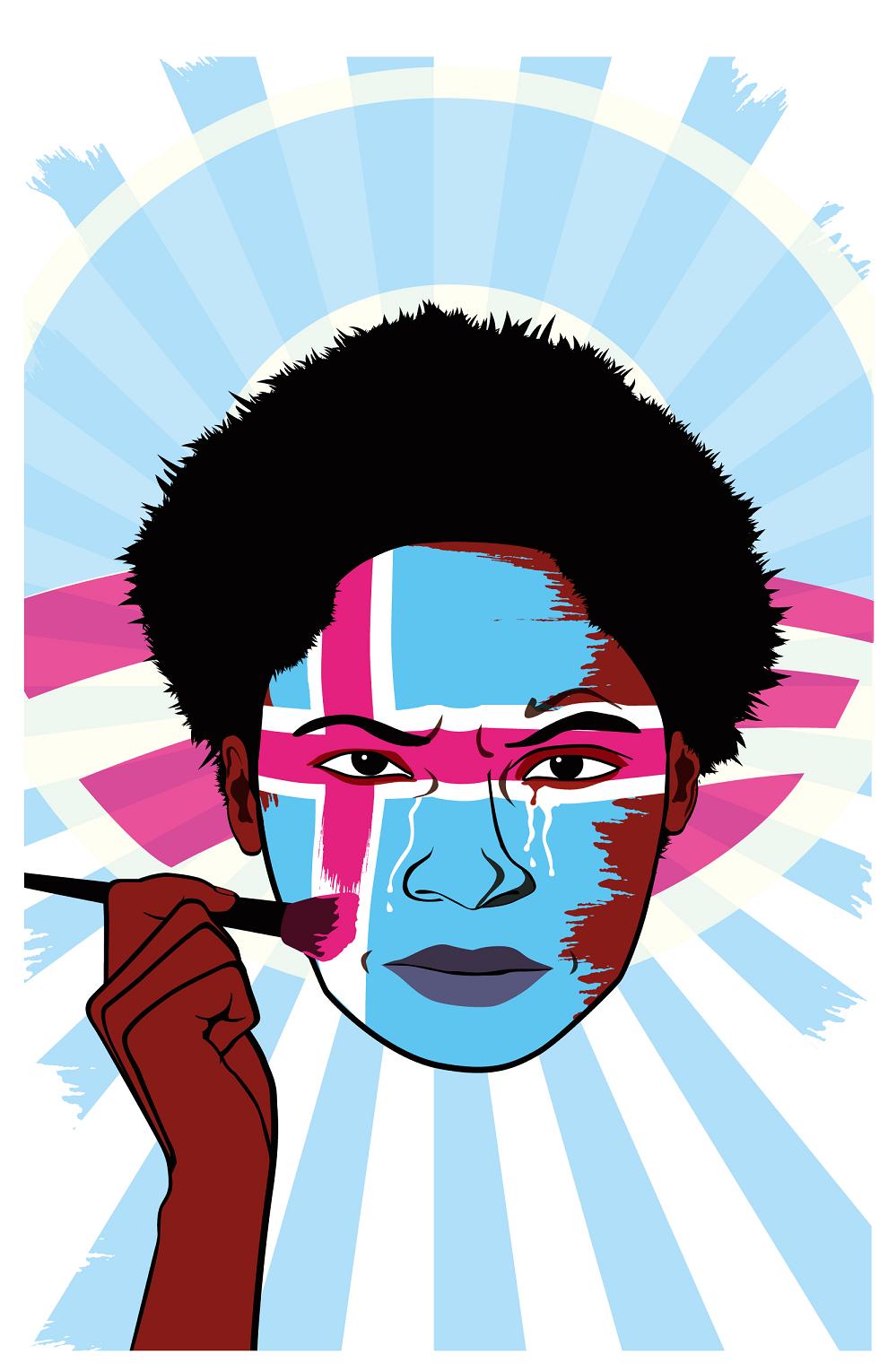 OVERVIEW:
WHAT: ETCHED IN SKIN ON A SUNLIT NIGHT
Written by Kara Lee Corthron
Directed by Whit MacLaughlin
Featuring Phyllis Johnson, Ian Bedford, Jered McLenigan, Jonathan Hooks and Aria Jones
WHEN: June 1 – 24, 2012
Tuesdays & Wednesdays @ 7 p.m.; Thursdays - Saturdays @ 8 p.m.;
Sundays @ 2 p.m; Saturday, June 2 @ 4 p.m.;
Saturday Matinee on June. 2 @ 4:00 p.m.
PRICE: $18 - $20 Previews (June 1-5)
$40 Opening Night
$28 - $29 Tuesdays - Thursdays
$33 - $35 Fridays - Sundays
Discounts available for groups, seniors and students
WHERE: On the Main Stage of The Adrienne, 2030 Sansom Street, Philadelphia
INFO / RESERVATIONS: InterAct Theatre Company Box Office
Phone: 215.568.8079
Online: www.InterActTheatre.org
Philadelphia, PA – InterAct Theatre Company closes its 24th season with the world premiere of the dynamic drama ETCHED IN SKIN ON A SUNLIT NIGHT by Kara Lee Corthron, which begins previews on Friday, June 1, and opens officially on Wednesday, June 6, 2012 at 7:00 p.m. ETCHED IN SKIN ON A SUNLIT NIGHT imagines an African American painter who has exiled herself to Iceland, only to have her secrets revealed and her racial demons unleashed during Barack Obama's Presidential election campaign.
____________________________________
ABOUT THE PLAY
____________________________________
Originally commissioned by InterAct in 2009, this intense and imaginative drama about lust, betrayal and culture clash marks the arrival of one of the most exciting new voices in American Theatre. Jules is an African-American painter who has fled the U.S. under mysterious circumstances and embraced a whole new life and family in Iceland – the whitest place on earth. But several years into her idyllic reinvented life, a confluence of extraordinary events threaten to unravel her psyche: Barack Obama's meteoric Presidential campaign makes Jules more homesick than ever; her recently out-of-work banker husband, Olafur, presents their bi-racial daughter with a shocking present; and an inscrutable African American visitor (or is he a stalker?) shows up at Jules' studio. This collision of events provokes her conflicted sense of racial and personal identity, and brings the secrets of her past out into the open. Jules and her family will never be the same.
ETCHED IN SKIN ON A SUNLIT NIGHT is a bold, visceral, theatrically imaginative and thematically rich play that delves into the psyche of an African American woman in the age of Obama. The play explores myriad themes of contemporary significance: The deep and complex relationship between racial identity and self-esteem/self-worth; the nature of being drawn to the "other;" the cluelessness about race-related issues in a place defined by racial and ethnic homogeneity; the simultaneously emboldening and destructive power of celebrity role models; and the fast-changing nature of community in a world that is diversifying at an unprecedented rate.
Producing Artistic Director Seth Rozin says: "I was immediately excited about the promise of ETCHED when we first read the commission proposal back in 2009. A few years later, we are thrilled to finally be bringing the play to fruition. Kara's theatrical imagination and muscular, poetic voice are on full display in this incredibly dynamic story for our time. And Whit MacLaughlin, with his equally imaginative and muscular aesthetic, is the perfect director to bring the play to full theatrical life."
____________________________________
SPECIAL PERFORMANCES
____________________________________
InterAct celebrates Opening Night of ETCHED IN SKIN ON A SUNLIT NIGHT with a free reception immediately following the 7:00 p.m. performance on Wednesday, June 6. Sponsored by the Lomax Family Foundation, the reception will be hosted by Slate Restaurant, located one block from InterAct at 102 South 21st Street. Join InterAct's loyal supporters as they mix and mingle with InterAct's cast, crew, board, and artistic & administrative staff for an evening of good friends and great food.
During the run of ETCHED IN SKIN ON A SUNLIT NIGHT, InterAct will host several post-performance talk-backs to encourage further discussion on the issues it raises. Speaker Sundays, a series featuring invited scholars, community leaders and artists, are scheduled to follow 2:00 p.m. matinee performances on Sunday, June 10, 17 and 24. The line-up of guest speakers will be posted at www.InterActTheatre.org as it becomes available. Following the 2nd and 3rd Tuesday and Wednesday performances of every production, we invite patrons to grab a delicious cup of joe provided by Nook Bakery & Coffee Bar, then join us for Coffee Conversations, informal discussions with company artists. During ETCHED IN SKIN ON A SUNLIT NIGHT, Coffee Conversations are scheduled for Tuesday, June 12, Wednesday, June 13, Tuesday, June 19 and Wednesday, June 20.
SHOW DATES, TIMES & TICKETS
____________________________________
InterAct's regional premiere of ETCHED IN SKIN ON A SUNLIT NIGHT runs for 22 performances, June 1 – 24, 2012, at InterAct's home on the Main Stage of The Adrienne, 2030 Sansom Street, Philadelphia, PA. Preview performances will be June 1, 2 (4 p.m. & 8 p.m.), 3 & 5. Opening Night will be on Wednesday, June 6 at 7:00 p.m. Performances during InterAct Theatre Company's 2011/2012 Season are Tuesday and Wednesday evenings at 7:00 p.m., Thursday through Saturday evenings at 8:00 p.m., and Sunday matinees at 2:00 p.m.
Season subscriptions are available now and range from $70.00 - $107.00. Discounts are available for seniors (65 and older), students (with valid I.D.), and groups of 10 or more. Subscribers receive a wide range of benefits including free and unlimited ticket exchange privileges with the same subscription series, discounts on additional ticket purchases, and special discounts at area restaurants and other arts organizations.
Individual tickets for ETCHED IN SKIN ON A SUNLIT NIGHT are also on sale now. Tickets for preview performances are $18.00 for Friday at 8:00 p.m. & Saturday at 4:00 p.m. and $20.00 for Saturday at 8:00 p.m., Sunday at 2:00 p.m. & Tuesday at 7:00 p.m. During the regular run of the show, performances Tuesdays through Thursdays are $28.00 - $29.00, and Friday through Sunday are $33.00 - $35.00. Tickets to Opening Night are $40.00. Discounts are available for groups (of 10 or more), seniors (65 and older), and students (with valid I.D.). Students with valid I.D. may also purchase Student Rush tickets for $10.00 five minutes before curtain (based on availability).
Subscriptions and tickets may be purchased by calling InterAct's box office at 215-568-8079, by dropping by InterAct's offices at The Adrienne, 2030 Sansom St., Philadelphia, or by visiting InterAct's website at www.InterActTheatre.org.
____________________________________
RELEVENT BIOGRAPHIES
__________________________________
Kara Lee Corthron (playwright) is the author of numerous plays, including JULIUS BY DESIGN (Fulcrum, July 2011), ALICEGRACEANON (New Georges, Fall 2012), HOLLY DOWN IN HEAVEN (Forum Theatre in D.C., Fall 2012 and recipient of the 2008 Princess Grace Award), SPOOKWATER, LISTEN FOR THE LIGHT, ELECTRIC PERSEPHONEIN THE SCORPION'S DEN, and WILD BLACK-EYED SUSANS. Other awards include: The Vineyard Theatre's 3rd Annual Paula Vogel Playwriting Award, two NEA grants (with InterAct and Naked Angels), the Helen Merrill Award, Lincoln Center's Lecomte du Nouy Prize (three-time recipient), an E.S.T./Sloan Commission, the Theodore Ward Prize, the New Professional Theatre Writers Award, two MacDowell fellowships, residencies at Skriðuklaustur (Iceland), the Millay Colony, and Ledig House. Current commissions: South Coast Rep, New Georges, and InterAct. Her plays have been produced and/or developed at the African Continuum Theatre (D.C.), Ars Nova, CenterStage (Baltimore), Electric Pear, E.S.T., Horizon Theatre (Atlanta), the Kennedy Center, Naked Angels, New Dramatists, New Georges, New York Theatre Workshop, The Orchard Project, Page 73, Penumbra, PlayPenn Conference, The Shalimar, TheatreWorks (Palo Alto), the Vineyard Theatre, and Voice & Vision among others. TV: writer for NBC's Kings (2008-2009). Kara is a Juilliard alumna, instructor at Primary Stages' Einhorn School of Performing Arts, a New Georges Affiliated Artist and member of the 2010-2011 Ars Nova Play Group, 'Wright On! Playwrights Group (co-founder), Blue Roses Productions, the Dramatists Guild and the Writers Guild of America.
Whit MacLaughlin (director) is the OBIE and Barrymore Award-winning Artistic Director of New Paradise Laboratories. He has conceived, directed, and designed 15 original performance works with the company since its inception in 1996, including the recent web-based EXTREMELY PUBLIC DISPLAYS OF PRIVACY (2011), FREEDOM CLUB (2010), a collaboration with Adriano Shaplin and the Riot Group, and FATEBOOK (2009). At InterAct, he directed DRINK ME and FROZEN, both cited with numerous Barrymore nominations. He also maintains a practice directing works for young audiences, at the Tony-award winning Children's Theatre Company of Minneapolis and at the Arden Theatre where he has directed 16 productions, including 4 of the top 5 most popular productions in the company's history. MacLaughlin's work with NPL has been presented at the Ontological Theatre, the Connelly Theatre, and PS 122 in NYC, at the Walker Art Center, the Warhol Museum, by commission at the Humana Festival of New American Plays and Children's Theatre Company in Minneapolis, and at the Prague Quadrennial. His free-lance career extends to theatres around the country. He is a founder of the Bloomsburg Theatre Ensemble along with the renowned Alvina Krause and a recipient of a 2002 Pew Charitable Trust Fellowship in Performance Art.
Phyllis Johnson (Jules) recently finished shooting the feature film, Archaeology of a Woman, with Oscar Nominee Sally Kirkland, and starred in the short, Hug (Sundance 2009 & AFI Dallas Grand Jury Prize Winner). Broadway credits include A NAKED GIRL ON THE APPIAN WAY (dir. Doug Hughes). Off-Broadway credits include YOKASTAS (LaMama; dir. Richard Schechner) and BLUE BEFORE MORNING (dir. Gia Forakis) - New York Innovative Theatre Award Nominations (Best Featured Actress, Best Ensemble). Other New York credits include productions with New York Stage & Film, Ensemble Studio Theatre, Lark Theatre and New Dramatists. Regional credits include productions with Yale Rep. And the Williamstown Theatre Festival. Phyllis has appeared in "Law & Order," "Law & Order: Criminal Intent", "As The World Turns", and a pilot for Fox Television Studios, "The Wedding Album." Phyllis produced I'M THROUGH WITH WHITE GIRLS (www.turnsoul.com), which won 7 International Audience Favorite Awards and is available on Showtime, Blockbuster & Netflix. She received her MFA from the Yale School of Drama, and is the recipient of a Fox Family Foundation Grant and the Oliver Thorndike Prize.
Ian Bedford (Olafur) was last seen by Philadelphia audiences at Ian as Lennie in OF MICE AND MEN at People's Light and Theatre. Also in Philadelphia he has appeared in SUPERIOR DONUTS (Arden Theatre), A PASSING WIND (Kimmel Center) and TREASURE ISLAND (People's Light and Theatre). In New York and regionally his credits include Petruchio in THE TAMING OF THE SHREW (Chicago Shakespeare Theater), THE SCHOOL OF NIGHT (Mark Taper Forum), THE BEAUX STRATAGEM and RICHARD III (Shakespeare Theater, Washington, DC) and title roles in MACBETH (Orlando Shakespeare Theater) and Richard III (Lake Tahoe Shakespeare). In six seasons with the Pennsylvania Shakespeare Festival he has appeared as the title role in HENRY V, Oberon in A MIDSUMMER NIGHT'S DREAM, MACBETH, OTHELLO, AS YOU LIKE IT and HENRY IV, Part 1. On television, Ian recurred on Law and Order: SVU and has appeared on Nurse Jackie, Blue Bloods, Guiding Light, One Life to Live and Nash Bridges. Ian earned his M.F.A. from UC San Diego and his B.A. from Yale.
Jered McLenigan (Jonsi/Man on the Street) has performed extensively with Wilma Theater, Lantern Theatre, 1812 Productions, Prince Music Theatre, Theatre Exile, Inis Nua, Philadelphia Shakespeare Theatre, Iron Age Theatre, EgoPo, and New City Stage. He won the 2009 Barrymore Award for Outstanding Supporting Actor in a Play.
Akeem Davis (Warton) is from Miami, Fl and a graduate of Florida State University. This is his first project with Interact Theatre Company. He has recently acted with the National Constitution Center, Philadelphia Young Playwrights and Flashpoint Theatre Company.
Aria Jones (Kina) is a seven year-old actress, currently living and going to school in Delaware.
The design team for ETCHED IN SKIN ON A SUNLIT NIGHT includes Set Design by Tim Brown, Lighting Design by Maria Shaplin, Costume Design by Rosemarie McKelvey, Sound Design by Robert Kaplowitz, and Properties Design by Avista Custom Theatrical Services. Tom Helmer will serve as Stage Manager, Daniel X. Guy as Production Manager, Kittson O'Neill as Dramaturg, Lauren Tracey as Production Assistant, and Britt Plunkett as Technical Director.
______________________________________


INTERACT'S SPONSORS
______________________________________


InterAct Theatre Company's production of ETCHED IN SKIN ON A SUNLIT NIGHT is sponsored by:
The Lomax Family Foundation
InterAct Theatre Company's 2011/2012 Season is sponsored by:
InterAct's 2010/2011 Season Opening Nights are sponsored by:
Saul Ewing LLP Slate Restaurant
InterAct's 2010/2011 Season Coffee Conversations are sponsored by: