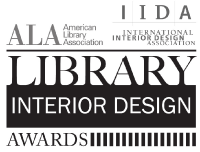 The International Interior Design Association and the Library Leadership and Management Association, a division of the American Library Association, are pleased to announce the winners of the 2012 Library Interior Design Competition. The biennial awards honor excellence in library Interior Design, incorporating aesthetics, design creativity, function and satisfaction of the client's objectives. Seven winners and three honorable mentions were selected from projects submitted throughout North America.

The distinguished panel of judges for the competition included: Charles Forrest, Emory University Libraries; Jim Griffo, IIDA, Gresham Smith & Partners; Dr. Susan E. Parker, UCLA Library; Stacy Reed, IIDA, LEED AP, ID+C, Gensler; Dr. Frederick Schlipf, GSLIS, University of Illinois, Urbana; and Felice L. Silverman, IIDA, Silverman Trykowski Associates.

"The overall quality of the submissions was at the highest level," said Felice Silverman, IIDA. "Each project brought a unique solution to the ever-evolving concept of a library. The designers were faced with new functional and technological challenges, and responded with creativity and innovation."

Dr. Susan Parker agreed, "These designs delivered fresh, imaginative, and comfortable spaces that have been designed, built, and furnished with a thoughtful understanding of the needs of the libraries' constituent communities."

Winners were selected in the following categories:
Academic Libraries, 30,000 SF & Smaller
Firm: Joel Sanders Architect, New York, NY
Project: Julian Street Library, Princeton University, NJ

Academic Libraries, over 30,000 SF
Firm: Diamond Schmitt Architects / Evans Bertrand Hill Wheeler Architecture Inc. , Toronto, Ontario
Project: Academic Learning Library, Nipissing University- North Bay, Ontario, Canada

On the Boards
Firm: Perkins + Will, Dallas, TX
Project: Preston Royal Replacement Branch Library, Dallas, TX

Outstanding Historical Renovation Project
Firm: Centerbrook Architects and Planners, Centerbrook, CT
Project: Carnegie Library, Cold Spring Harbor, New York

Public Libraries, 30,000 SF & Smaller
Firm: The Freelon Group, Durham, NC
Project: Anacostia Neighborhood Library, Washington DC

Public Libraries, over 30,000 SF
Firm: Meyer, Scherer & Rockcastle, Ltd. (MS&R), Minneapolis, MN
Project: McAllen Main Library, McAllen, TX

Single Space
Firm: Shepley Bulfinch, Boston MA
Project: Atlanta University Center- Woodruff Library Learning Commons, Atlanta, GA

Honorable Mentions:


Public Libraries, 30,000 SF & Smaller
Firm: William Rawn Associates, Architects, Inc., Boston, MA
Project: Mattapan Branch Boston Public Library, Mattapan, MA

Public Libraries, over 30,000 SF
Firm: Meyer, Scherer & Rockcastle, Ltd. (MS&R), Minneapolis, MN
Project: Ramsey County Roseville Library, Roseville, MN

Single Space
Firm: Gensler, Boston, MA
Project: Boston Public Library: Norman B. Leventhal Map Center, Boston, MA
The Best of Competition winner will be announced at the ALA Annual Conference on June 24, 2012 at the Anaheim Convention in California where all winners and their clients will be celebrated. They will also be featured on the IIDA website and published in
Contrac
t and
American Libraries
magazines.

# # #

About International Interior Design Association
The International Interior Design Association (IIDA) is a professional networking and educational association with more than 12,000 Members practicing worldwide in more than 50 countries. IIDA is committed to enhancing the quality of life through excellence in Interior Design and advancing Interior Design through knowledge, value and community. IIDA advocates for Interior Design excellence; nurtures a global Interior Design community; maintains high educational standards; and supports its Members and the Profession with visionary leadership. For more than 38 years, IIDA has helped reveal new Design talent through a variety of education initiatives and Interior Design/Architecture competitions honoring local talent, including the Interior Design Competition, Global Excellence Awards and HD Product Design Competition.
www.iida.org.

About Library Leadership and Management of ALA
The mission of the Library Leadership and Management Association is to encourage and nurture current and future library leaders, and to develop and promote outstanding leadership and management practices. Since its establishment in 1957, LLAMA has been a powerful catalyst in the development of leadership in the library and information science field. Attuned to ever-changing technological, economic, political, and cultural conditions, LLAMA equips library professionals with dynamic tools for building vibrant library services and successful careers. Highlighting all aspects of library management, LLAMA's sections (special interest groups) offer not only opportunities to connect with people of similar interests, but also to exchange ideas, collaborate on projects, publish research, mentor future leaders, and hone leadership and managerial skills.