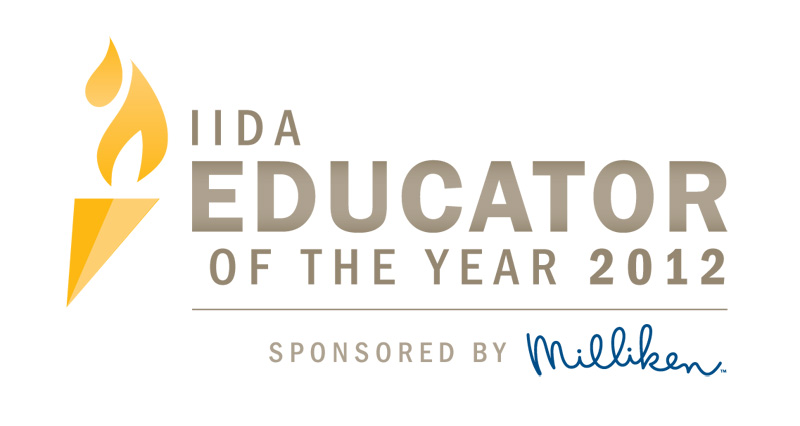 IIDA is proud to announce the IIDA Educator of the Year Award that celebrates excellence in leadership of an Interior Design educator and the IIDA Member of the Year Award that recognizes a Member for their commitment and volunteering in the design community.
The IIDA Educator of the Year Award was created to honor the exceptional accomplishments and commitment to Interior Design education by a full-time educator. The recipient of this award will receive a $10,000 cash award, sponsored by Milliken, and a complimentary 2013 IIDA Membership.
Any Interior Design faculty member or student enrolled in an Interior Design program may submit a nomination and a full time instructor may nominate him/herself. The candidate must be a current full-time instructor with a minimum of five years of experience in a post-secondary program of Interior Design education at any university or accredited school of Interior Design. Membership in IIDA is recommended, but not required to be eligible for this award.
The deadline to submit an application is April 10, 2012. The candidate selected as the Educator of the Year will be notified in mid-May and must be available to accept the award on June 10, 2012 at the IIDA Annual Meeting in Chicago, Illinois. Enter online and for more information, contact Michael Ancheta, Managing Director of Education Service and Programs, at mancheta@iida.org
The IIDA Member of the Year Award recognizes an IIDA Member who has demonstrated outstanding volunteer service through his/her commitment, passion, professionalism and dedication assisting IIDA as it advances the Interior Design profession. This is the first time ever IIDA has presented this award to a Member of the association.
To be considered for the award a candidate must be an IIDA Member for a minimum of five years. IIDA Members may nominate other Members or him/herself. Current Chapter or International Board Members and Students are not eligible to apply for this award. The winner will be featured on the IIDA website, in the DesignMatters newsletter and will receive a free IIDA Membership for the following year.
The application deadline is March 21, 2012. Download the application online. For more information, contact Lisa Toth, Senior Director of Membership, at ltoth@iida.org.
# # #
About International Interior Design Association
The International Interior Design Association (IIDA) is a professional networking and educational association with more than 12,000 Members practicing worldwide in more than 50 countries. IIDA is committed to enhancing the quality of life through excellence in Interior Design and advancing Interior Design through knowledge, value and community. IIDA advocates for Interior Design excellence; nurtures a global Interior Design community; maintains high educational standards; and supports its Members and the Profession with visionary leadership. For more than 38 years, IIDA has helped reveal new Design talent through a variety of education initiatives and Interior Design/Architecture competitions honoring local talent, including the Interior Design Competition, Global Excellence Awards and Sustainable Leadership Awards. www.iida.org.