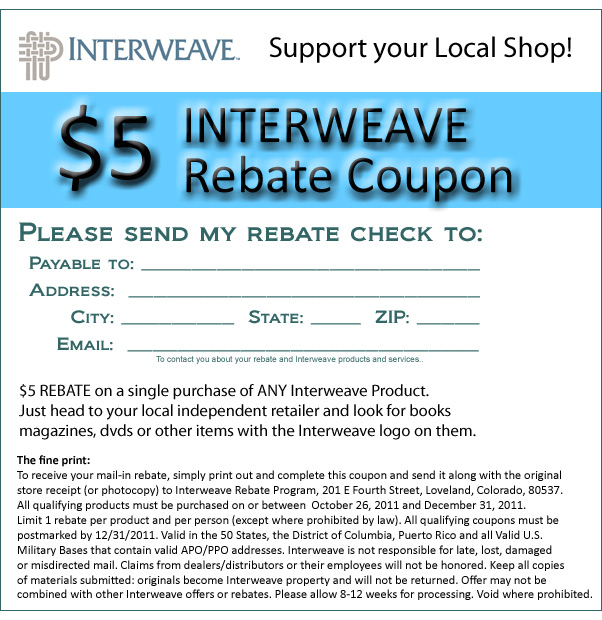 Holiday gift-giving is approaching, and Interweave wants to make it easier for artists and crafters to show their appreciation for local independent retail shops. From now until Dec. 31, 2011, U.S. customers can purchase any Interweave product (that includes Interweave's books, magazines, DVDs, collections CDs, calendars, and more with the Interweave logo on them) at their local art and craft store, and get $5 back from Interweave.
Get the rebate coupon at: http://ow.ly/i/lx7a
Crafters can use the rebate for purchases of Interweave products on the upcoming Small Business Saturday November 26 (http://smallbusinesssaturday.com), or any time before the end of the year. Customers simply fill out the rebate coupon and send it back to Interweave with the original receipt or photocopy. Interweave will then send customers a check back for five bucks. (We recommend that they then take the $5 and use it to buy more craft supplies!)
"Our readers love to make things and share them with others. In these difficult economic times, there's additional incentive for them to make it a DIY holiday season. We want to help support both the independent shops that carry our products and the communities that support the handmade arts," says Interweave Senior Vice President and Publisher Stephen Koenig. "We hope this rebate gives our readers yet another reason to visit the local shops that strengthen their communities and play such an important role in the creative ecosystem."
The fine print: Limit 1 rebate per product and per person (except where prohibited by law). All qualifying coupons must be postmarked by 12/31/2011. Valid in the 50 U.S. States, the District of Columbia, Puerto Rico and all Valid U.S. Military Bases that contain APO/PPO addresses. Void where prohibited.
Websites:
www.Twitter.com/InterweaveNews
Short URL for rebate coupon: http://ow.ly/i/lx7a