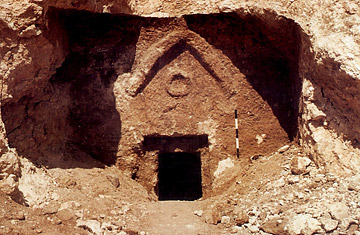 CALVARY, Jerusalem-- Local Judean residents claim Jesus, the "King of the Jews", disappeared from his burial site late Saturday night or early Sunday morning. A group of women descended on the tomb Sunday morning, only to find it empty of its previous occupant.
Sunday marks the third day since Jesus' crucifixion- his punishment for his alleged insurrection- and once he was pronounced dead on Friday, he was put to rest inside a tomb outside Calvary. The debate over the legitimacy of his death sentence led some to infer that his body had been taken to a holier site by his followers, but Judge Pontius Pilate went on the record today saying, "No man could have moved the stone covering Jesus' tomb. I am confounded as to where his body ended up." While some are in awe over his rising from the dead, others are not.
"This is a very typical Jesus move. None of us are surprised by this." Remarked his good friend and disciple Peter.
Peter went on to describe the interaction that occurred between Jesus and the women this morning. "Mary Magdalene told us over brunch about her sighting of Jesus. She says that he told her to 'teach' us the Gospel but, I am going to have to check that fact out with him."
The tomb is being examined all day today but will be on display to the public all next week from approximately dusk until dawn. The Apostles will be serving a light fare of lentils and bread to all who come view this supposed 'miracle'. They will also be hosting a meeting following the showing tomorrow night to determine a name for the proposed holiday that will fall on this day next year.
Questions and concerns should be directed towards Stephanous. He will be in our office located in the third hovel on the south side of the river.