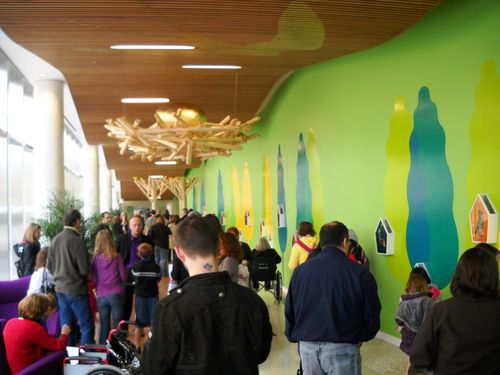 [Disclaimer] This pitch is for a public relations class I'm taking. It is not an official press release.
PORTLAND April 4, 2012- Legacy Healthcare begins newly structured volunteer programs designed to encourage more community members to become involved in the settlement of Randall Children's Hospital within the healthcare community. Opening in February of 2012, Randall Children's hospital is one of the largest all children hospitals in the nation, with state-of-the-art, high quality equipment to produce the most results.
Heralding the large expansion of childcare, pediatric assistance, Legacy Healthcare is extending new programs involving children under care, and community supporters to volunteer in the process of integrating the hospital into becoming a child-friendly, fun place. Programs include music, art, tutoring, storytelling, and other recreational activities. Those who wish to volunteer will be subject to a simple application process to ensure quality volunteering assistance.
" Volunteering here is an excellent chance to help children enjoy their lives at Randall," says Dr. Lori Morgan, Chief Administrative Officer of Legacy Emanuel. "With our new facilities there's more of a chance to develop closer ties to patients, families, and volunteers, making the environment very diverse and culturally rich."
For more information on applying for volunteer programs, please email Nico Marquez at marquez14@up.edu, or by phone at (541) 951-9961. For questions, comments, or other inquirie, please visit Legacy Healthcare at http://www.legacyhealth.org/home_foundation.cfm?id=415