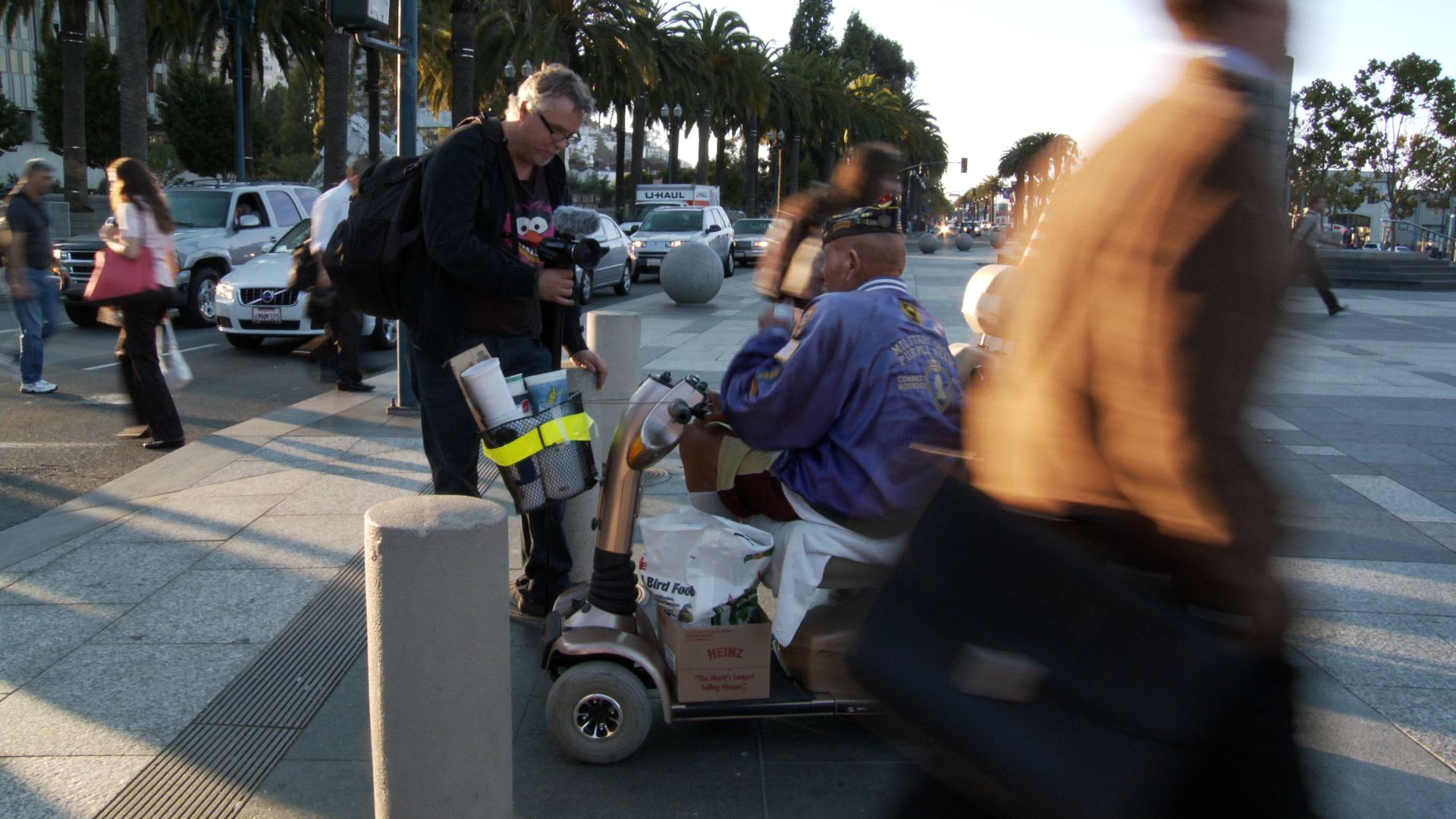 Mark Horvath of
Invisiblepeople.tv
will turn his video camera and the power of social media on the problems associated with the rapid rise in homelessness in England during a 10-day trip starting 2 July. Horvath is an internationally recognized advocate for people experiencing homelessness. His tour starts and ends in London; with a one day trip to Chippenham shifting attention to rural homelessness. The trip will occur just before London hosts the Olympics—an occasion when host cities try to make it appear that they do not have anyone living on the streets.
"Cuts to hostels and housing services have taken a significant human toll," said Horvath. "As a result, a shocking number of people are sleeping rough. The crisis is much worse than statistics show because homelessness is nearly impossible to count. Many homeless people are 'hidden'- sleeping on couches and floors, and not living in healthy conditions."
"Invisible People connects people to the face of homelessness in a direct and meaningful way that humanizes the subject and builds empathy in the viewer. This is way more important and impactful than simple awareness" said Horvath. "As I have done across the United States and Canada, I want to give the people experiencing homelessness in England a chance to tell their stories. Once we know our neighbors it's not so easy to ignore them, and that's where real positive change starts"
Since its launch in November 2008, InvisiblePeople.tv has leveraged the power of video and the massive reach of social media to share the compelling, gritty, and unfiltered stories of homeless people. The vlog (video blog) gets up close and personal with veterans, mothers, children, layoff victims, and others who have been forced onto the streets by a variety of circumstances. Each week, these individuals' stories are featured on InvisiblePeople.tv, and high traffic sites such as YouTube, Twitter and Facebook, proving to a global audience that while they may often be ignored, they are far from invisible.
Mark will be meeting with service providers and filming homeless friends on the streets of London 2-4 July, in Chippenham 5 July, and back in London 7-10 July.
Mark's airfare is sponsored by
British Airways
. Other trip expenses have been met by a number of personal and corporate supporters including
DTV Group
. Chippenham trip is being hosted by
Doorway
.
Media Contacts:
Mark Horvath
(213) 245-1519
info@invisiblepeople.tv
About Mark Horvath
InvisiblePeople.tv is a grassroots nonprofit founded in 2008 by advocate Mark Horvath (@hardlynormal on Twitter). The organization is primarily self-funded, along with a $50,000 grant from the Pepsi Refresh Challenge in 2010. After building a successful career in television syndication, Mark found himself homeless in 1995 following a battle with addiction. He worked hard to clean up his act, and was again living comfortably by 2007 with a three-bedroom house and a 780 credit score. But then the recession hit. After several layoffs and a foreclosure, he was once again facing homelessness. That's when Mark launched InvisiblePeople.tv with just $45 and a budding interest in online social media. In November 2009, he was named "one of the top activists to follow on Twitter" by the Huffington Post. Because of his work with InvisiblePeople.tv, Horvath has been featured by the L.A. Times, CNN, CBS, Mashable.com and NPR. He's spoken at a number of conferences and events, including Geneva Forum on Social Change, Blog World, U.S Department of State's Tech@State, Gnomedex, 140 Character Conference, Nonprofit Technology Conference and SxSW. Youtube gave InvisiblePeople.tv unprecedented exposure allowing Horvath to curate YouTube's homepage for a day. Mark was asked to speak at Twitter, Inc and at charity: water. Mark has consulted for Los Angeles Police Department, City of San Francisco, and USC Annenberg School for Communication & Journalism among many others. In 2011 the Canadian Government commissioned Horvath to travel to 24 cities in Canada to champion the Canadian Alliance to End Homelessness.