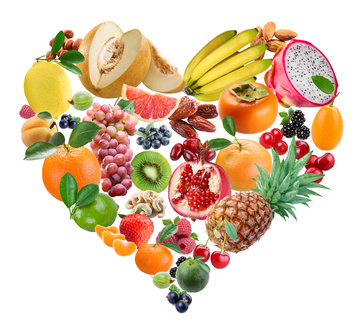 Last year, Canadian researchers recently announced the results of a study that looked at whether it was genes or environment (diet) that had the greater effect on risk of heart disease. They studied data on more than 27,000 people who had a genetic predisposition for an increased risk of heart disease. They found that those who ate a typical western diet were twice as likely to have a heart attack as the ones who included lots of fruits and vegetables in their diet. In fact, the fruit and veggie eaters showed no increased risk.
According to Dr. Sonia Anand, co-author of the study and a professor of medicine and epidemiology at McMaster University, "We found that among those with the high-risk genotype, if they consumed a diet high in vegetables and fruits, their risk for heart attack did not increase despite their having the high-risk gene profile."
"The study suggests that even with a family history of heart disease and genetic risk, it is possible that environment, specifically diet, can have a positive effect on our ultimate gene expression," say boomer generation health experts Dian Griesel, Ph.D., and Tom Griesel, authors of the new books TurboCharged: Accelerate Your Fat Burning Metabolism, Get Lean Fast and Leave Diet and Exercise Rules in the Dust (April 2011, BSH) and The TurboCharged Mind (January 2012, BSH).
"On the flip side, a poor diet will do the opposite, greatly increasing risk," adds Dian. "The TurboCharged program is based around the consumption of a wide variety of fruits and vegetables along with all the other natural foods we evolved eating and are adapted to thrive on. This study provides more evidence that proper diet and lifestyle choices offer your best chance of experiencing a long life of optimal health."
About TurboCharged:
TurboCharged® is a groundbreaking 8-Step program that defies common weight-loss theories. It successfully delivers body-defining rapid fat loss, accelerates metabolism, and improves health and odds of longevity without gimmicks, supplements or special equipment. The TurboCharged Mind is an excellent companion book to the author's acclaimed rapid fat loss book, TurboCharged, or perfect as a standalone read. A series of supporting TurboCharged™ hypnosis downloads are available for sale via the book's website, which offers ideal guided meditations to support and direct self-hypnosis sessions for faster fat loss, greater health, reduced stress, and to quit smoking. For more information, log on to http://www.turbocharged.us.com or follow us on Facebook (http://www.facebook.com/turbochargedUS).