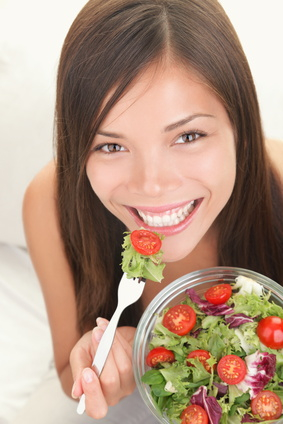 Recent research has shown that lean subjects take fewer bites and chew their food more than their obese counterparts. In a study reported in The American Journal of Clinical Nutrition, lean individuals averaged four bites per minute and chewed each bite an average of 21 times. The obese group averaged five bites per minute and chewed each bite 17 times.
When directed to eat as much as they wanted but to chew each bite either 15 or 40 times, chewing each bite 40 times resulted in consuming 12% fewer calories. Interestingly, a hour after eating a 670-calorie meal that was chewed 40 times per bite, levels of the appetite stimulating hormone ghrelin were lower than after chews.
"A separate study has found that people consumed 40% fewer calories when they ate pistachios in the shell than when they ate the shelled variety," say boomer generation health experts Dian Griesel, Ph.D., and Tom Griesel, authors of the new book TurboCharged: Accelerate Your Fat Burning Metabolism, Get Lean Fast and Leave Diet and Exercise Rules in the Dust (April 2011, BSH) and the newly launched, and the newly released, A TurboCharged Mind: Eliminate Bad Habits with Hypnosis (January 2012).
"And yet a third recent study has found that when 33 almonds were added to the breakfast of obese pre-diabetic men and women, the participants felt fuller the rest of the day than when they had an almond-free meal or a meal that also contained almond butter or almond oil," adds Dian. "The takeaway lessons for healthy weight management are to eat whole foods, eat slowly and chew more."
About TurboCharged:
TurboCharged® is a groundbreaking 8-Step program that defies common weight-loss theories. It successfully delivers body-defining rapid fat loss, accelerates metabolism, and improves health and odds of longevity without gimmicks, supplements or special equipment. The TurboCharged Mind is an excellent companion book to the author's acclaimed rapid fat loss book, TurboCharged, or perfect as a stand-alone read. A series of supporting TurboCharged™ Hypnosis downloads, are available for sale via the book's website, which offer ideal guided meditations to support and direct self-hypnosis sessions for faster fat loss, greater health, reduced stress, and to quit smoking. For more information, log on to http://www.turbocharged.us.com.