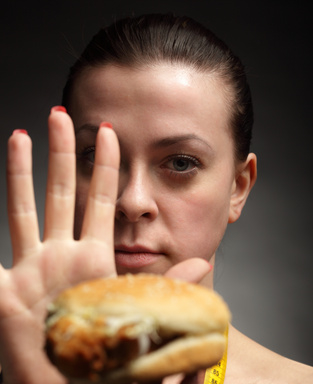 According to a survey from food research firm, Technomic, many people claim they want healthier food choices at fast food and other restaurants, but when they actually order, they go for the burgers and fries...and many even opt for the mega-size option. The government is pushing for restaurants to publish calorie counts and nutritional information. Some have adopted this measure, but with little in the way of significant results.
Sales of healthy items at places like McDonalds, Burger King, KFC, Cheesecake Factory, Domino's, Hardee's and Carl's Jr. amount to less than 23% of their sales. At McDonald's, only 11% of parents ordered apple slices instead of French fries in their kids' Happy Meals. The chain had considered totally replacing its fries with apple slices, but market testing revealed that parents rejected the idea.
"Many people say that they try to eat healthy at home but still don't make the healthier choices when dining out," say boomer generation health experts Dian Griesel, Ph.D., and Tom Griesel, authors of the new books TurboCharged: Accelerate Your Fat Burning Metabolism, Get Lean Fast and Leave Diet and Exercise Rules in the Dust (April 2011, BSH) and The TurboCharged Mind (January 2012, BSH). "Since we can't blame the fast food industry or the government for poor dietary choices that will adversely affect our health, who can we blame? The blame falls squarely on our shoulders as individuals."
"If we are fat or our children are fat, and perhaps are suffering from non-contagious conditions like obesity, type 2 diabetes, heart disease, metabolic syndrome, it is our own fault," adds Dian. "Much is out of our control, but what we choose to eat and how we choose to spend our free time is entirely up to us. You are free to eat yourself to death if you like. Or you can make choices that will give you and your family the best shot at living a disease-free life."
About TurboCharged:
TurboCharged® is a groundbreaking 8-Step program that defies common weight-loss theories. It successfully delivers body-defining rapid fat loss, accelerates metabolism, and improves health and odds of longevity without gimmicks, supplements or special equipment. The TurboCharged Mind is an excellent companion book to the author's acclaimed rapid fat loss book, TurboCharged, or perfect as a standalone read. A series of supporting TurboCharged™ hypnosis downloads are available for sale via the book's website, which offers ideal guided meditations to support and direct self-hypnosis sessions for faster fat loss, greater health, reduced stress, and to quit smoking. For more information, log on to http://www.turbocharged.us.com or follow us on Facebook (http://www.facebook.com/turbochargedUS).