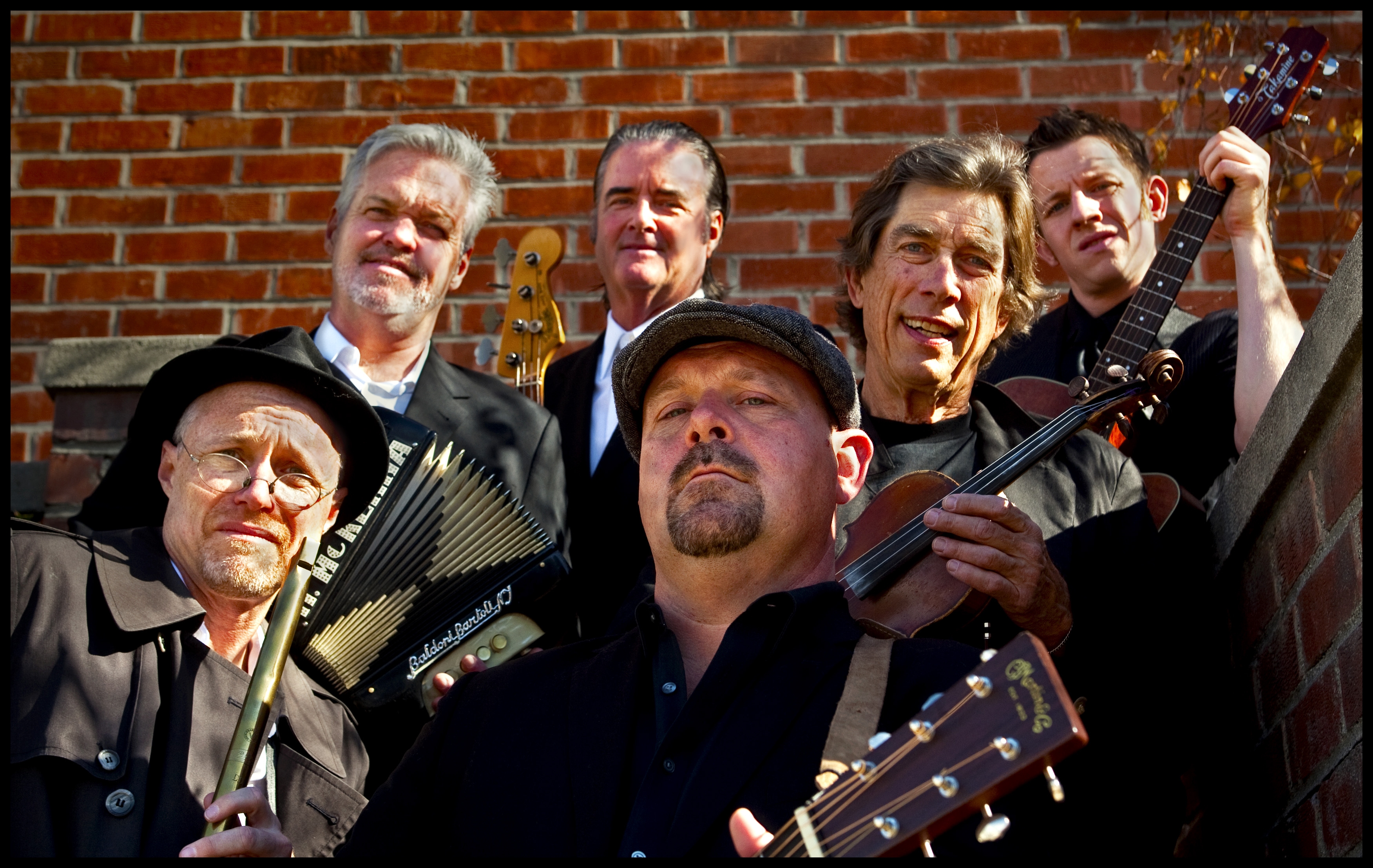 An Irish Hooley – it's a traditional Irish term for "boisterous party" – will feature riotously good music by the band Slugger O'Toole ("L.A.'s hardest working Irish Band" –L.A. Weekly), dancing by the Kerry Dancers (comprised of dancers from the Kerry Dance Troupe and guests from Riverdance, Lord of the Dance and more) and epic storytelling as is the Gaelic tradition.
"Slugger never fails to deliver the goods!" (CTG)
"Seeing these guys live makes me feel like I'm at a pub in the west of Ireland... I'll take a Guinness please!" (Conejo News Press)
"Brilliant a cappella harmonies."
An Irish Hooley! with Slugger O'Toole
Saturday, March 17, 2012 at 7:30pm
Tickets: $45 Adult; $40 Senior; $35 Group; $25 Child
With traditional instrumentation including fiddle, button accordion, mandolin, banjo, bodhran, pennywhistle, flute and guitars, Slugger O'Toole thrills audiences with its brilliant close-harmony acapella renditions of the Irish classics – music true to the Celtic core. It will be a foot-stomping, joyous celebration of all things Irish, leading up to St. Patrick's Day. Produced by Kerry Records (the leading promoter of Irish music and culture on the west coast") who brought the popular show "An Irish Christmas" to Irvine Barclay this last holiday season.
SLUGGER O'TOOLE
John Sommers, a former Navy pilot, has recently moved back to his hometown of Los Angeles from Aspen, Colorado where he was a member of the popular Defiance Stringband. He is a multi-talented instrumentalist (fiddle, banjo, mandolin and guitar) and singer/songwriter and has performed for audiences throughout the world. John was a member of John Denver's band (during Denver's "golden years" in the 70s) and in 1975 his composition "Thank God I'm A Country Boy" became a number one hit on both the pop and country charts and was nominated for a Grammy Award. Since his return to Los Angeles, John has become the newest member of Slugger O'Toole. www.johnsommers.com.
Johnny "The Box" McKenna (Button Accordion, Bodhran)
Hails from: The Bronx, NY
The son of Irish immigrants from Leitrim and Longford, Johnny is a proud Narrowback and a great Yankee fan. You can find him in his basement digging through crates of old vinyls, looking for an obscure tune that he can squeeze through the bellows of his auld mother's Baldoni button box for the simple joy of blowing your mind with the beauty of it. John is a regular performer with Kerry Records.
Dan Harper (Guitar)
Hails from: San Francisco, CA
A true libertine with a lust for life and a fondness for enjoying the finer things, Dan has the gift of the gab and the presence of mind to tell you all about it! Storyteller, raconteur, Renaissance man, he's quick with a joke, but deadly serious about rocking the joint when the band takes the stage.
Matt Foyer (Mandolin, Pennywhistles, Flute)
Hails from: Unknown
An enigma! A man of few words! A mysterious presence with the voice of an ancient pirate, he doesn't so much play his mandolin as punish it. He would like nothing more than to make you weep with a stirring melody coaxed with a feather-light touch from his battered old flute, and then kick your ass for being a cry-baby.
Paddy Rieger (Guitar, Bodhran)
Hails from: Minneapolis, MN
The kid has the goods and he's ready to show the world. So line up, ladies, and take a number…he?ll try to get to all of you eventually. A German/Irish lad from the Twin Cities, Patrick has been honing his bodhran chops at the knee of the master! He also knows an Irish ballad or two, if you've got a few minutes. Catch him while you can, 'cause this young man is going places in a hurry.
Tim "Clogh" McNamara (Bass)
Hails from: Detroit, MI
The luckiest man you know. Tim shreds on the guitar but picked up the bass when 30 years of Marshall-stack abuse and sitting too close to the goal siren at Red Wings games finally took their toll on his hearing. Now he plays by feeling the waves of vibration coming up through the soles of his soul. If he?s smiling at you with that crazy look in his eyes, you probably did something right. And don't ask about the "Clogh" story, because you don't want to know.
WITH ADDITIONAL GUEST ARTISTS:
The Kerry Dance Troupe was established by Kerry Records with the intention of celebrating and promoting Irish culture and heritage through dance, presenting Irish traditional dance in major theatres and cultural centers as well as partnering with non-profit organizations throughout the community. Comprised of dancers from Riverdance, Lord of the Dance, Magic of the Dance and local champion dancers, these 'ambassadors' of Irish dance work with Kerry Records on various aspects of Irish folk-dance traditions, incorporating old Irish dance styles into modern Irish dance styles. Through this process the best of ethnic and modern Ireland is represented, exposing audiences to the beauty, value, passion and uniqueness of our traditional dance.
Katelyn Archer (Irish Dance) has been dancing for over 13 years. She began dancing under the instruction of Sean Gavin at the Sean Gavin School of Irish Dance. She later took classes from Rose Fearon at the Butler-Fearon O'Connor School of Irish Dance. Katelyn has participated in multiple regional and national competitions. She is a second year student at California State University at Fullerton studying to become a broadcast journalist.
Kimi Gerard (Irish Dance) was a competitive Irish dancer at Aniar Academy of Irish Dance for over 7 years. She competed in local, regional, and national competitions. She attends Saddleback College and plans on studying Geography and Geology when she transfers to university.
Kevin Horton (Irish Dance) has been Irish dancing for over 22 years. Through the years, he has won many championships, including the Regionals, Nationals, and garnering 5th place at the World Championships. After heading off to college at Arizona State, he won a coveted spot on the Riverdance Tour. He toured with Riverdance for 6 years, travelling throughout the United States, Canada, Ireland, Japan, China, and Korea. Some highlights from the tour include dancing for the Imperial Empress of Japan, performing at Radio City Music Hall, and appearing as a guest performer on ABC's, Dancing With the Stars. Currently, he is living and working in Los Angeles, CA at the William Morris Endeavor. Although he misses being on the road and touring, Kevin is excited to continue performing.
----------------------------------------------------------------------------------------------Notable Irish Ballads
The Irish ballad cover politics, soldiering, rebellions, wars, murder, drinking,work, love, romance, loss, longing, emigration,the travelling people and in general..great celebrations and great get-togethers!
Song for Ireland,Scorn not his simplicty, Arthur MacBride,I dreamt I dwelt,The Fields of Athenry,The Bold Fenian Men, Only Her Rivers Run Free,The Boys of Wexford, On Raglan Road, West is Awake,Four Green Fields,Danny Boy,Down by the Sally Gardens,I'll Tell Me Ma,Molly Malone,Carraigfergus,Cliffs of Dooneen,Ireland's Call,The Ould Triangle,Courtin' in the Kitchen,Whiskey in the Jar,The Parting Glass