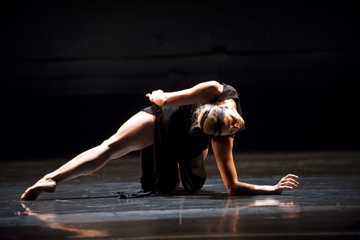 A Montreal choreographer working in New York, Barton has a riveting way with uninhibited gesture. Her performers dance with their eyes, their toes, their tongues and their little pinky fingers. A protégé of Mikhail Baryshnikov, Ms. Barton creates works that are beautiful and endlessly interesting to watch.
Aszure Barton & Artists
March 24, 2011 at 8pm
Tickets: $23-$38
Irvine Barclay Theatre - 4242 Campus Drive in Irvine
949.854.4646 |
www.thebarclay.org
This will be the company's Los Angeles area debut. Ms. Barton recently had works featured in two other dance programs in southern California:
Dumka
, part of the Bolshoi "Reflections" at the Segerstrom Center for the Arts in January 2011; and
Untouched
, created for Hubbard Street Dance Chicago performed at Irvine Barclay Theatre in February 2011.
Aszure Barton
has earned the distinguished reputation of producing striking choreography for stage and film, and together with her intimate ensemble, she develops critically acclaimed productions around the globe. An East Coast critic Tresca Weinstein (Times Union, New York) wrote in March of this year: "Every couple of years, I come across a company or a dance that I think of as desert-island fare - something I'd pick to watch over and over if I had to choose just one." For this engagement at Irvine Barclay Theatre, Ms. Barton is bringing two hauntingly beautiful works, Busk and Blue Soup.
Aszure Barton's Artistic Statement:
My creative process is rooted in a celebration of music and movement, and a love for collaboration with dancers, filmmakers, designers, photographers and musicians. My work explores the tragic and comic drives within the human body and psyche. My dances often dramatize inner thoughts and impulses - using idiosyncratic movements to paint a psychological portrait. Like a danced form of Commedia dell'arte, the work looks at how our natural peculiarity, gestures and ways of moving can conjure up humor, cacophony, suspense and pathos - revealing a rich, dynamic landscape.
My choreography draws on a wide range of movement sources from classical ballet and contemporary dance to movements that surface during the creative process. I am interested in bodies that move with clean efficiency and an awareness of and responsiveness to their environments. I often ask my dancers to write, sing, perform acrobatic feats, and investigate distinctly different dance styles. This rehearsal method results in dense settings in which each player is an individual and yet all are united by a common language.
People often ask what my choreography means. I am more interested in asking, "What does it do?" Rather than trying to send a fixed message, I aim to provoke the audience into developing new ways to look at their lives and their bodies. I insist that beauty is not always pretty, but that it is always beautiful.
About BUSK (2009):
The word busk comes from the Spanish root word buscar, meaning "to seek"; buskers literally seek the fantasy of fame and fortune. BUSK begins with one dancer searching for artistic validation and discovering comfort in unity. By celebrating their bizarre, wondrous lives as performing artists, the dancers explore the sources of self-worth: external group praise or internal affirmation. With original and evocative music by Russian violist and composer Lev Ljova Zhurbin along with a powerful selection of world sound (including choir music from Sweden's Orphei Drangar), BUSK retains Aszure Barton's signature style of precise whole-body expression inflected with an intense and intimate awareness of thin line between humor and sadness.
About BLUE SOUP (2009):
BLUE SOUP is a bubbling mosaic drawn from Aszure Barton's notable past creations. This work celebrates distinct personalities and hyper awareness of body, spirit, and sound. Barton creates dense settings, in which each player is an individual and yet all are united by a common language. Defying the idea of dance as simple spectacle, BLUE SOUP invites the audience to visit a self-contained, deeply textured and bizarre universe. Sexuality without lust and stillness without silence collide with bright joy and dark humor. Dynamic, physical action and emotional honesty propelled by a score of global sound build a powerful, pulsating environment. This choreography has been hailed by the critics and the public internationally.
About Aszure Barton:
Aszure Barton was born and raised in Alberta, Canada, where she studied as a young lady with Cathy Hauptman, Sandra Gray, and Deborah Morgan. She has forever danced and made dances. She received her formal training at the National Ballet School in Toronto, where, as a student, she helped originate the ongoing Stephen Godfrey Choreographic Showcase. She also studied at The Royal Winnipeg Ballet, Alberta Ballet School, and the John Cranko Schule in Stuttgart, Germany. She has performed internationally with many celebrated dance companies including The National Ballet of Canada, Les Ballets Jazz de Montréal [bjm_danse], Mikhail Baryshnikov's Hell's Kitchen Dance, Wendy Osserman Dance Company, and her own, Aszure Barton & Artists.
Ms. Barton has been commissioned to choreograph new works for Mikhail Baryshnikov, Fang-Yi Sheu, Sydney Dance Company,The National Ballet of Canada, The Juilliard School, Les Ballets Jazz de Montréal [bjm_danse], The Martha Graham Dance Company, American Ballet Theatre II, Hubbard Street Dance Chicago, U.K. Laban Institute, among others. Her choreography has been performed at many renowned venues including Jacob's Pillow Dance Festival, Canada Dance Festival, New York's City Center, The Joyce Theater, John F. Kennedy Center, Spoleto Dance Festival, Madrid's Teatro Español, Studio 54, among many others.
Ms. Barton choreographed the Broadway production of The Threepenny Opera starring Alan Cumming, Jim Dale, Nellie Mackay, Ana Gasteyer, and Cyndi Lauper (in a new translation by Wallace Shawn, directed by Scott Elliott). She also choreographed an excerpt for the production of Salome (starring Al Pacino, Kevin Anderson, and Jessica Chastain, directed by Estelle Parsons).
Aszure is the recipient of numerous grants and awards from across North America and overseas, and has choreographed numerous international film projects in collaboration with distinguished Filmmakers Daniel Conrad and Kevin Freeman.She was recently designated a Paul D. Fleck Fellow at The Banff Centre, she is the Resident Choreographer for Les Ballets Jazz de Montréal [bjm_danse], and she has been an Artist-in-Residence at the Baryshnikov Arts Center/BAC for 2005, 2006, 2008, and 2009, and was recently proclaimed the official Ambassador of Contemporary Choreography in Edmonton, Alberta.