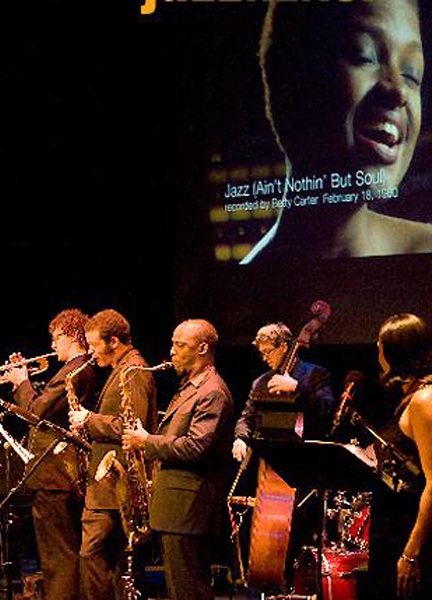 Jazz is a distinctly American art form that travels around the world and sends back new and exciting music influenced by its journey. Big Drum/Small World is a global celebration of jazz featuring works commissioned from internationally recognized composers hailing from countries as diverse as, West Africa, Israel, Cuba, Puerto Rico, India, and the United States.
The concert features the Metta Quintet, some of today's brightest young players, weaving together music and video from eight different countries. Whether you're a jazz aficionado or a complete newbie, this concert is a great way to learn more and enjoy more about jazz.
BIG DRUM/SMALL WORLD
Friday, January 27, 2012 at 7:30pm
Irvine Barclay Theatre 4242 Campus Drive
949.854.4646 | www.thebarclay.org | tickets: $17
In addition to the evening concert, the Metta Quintet will do two of its acclaimed JazzReach activities designed to engage young people with jazz. On Friday morning, the Quartet will perform a free concert for an invited group of 700 students (grades 3-6) from the Irvine Unified School District, followed by a jazz clinic with students at Irvine High School. Douglas C. Rankin, president of Irvine Barclay Theatre, remarked: "We have formed a great partnership with JazzReach and with Brad Van Patten, the Fine Arts Administrator at IUSD. Brad is a knowledgeable musician and a tireless proponent of arts education. His help is invaluable in making the connection between local students and some great international jazz."
About the Metta Quintet [musician bios at end of release]
Tim Green on alto saxophone, Wayne Escoffery on tenor saxophone, Lawrence Fields on piano, Joshua Ginsburg on bass, and Hans Schuman on drums
A highly creative unit comprised of some of today's brightest, emerging jazz stars, the Metta Quintet is dedicated to exploring new artistic territory and extending the boundaries of the live jazz experience. In addition the group maintains a steadfast commitment to arts education, serving young audiences and nurturing student musicians. Through the creative integration of live performance, captivating video, lighting and sound design, the Metta Quintet is committed to challenging convention and expanding the infinite possibilities of live jazz performance.
In 2002, the ensemble released its critically acclaimed debut CD, Going to Meet The Man (Koch Jazz) which featured eight commissioned compositions inspired by the short stories of celebrated American author, James Baldwin that appeared in the book of the same title. Composers included renowned pianists, Brad Mehldau, George Colligan and Larry Goldings, guitarist, Kurt Rosenwinke, and saxophonist, Mark Turner.
In 2006, the quintet released the equally praised, Subway Songs (Sunnyside Records), which features eight commissioned works of program music that celebrates the social dynamism and diversity of the New York City Subway experience and the extraordinary tolerance and peaceful civility demonstrated by its some 7 million daily riders. In 2011, the ensemble released Big Drum / Small World, a recording of newly commissioned compositions by eight renowned composers from eight different countries that promotes and celebrates the globalization of jazz.
About the Featured Composers
Miguel Zenon, Alto Saxophone
From: Puerto Rico | http://miguelzenon.com
Nominated for a 2009 Grammy Award for his recording Esta Plena, Miguel Zenón was born and raised in San Juan, Puerto Rico, where he studied classical saxophone at the famed Escuela Libre de Musica. His formal jazz training began at the Berklee School of Music. After graduating from Berklee, Zenón received a scholarship to attend the Manhattan School of Music, graduating in 2001 with a master's degree in saxophone performance. In 2004, Zenón became one of the founding members of the octet SF Jazz Collective. The SF Jazz Collective to date has released five critically acclaimed live recordings. Miguel has released five recordings as a leader. His debut CD, Looking Forward, was selected by The New York Times as the number one independent jazz record of 2002. Awake, his fourth recording as a leader, was released in 2008. Also in 2008, Zenón received a fellowship from the prestigious Guggenheim Foundation
Rudresh Mahanthappa, Alto Saxophone
From: East Indian Heritage | http://rudreshm.com
Guggenheim fellow and 2009 Downbeat International Critics Poll Winner, Rudresh Mahanthappa, was named Alto Saxophonist of the Year for 2009 by the Jazz Journalist Association. Rudresh has incorporated the culture of his Indian ancestry and has fused myriad influences to create a truly groundbreaking artistic vision. Kinsmen, his release for Pi Recordings, featuring Carnatic saxophone legend, Kadri Gopalnath (2008), has been named one of the Top Jazz CDs of 2008 by The New York Times. Codebook, his previous quartet release for Pi (2006), was named one of the Top Jazz Albums of 2006 by The Village Voice. As a saxophonist, Mahanthappa has achieved international recognition performing regularly at jazz festivals and clubs worldwide. As a composer, he has received commission grants from the Rockefeller Foundation MAP Fund, American Composers Forum, Chamber Music America, and the New York State Council on the Arts. Mahanthappa holds a Bachelor's of Music in Jazz Performance from Berklee College of Music and a Master's of Music in Jazz Composition from Chicago's DePaul University. He currently lives in New York and teaches at The New School University. He is a New York Foundation for the Arts Fellow.
Omer Avital, Bass
From: Israel | http://www.omeravital.com
Bassist and composer, Omer Avital was born in the small Israeli town of Givataim. His formal training began at age 11 when he entered the Givataim Conservatory to study classical guitar. He grew up in Tel Aviv, in a Moroccan-Yemenite family, where evidence of his Middle Eastern and Spanish influences came together with jazz and blues. While attending Israel's leading arts high school, he switched his focus to the acoustic bass. By his senior year, he was playing professionally. Avital moved to New York City where he played with Roy Haynes, Jimmy Cobb, Nat Adderley, Steve Grossman, Rashied Ali, among others. His big break came in 1994, not playing with giants, but leading his own groups and big band during the after-hours sessions at Smalls Jazz Club in Greenwich Village. In 1997, the Impulse record label released Jazz Underground: Live at Smalls, featuring Avital's quartet. Avital continues to compose for his own groups and projects and play with an array of renowned musicians such as Joshua Redman, Aaron Goldberg, trumpeter Avishai Cohen, and clarinetist Anat Cohen.
Lionel Loueke, Guitar
From: Benin | http://www.lionelloueke.com
Lionel Loueke is originally from the small West African nation of Benin. He was praised by his mentor Herbie Hancock as "a musical painter," and has appeared on numerous standout recordings, such as Hancock's Grammy-winning River: The Joni Letters (2008) and Terence Blanchard's Grammy nominated Flow (2005). Loueke's 2007 Blue Note debut, Karibu, established him as a one of the brightest new stars on the scene. In 1994, Loueke left Africa and moved to Paris to pursue jazz studies, enrolling at the American School of Modern Music. After graduation, Loueke was awarded a scholarship to attend the Berklee School of Music in Boston. After graduating from Berklee, Loueke was accepted to the Thelonious Monk Institute of Jazz in Los Angeles. He toured with the Terrence Blanchard Sextet and recorded two albums for Blue Note, Bounce and Flow. Since leaving Blanchard's band, he has been hired by Hancock and is a prominent member of his current quartet. In 2010, Blue Note Records released Lionel's Mwaliko (Swahili for "invitation").
Yosvany Terry, Saxophone, Chekere
From: Cuba | http://www.yosvanyterry.com
Born in Cuba, he received his earliest musical training from his father, Eladio "Don Pancho" Terry, violinist and Cuba's leading player of the Chekeré. Mr. Terry graduated from both the National School of Art and Amadeo Roldan Conservatory. While in Cuba, Yosvany was known for his musical innovation, performing with such legends as Chucho Valdez, Silvio Rogriguez, Fito Paez, and Cubanismo, as well as forming the influential group, Columna B. Columna toured throughout the US and Europe, and in 1998 premiered their Inroads Commissioned piece by Arts International (through the Ford Foundation) at Stanford Jazz Festival. Yosvany came to New York in 1999 and has played with Roy Hargrove, Steve Coleman, Dave Douglass, Jeff "Tain" Watts, bassist Avishai Cohen, and many others. Always a student, Mr. Terry has absorbed and incorporated American jazz traditions with his own Afro-Cuban roots to produce compositions and solo work that flow from the rhythmic and hard driving avant-garde to sweet sounding lyricism. Mr. Terry has performed at the Barclay twice, once with Cubanismo in 1999; and again with legendary pianist Chucho Valdes in October 2010.
Metta Quintet bios
Tim Green (Alto Saxophone), a native of Baltimore, Maryland is a well-known saxophonist, composer and arranger. He received his bachelor of music degree from the Manhattan School of Music in 2004. In 2007, Tim graduated from the Thelonious Monk Institute of Jazz at the University of Southern California with a master's degree in jazz studies. While attending the Thelonious Monk Institute of Jazz, Tim studied, performed and toured with jazz greats such as Herbie Hancock, Wayne Shorter, and Terrance Blanchard. Over the years Tim has had the opportunity to perform with various artists such as Herbie Hancock, Wayne Shorter, The Movement Orchestra, Queen Latifah, the Mingus Big Band, and Wynton Marsalis, among others. Tim is also a part of the Soulful Symphony, conducted by Darin Atwater that recently received a residency at the Meyerhoff Symphony Hall in Baltimore Maryland. Tim has been playing with his own band that features all original music influenced by jazz and gospel music. He's recently performed at the Zanfel Hall at Carnegie Hall in New York City with the Mercy Soul Quintet. Gospel music has grown to be one of Tim's strongest influences. In August of 2005, Tim released his debut album entitled Divine Inspiration on G Major Records, which features hymns and spiritual songs. http://www.myspace.com/timgreenmusic
Wayne Escoffery (Tenor Saxophone). Since moving to New York City in 2000, tenor saxophonist Wayne Escoffery has become one of the jazz world's most talented rising stars and in-demand sidemen. At only 32, he has recorded four CDs as a leader and has participated on numerous recordings as a sideman. Wayne began his professional New York career touring and recording with The Eric Reed Septet. In 2001, he became a steady member of the Mingus Big Band/Orchestra/Dynasty, The Lonnie Plaxico Group, and Abdulah Ibrahim's Akaya. In 2004, Grammy award-winning producer, arranger and trumpeter Don Sickler asked Wayne to be a part of Ben Riley's Monk Legacy Septet. At this time Wayne was also touring with Jazz at Lincoln Center's Music of the Masters, and in 2006, Wayne secured one of the most coveted gigs in jazz: a frontline position in Tom Harrell's working quintet. He has played with word class jazz musicians such as Herbie Hancock and Ron Carter. Wayne also leads his own group and performs internationally with The Mingus Band and Abdullah Ibrahim. http://www.escofferymusic.com/
Lawrence Fields (Piano). A native of St. Louis, Missouri, Lawrence started on the snare drum in high school, but quickly gravitated toward the piano. He entered the prestigious Berklee College of Music almost entirely self-taught. In only his second semester at the college, Lawrence was the first-ever recipient of Berklee's James Williams Award. Lawrence has played with several nationally known figures, including Nicholas Payton, Jeff "Tain" Watts, drummer Rodney Green, Berklee alumnus Lage Lund, and legendary songwriter and recording artist Oscar Brown Jr., among others. He has recorded with clarinetist Alvin Batiste and Branford Marsalis on the Marsalis Music label and collaborated with the great drummer Terri Lynn Carrington on her 2009 release, More to Say. In 2011, Lawrence toured and recorded extensively with trumpeter Christian Scott and joined acclaimed tenor saxophonist Joe Lovano's all new quintet featuring trumpeter/composer Dave Douglas, bassist James Genus, and drummer Joey Baron.
http://www.youtube.com/watch?v=EkbkR8OZllA
Josh Ginsburg (Bass) currently resides in Brooklyn, NY and has performed with artists such as Eddie Henderson, Doug Rainey, Jeremy Pelt, Bobby Watson, Mark Turner, Frank Gant, Ryan Kisor, Eric Lewis, Xavier Davis, Mark Gross, Jimmy Greene, Kurt Rosenwinkel, Aaron Goldberg, among others. In the fall of 1999, Josh toured Japan with the John Regen Trio where he performed nightly at the Blue Note - Fukuoka. He has also toured Denmark and Sweden with the John Ellis Quartet. While there, he recorded a CD with guitarist Doug Rainey, for the Music Mecca label. Other recordings include Andrew Adair's States for the Fresh Sound / New Talent label and Metta Quintet's critically acclaimed Going to Meet the Man (Koch 2002) and Subway Songs (Sunnyside Records 2006).
http://jazztruth.blogspot.com/2011/09/josh-ginsburg-interview.html
Hans Schuman (Drums, Founder / Executive Director, JazzReach). Born in Lansing, Michigan, Hans Schuman began playing drums at the age of 13 while growing up in Tucson, Arizona. After high school, Hans enrolled at Boston's Berklee College of Music. Upon receiving his bachelor's degree in professional music in 1990, he moved to New York City where he went on to play with jazz stars Benny Green, Cyrus Chestnut, Wynton Marsalis, Kurt Rosenwinkel, and Joshua Redman, among many others. In 1994, Schuman founded JazzReach Performing Arts & Education Association, a not-for-profit organization dedicated to fostering a greater appreciation, awareness and understanding of jazz music. Since the premiere of JazzReach's debut educational program in 1997, Schuman has successfully positioned JazzReach as one of our nation's leading arts organizations dedicated to jazz. Schuman is also the founding member of JazzReach's official resident ensemble, Metta Quintet. The group, featuring some of today's most notable, emerging jazz stars, released its critically acclaimed debut recording, Going to Meet the Man (Koch) in 2002. In July 2006, Sunnyside Records released Metta Quintet's second critically praised CD, Subway Songs. Their forthcoming release, Big Drum / Small World, is a recording of newly commissioned compositions by composers from eight different countries that aims to promote and celebrate the globalization of jazz.
http://www.npr.org/blogs/ablogsupreme/2010/01/jazzreach_interview.html
JazzReach
LIVE MULTI-MEDIA EDUCATIONAL PROGRAMS FOR YOUNG AUDIENCES
In response to the overwhelming need for supplementary arts programming, JazzReach has cultivated successful, ongoing partnerships with leading cultural and performing arts institutions to present unique, high quality educational programs designed to compliment students' regular classroom curriculum.
All of the JazzReach educational programs for young audiences are as fun as they are informative and actively engage students in an analysis of:
the cultural factors that have come together to make jazz such a compelling art form
the social conditions that shaped the music's development
the immense impact jazz has had on the sound and evolution of indigenous American music.
JAZZREACH PROGRAMS FEATURE :
• LIVE Music featuring METTA QUINTET
• LIVE Narration
• Captivating, Integrated Video Projections
• Post-Show Q&A with Artists
JazzReach website: http://www.jazzreach.org