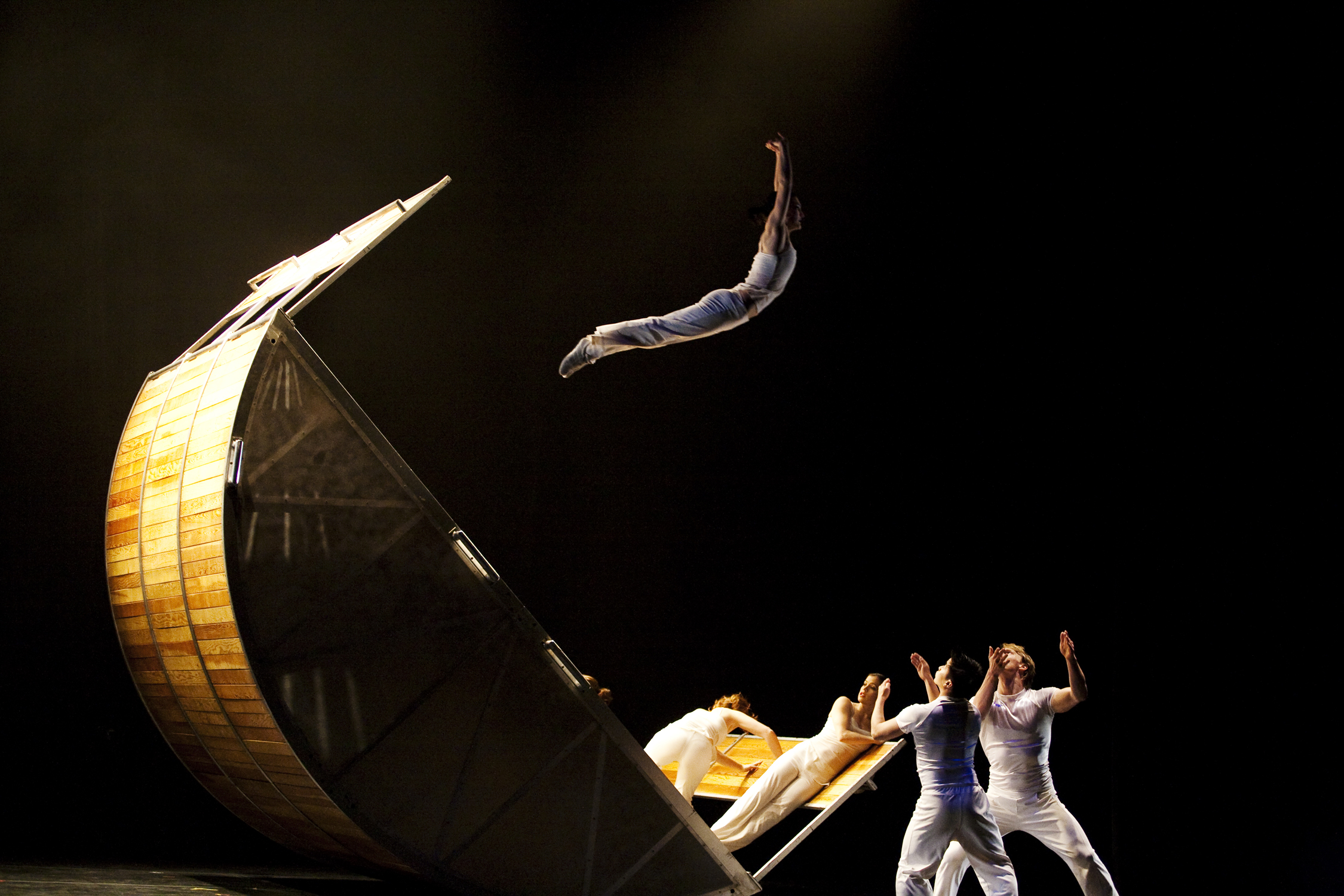 The dancer-acrobats of Diavolo leap through steel spinning wheels, fly around an oversized twenty-first century galleon, catapult from ship-like platforms, and glide almost effortlessly through striking, surrealistic sets. Watching these daredevils in action, one might imagine these playful, devilish rascals were endowed with a touch of superhuman, out of this world power - and that the company was aptly named Diavolo (Diavolo means "devil" in Italian). There is, of course, another fitting interpretation. Diavolo's flying gladiators are "flying through the day." The word "dia," is Spanish for "day," and "volo," is Latin for "I fly." Indeed, Diavolo takes movement, athletics and daring, reinvents dance and theater, and from it all creates surreal tableaux on a grand scale.
"World class: exacting choreography. Elegance, power, beauty with the thrill of danger, a special way of dancing..." –Hannoversche Allgemeine, Germany
Diavolo: Fearful Symmetries
Thursday, March 22, 2012 at 8pm
Tickets: $28, $39
Diavolo company members are dancers, gymnasts, actors, athletes and, above all, teammates.
"Through the company, I try to convey an appreciation for movement by breaking down barriers to dance via a vocabulary based on everyday activities. Building a team that allows for complete trust has been essential to creating a kind of work where dancers are inspired to take serious risks," says Artistic Director Jacques Heim, one of America's most transformative choreographers for nearly 20 years.
"I engage dancers in a journey of "working out" with a new prop for at least six weeks - exploring the set's possibilities, and cultivating the story behind the work."
The concert will begin with Fearful Symmetries, the second in a trilogy of Diavolo's collaborations with the Los Angeles Philharmonic. Set to the 1998 John Adams score, Fearful Symmetries (2010) starts as a cube. This cube symbolizes the beginning of consciousness, representing mankind's relationship with wisdom, truth and science. Fearful Symmetries illuminates the parallels between mathematics and the human soul by creating a metaphor of bodies and geometry interacting. The performers act as abstract factory workers to discover and explore the possibilities of the cube and their environment.
The evening will also include the group's signature piece, Trajectoire (Section 1: 1999, Section 2: 2001), which is the truest, most perfect example of the Diavolo aesthetic. Set on an abstract twenty-first century galleon, the group is set adrift – sink or swim – upon the ever-shifting landscape of human relations in modern society. A visceral and emotional journey, Trajectoire examines loss and abandonment, destiny and destination. At journey's end, the piece depicts the transcendence of the human soul against all odds.
Under the guidance of Heim, the Company has developed a reputation for stunning, innovative movement on oversized surrealistic sets and everyday structures.
"Whether found or constructed, I choose the set because of its role in our lives - its architectural qualities, its geometric shapes and its mechanical functionality. In short, it must be something striking, as landscape or as object that compels exploration and the desire to understand the ways in which it influences human behavior. My work is never static, and pieces will change from performance to performance, sometimes quite radically over the course of a year," says Heim.
Through working together, Diavolo dancers explore the challenges of relationships, the absurdities of life, and the struggles to maintain our humanity.
"My work investigates the latent absurdities of contemporary human life and seeks to recontextualize those absurdities through the body, exploring the influences of the environment, possessions and relationships. My aim is to capture and comment upon the ironic and frequently humorous patterns, as well as the darker consequences, of human behavior. I am also searching to expand the boundaries of what is considered to be dance by trying to create movement that offers audiences a cinematic experience of powerful images and abstract narratives."
Jacques Heim founded Diavolo Dance Theater in 1992. Based in Los Angeles ever since, Diavolo was officially recognized as a cultural treasure by the City of Los Angeles in 2007. The 2011-12 season marks Diavolo's thirteenth U.S. tour, with over fourteen weeks on the road in twenty cities. In addition, Diavolo has toured extensively throughout Europe, Asia, and Latin America. Diavolo has also created unique performance events for corporate clients such as Wells Fargo, Honda, Sebastian Inc, and General Motors.
Diavolo recently created Transit Space, a new piece inspired by the movement of skateboarding. The Company performed workshops of Transit Space in residency at the Performing Arts Center of Los Angeles County as part of Pacific Standard Time: Art in LA 1945-1980. Transit Space receives its world premiere this season at the Center for the Performing Arts at Pennsylvania State University as the culminating event of Diavolo's participation in the Creative Campus Project, an initiative to foster connections between performing arts companies and universities, funded by the Doris Duke Charitable Foundation and administered by the Association of Performing Arts Presenters (APAP).
The Los Angeles Philharmonic commissioned Diavolo to create a trilogy of dance pieces to premiere with the orchestra at the Hollywood Bowl: Foreign Bodies (2007), set to the music of Esa-Pekka Salonen; Fearful Symmetries (2010), set to the music of John Adams; and Fluid Infinities (to premiere in 2013), set to the music of Philip Glass. The LA Times described the Hollywood Bowl premieres as "those rare events that define the art of this city, when the levels of vision and support are equally exceptional…[Diavolo] makes precisely coordinated feats look improvisational, even reckless…To say Diavolo is exciting is redundant."
This past year alone, the Diavolo Education Company performed for over 40,000 students through young persons' matinees, in-school assemblies. In addition, the company regularly hosts open training sessions, master classes, and weeklong intensives that immerse emerging dance artists in Diavolo technique. On tour, Diavolo regularly conducts workshops in community centers, schools, hospitals, and juvenile detention centers. With the University of Georgia Research Foundation, Diavolo received a 2010 American Masterpieces grant from the National Endowment for the Arts to fund education activities.
JACQUES HEIM (Artistic Director) founded Diavolo Dance Theater and has choreographed the Company's entire repertory. Mr. Heim has also worked extensively for other companies in dance, theater, TV, and special events worldwide.
Mr. Heim was born and raised in Paris. His earliest experiences with performance came from street performing. He attended Middlebury College (BFA in Theater, Dance, and Film) and the University of Surrey in England (Certificate for Analysis and Criticism of Dance). He then moved to Los Angeles in 1989 to attend the California Institute for the Arts (MFA, Choreography) and has lived there ever since.
In 1992, Mr. Heim founded Diavolo Dance Theater, which rapidly established an international reputation for highly innovative, astonishing choreography. The Company has performed for hundreds of thousands of patrons on four continents and is currently performing several programs on tour. The company has been the recipient of numerous awards and was officially designated as a cultural treasure by the City of Los Angeles.
Mr. Heim has also been active as a performer and choreographer for other companies. He choreographed the long-running KA, a permanent show for Cirque du Soleil, which premiered in April of 2004 at the MGM Grand Hotel in Las Vegas. In addition, Mr. Heim was invited to be a Creative Director for the Opening Ceremony of The 16th Asian Games, in Guangzhou, China. He was the Artistic Director for the 2005 Taurus Stunt Awards and returned in 2007 to stage a movement/stunt piece, "The Car". With Center Theater Group, Mr. Heim created choreography for The Stones. On television, his work appeared on BBC America's "Dancing with the Stars," and Bravo's "Step Up and Dance."
Mr. Heim has been the recipient of a James Irvine Foundation Fellowship in choreography, the Martha Hill Choreography Award by the American Dance Festival, the Special Prize of the Jury at the 6th Saitama International Dance Festival, and a Brody Arts Fund fellowship. Mr. Heim has choreographed workshops at Ballet Pacifica and taught movement and dance for many years at Cal State LA and UCLA.