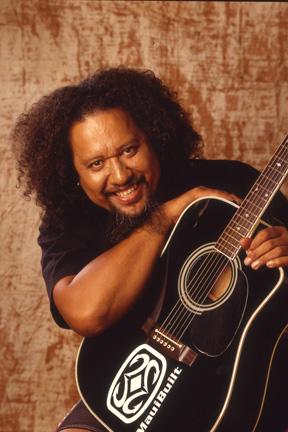 A Willie K. performance is an adventure. It is an interactive roller coaster ride of music that can wow even the most seasoned concertgoers. With a repertoire as diverse as his home state of Hawai'i, Willie's performances offer a delightful range of musical styles for audiences of all ages and backgrounds. From Hawai'ian to Blues, Opera to Rock, and so much more, his mixture of music and comedy earned him the reputation as Hawaii's most versatile artist and one of its best entertainers. His jaw-dropping musical virtuosity brings audiences to their feet over and over again.
Willie K.
Saturday, February 4, 2012 at 8pm
part of the Barclay's Hawai'ian Music Series
tickets: $28, $33, $38
Raised on Maui, Willie Kahaiali`i (aka Willie K.) has been entertaining audiences with his music since the age of 10. His father, Manu Kahaiali'i, one of Hawai'i's most respected musicians, recruited Willie and his brothers to perform in his band. From the very beginning, Willie was influenced by and exposed to a myriad of musical genres; from the Hawai'ian, jazz, and early R&B he heard at his father's side, to the sounds emanating from radio and TV by musical giants such as B.B. King, Santana, Jimi Hendrix, and Willie Nelson. By his high school graduation, Willie was playing in as many as eight bands.
He has evolved into an eclectic and charismatic singer, songwriter, entertainer, and now, actor. One of Hawai'i's most versatile talents, Willie performs a myriad of musical genres, including Hawai'ian music, jazz, blues, reggae, rock, country western, and even opera. He is a Grammy nominee and has earned multiple Na Hoku Hanohano awards (Hawai'i's Grammy Award) for his many CD recordings. He has played with or opened for such musical giants as B.B. King, Santana, Al DiMeola, Willie Nelson, Prince, Crosby, Stills and Nash, Elvin Bishop, Bonnie Raitt, Jackson Browne, Mick Fleetwood, George Benson, Jimmy Buffett, and in 2009, he toured Germany with Simply Red.
His musical collaborations are legendary: as a duo with Amy Hanaiali'i; the comic-music team of Barefoot Natives with Eric Gilliom; the huge hit, Away in a Manger, with Willie Nelson; performing with Mick Fleetwood's Island Rumours Band; and most recently, Lima Wela, his jazz-inflected guitar trio, interweaving Hawai'ian, Latino, and Middle Eastern influences with unmatched guitar virtuosity.
Willie released his first DVD, Uncle Willie K, Live at Mulligan's on the Blue, in December 2009. In March 2010, Lima Wela – Hands of Fire was released, and his Christmas CD, Willie Wonderland hit the stores in November 2010, garnering the 2011 Na Hoku Award for Best Christmas Album. Willie's new album, Warehouse Blues, was released in September 2011.
Willie's community activities are as eclectic and wide-ranging as his music: He hosts a Celebrity Golf Tournament to benefit Maui Memorial Hospital's oncology unit; he is the President of Hui O Wa'a Kaulua, which perpetuates Hawai'ian culture through traditional canoe-building and sailing; and he hosts a Film, Music and Martial Arts Festival to support local youth.
Willie launched an acting career in 2009, as one of the leads in Get a Job!, which premiered at the Honolulu International Film Festival.