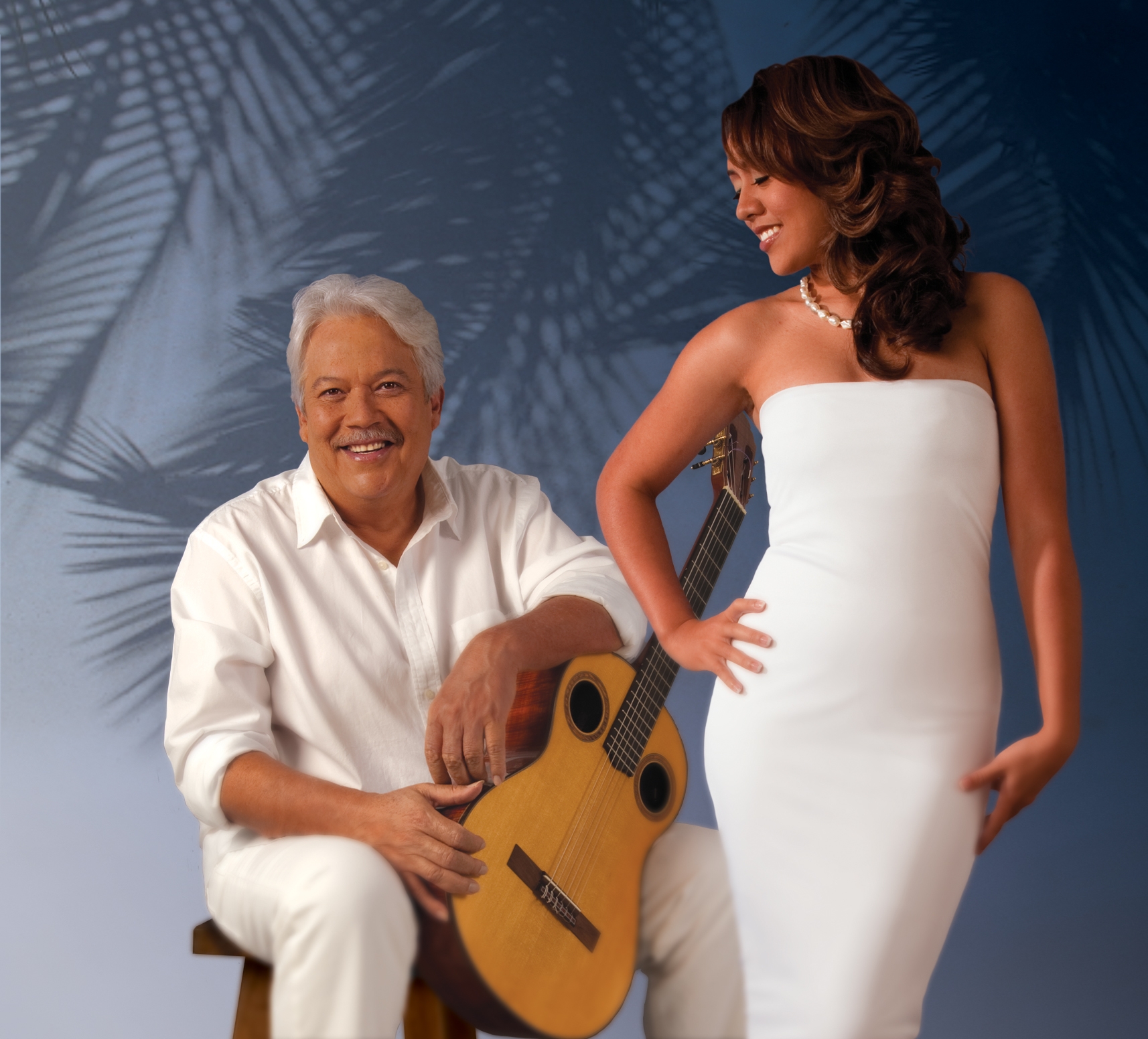 Slack key guitar legend Keola Beamer and twice Grammy-nominated Hawai'ian songstress Raiatea Helm create music that is generating a lot of buzz in the Islands. Their songs incorporate ancient Hawai'ian musical instruments into inventive arrangements of both well-loved Hawai'ian music and contemporary songs into something new and fresh. A highlight is a stunning arrangement of John Lennon's "Imagine" (Ina) that weaves together slack key, Hawai'ian chant (oli) and falsetto (ka leo ki'eki'e).
"...impressive… spotlights the strengths of both artists --Beamer's slack key talents are impossible to ignore, his playing blending seamlessly with Helm's silky smooth voice." -Honolulu Star Bulletin
Keola Beamer & Raiatea: Ina [Imagine]
part of the Barclay's Hawai'ian Music Series
Saturday, April 21, 2012 at 8pm
Tickets: $28, $33, $38
It is not often that two artists who had never before met can come together and, in such a short period of time, collaborate in the creation of music that is moving, deeply personal, and exciting. But in the case of Keola Beamer and Raiatea Helm, they're doing just that. Blending traditional and contemporary Hawaiian musical styles, Keola and Raiatea are two beloved artists who have come together to make the most beautiful music.
"In my own journey, I find that you have to love what you do," says Keola. "I really enjoy working with Raiatea. Her voice has the capacity to take me places. I can journey with her. Her voice is powerful, yet has a luminous' quality. It's like looking at the moon and seeing the light behind the physical body of it: it's the aka, the luminous glow and the spectral shadow all at once."
Keola and Raiatea first worked together in 2008 when they were asked to perform John Lennon's "Imagine" at the Shinnyo-en/Na Lei Aloha Foundation's Diversity Harmony Peace concert. And now, that beloved song has inspired the "Imagine" (Hawaiian title Ina) Concert Tour.
"The energy that Keola has just makes you feel so good, and he brings that out on an artistic level," says Raiatea. Things just sort of clicked, and that's when I knew, wow! I am so excited about this journey! It's a new me. Starting something fresh. Starting all over again. Growing into a new woman. It's beautiful and I feel comfortable in this new element."
Indeed, this collaboration has given her the chance to try new styles, to make contributions to the creative process, and to mature in her understanding of her own musical talents.
Raiatea also feels connected to the songs. "I like how they sound and I like how they feel. They are pretty deep. And Uncle Keola makes them even more powerful. He brings out the soulfulness for me. I feel comfortable in this type of spiritual and soothing sound."
One of Hawai'i's premier singer-songwriters, arrangers, composers and masters of the Hawai'ian slack key guitar, Keola Beamer's well of talent springs from five generations of Hawai'i's most illustrious and beloved musical families. A child of the rock & roll era, he was at the vanguard of Hawai'ian contemporary sound. Keola became a leader of the contemporary Hawai'ian music scene when he wrote the nationally recognized classic "Honolulu City Lights," one of the all-time best-selling recordings in the history of Hawai'ian music. Yet he also helped drive what became the Hawai'ian Cultural Renaissance, recording many songs written by his ancestors, including his legendary great-grandmother Helen Desha Beamer and his mother Nona Beamer. He was one of Hawai'i's first recording artists to integrate Hawai'ian chants and instruments, like the tiny gourd whistle and nose flute, into contemporary forms of music. Keola Beamer has recorded and produced more than a dozen albums, winning numerous Na Hoku Hanohano Awards by the Hawai'i Academy of Recording Arts (HARA), and has appeared on Sesame Street and on NBC's Today Show.
Raiatea Helm is undeniably the preeminent Hawai'ian songstress of her generation. Raiatea made history in 2006 as Hawai'i's first solo female vocalist ever to receive a Grammy nomination for her sophomore CD Sweet and Lovely. She repeated this achievement in 2008, with a second Grammy nomination for her follow-up CD, Hawaiian Blossom. Raiatea Helm has also received two prestigious Female Vocalist of the Year awards from the Hawai'i Academy of Recording Artists for her recordings Far Away Heaven and Sweet and Lovely. Since receiving the Most Promising Artist Award at the 2003 Na Hoku Hanohano Awards, Raiatea Helm has performed at venues across the United States, Japan, Tahiti, and China. She is the first Hawai'ian music artist to be awarded a fellowship from the Native Arts & Culture Foundation. Her newest CD is Sea of Love.