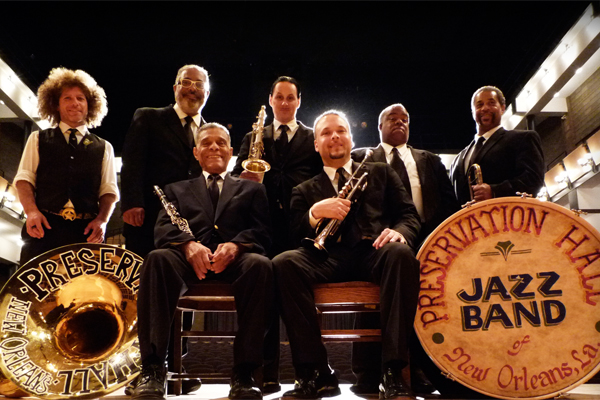 Of all the styles of American music, none is more iconic than jazz - a defiant celebration of freedom and individuality. It continues to evolve, but New Orleans' Preservation Hall Jazz Band proves nightly that there's plenty of adventure in its original form: the rich musical interplay known as New Orleans-style jazz.

"Preservation Hall, now that's where you'll find all the greats."
- Louis Armstrong

Preservation Hall Jazz Band
Friday, July 6, 2012 at 8pm
Tickets: $33, $38, $45

A perennial favorite, the Preservation Hall Jazz Band celebrates its 50th anniversary and its 22nd appearance at Irvine Barclay Theatre with its signature brand of New Orleans jazz on Friday, July 6, 2012 at 8pm.

Since opening its doors to the public in 1961, it has been the mission of Preservation Hall to showcase the national treasures of traditional New Orleans jazz music. Fifty years later, the Preservation Hall Jazz Band still represents the best opportunity for music fans the world over to experience the planet's happiest music. Boasting a direct lineage from the earliest incarnations of New Orleans jazz, the current roster of the Preservation Hall Jazz Band features some of the Crescent City's finest and most exciting musicians. These unforgettable, multi-generational players proudly carry on the traditions passed forward from the most prolific jazz heritage on earth.

Joining the band in Irvine will be So Cal native Frank Demond (Trombone), one of the eldest members of Preservation Hall Jazz Band. In addition, the Band will introduce Ronell Johnson, who will be taking over on tuba for Ben Jaffe, the Creative Director of Preservation Hall Jazz Band. (Read more about the musicians below)

One of the hallmarks of a Preservation Hall Jazz Band concert is the participation of audience members in the concert finale. Concert-goers are invited to wear their Mardi Gras finery and strut their stuff in a Bourbon Street-style parade with parasols in hand as the band plays "When The Saints Go Marching In."

Celebrating 50 Years

A Preservation Hall 50th Anniversary Box Set will be released later this year. The set will span 50 years of music including select tracks from George Lewis, Sweet Emma Barrett, Billie & De De Pierce, The Humphrey Brothers, and recordings of today's PHJB. The set will also feature a few unreleased tracks from the Preservation Hall archives.

Also to be released is Preservation Hall Live at Carnegie Hall album, recorded at Carnegie Hall during PHJB's 50th Anniversary "Preservation Hall and Friends" performance in January 2012. The performance includes PHJB performing with such guest artists as My Morning Jacket, Yasiin Bey (formerly known as Mos Def), George Wein, Steve Earle, Merrill Garbus (of Tuneyards), The Blind Boys of Alabama, Trey McIntyre Project (dance), GIVERS, and more.

In May 2012, PHJB performed at the New Orleans Jazz & Heritage Festival celebrating their golden anniversary with a grand festival-closing performance with a number of special guests including Bonnie Raitt, Jim James(of My Morning Jacket), Ani DiFranco, Allen Toussaint, Trombone Shorty, Steve Earle, Rebirth Brass Band, along with elder statesmen of New Orleans jazz Lionel Ferbos and Wendell Eugene.

About Preservation Hall Jazz Band

The Preservation Hall Jazz Band derives its name from Preservation Hall, the venerable music venue located in the heart of New Orleans' French Quarter, founded in 1961 by Allan and Sandra Jaffe. The band has traveled worldwide spreading their mission to nurture and perpetuate the art form of New Orleans jazz. Whether performing at Carnegie Hall or Lincoln Center, for British Royalty or the King of Thailand, this music embodies a joyful, timeless spirit. Under the auspices of current director, Ben Jaffe, the son of founders Allan and Sandra, Preservation Hall continues with a deep reverence and consciousness of its greatest attributes in the modern day as a venue, band, and record label.

The building that houses Preservation Hall has housed many businesses over the years including a tavern during the war of 1812, a photo studio and an art gallery. It was during the years of the art gallery that then owner, Larry Borenstein, began holding informal jam sessions for his close friends. Out of these sessions grew the concept of Preservation Hall. The intimate venue, whose weathered exterior has been untouched over its history, is a living embodiment of its original vision. To this day, Preservation Hall has no drinks, air conditioning, or other typical accoutrements strictly welcoming people of all ages interested in having one of the last pure music experiences left on the earth.

The PHJB began touring in 1963 and for many years there were several bands successfully touring under the name Preservation Hall. Many of the band's charter members performed with the pioneers who invented jazz in the early twentieth century including Buddy Bolden, Jelly Roll Morton, Louis Armstrong, and Bunk Johnson. Band leaders over the band's history include the brothers Willie and Percy Humphrey, husband and wife Billie and De De Pierce, famed pianist Sweet Emma Barrett, and in the modern day Wendell and John Brunious. These founding artists and dozens of others passed on the lessons of their music to a younger generation that now follows in their footsteps.

The Musicians

BEN JAFFE (Creative Director). As son of co-founders Allan and Sandra Jaffe, Ben has lived his whole life with the rhythm of the French Quarter pulsing through his veins. Raised in the company of New Orleans' greatest musicians, Ben returned from his collegiate education at Oberlin College in Ohio to play with the group and assume his father's duties as Director of Preservation Hall. Today he serves as Creative Director for both PHJB and the Hall itself, where he has spearheaded such programs as the New Orleans Musicians Hurricane Relief Fund.

MARK BRAUD (Trumpet and Vocals). As nephew to two former PHJB leaders, Wendell and John Brunious, Jr., Mark is proud to further his family's musical legacy in the company of so many historic players. Beginning his career playing with the Olympia Kids, a young players' offshoot of the famous Olympia Brass Band, Mark has gone on to record, tour, and play with New Orleans legends of both traditional jazz and R&B, including Eddie Bo, Henry Butler, Harry Connick Jr., and Dr. Michael White.

CHARLIE GABRIEL (Clarinet and Vocals). The musical heritage of Charlie Gabriel can be traced back as far back as the 1850s. Great-grandson of New Orleans bass player Narcesse Gabriel, grandson of New Orleans cornet player Martin Joseph, and son of New Orleans drummer and clarinetist Martin Manuel Gabriel, Charlie is truly a living legend. At seventy-six years old, the extensive list of musicians with whom he's played includes well-known PHJB alumni Kid Howard, Kid Sheik, Jim Robinson, and George Lewis.

RONELL JOHNSON (Tuba). Raised by a musical family in New Orleans, Johnson started playing trumpet and piano around the age of 6. Four years later, Johnson increased his musicianship and taught himself how to play the trombone, tuba, organ, saxophone, drums, and more. He began performing professionally at the age of 12. To deepen his musical education, he attended New Orleans Center for Creative Arts (NOCCA) and majored in music at Southern University at New Orleans. Johnson became Jaffe's protege, studying under him at NOCCA. The Johnson family are no strangers to Preservation Hall Jazz Band, as his great uncle is Joseph "Kid Twat" Butler who played string bass with the legendary Kid Thomas Valentine and the Preservation Hall Jazz Band. He is additionally a member of his family's brass band Coolbone (comprised of his 3 brothers, 2 uncles, and 4 cousins) and has toured with David Byrne, Ben Harper, Spearhead, Busta Rhymes, Counting Crows, De La Soul and other.

CLINT MAEDGEN (Saxophone and Vocals). Though Clint is best known as leader of multimedia cabaret group The New Orleans Bingo! Show, he has been in love with the sound of traditional New Orleans jazz since he was a small child. After studying with clarinet innovator Alvin Batiste at Southern University in Baton Rouge, Clint returned to New Orleans' French Quarter where he cemented his reputation as an artist and collaborator through an ongoing series of eclectic and experimental musical ensembles. As a full-time member of the PHJB, he brings an infectious passion to both his playing and singing.

JOE LASTIE, JR. (Drums). Born and raised in the Lower Ninth Ward, Joe comes from a long line of family members equally dedicated to music and the church. Having played his first job with a rhythm section backing the Desire Community Choir, he would go on to study jazz with Willie Metcalf at the Dryades Street YMCA with classmates Wynton and Branford Marsalis. After a brief move with his family to Queens, New York, Joe returned to New Orleans where he was invited to substitute on drums at Preservation Hall in 1989. He's been a regular with the band ever since.

FREDDIE LONZO (Trombone). Born and raised in New Orleans' Uptown neighborhoods, Freddie was exposed to the music of the streets at a very young age. Having cemented his desire to play New Orleans jazz, these early Second Line parades would later offer him his first professional gig with EG Gabon and Doc Paulin's Band. A true master of every style of New Orleans music, from marching brass to modern jazz, Freddie's first appearances with Preservation Hall date back to the mid-eighties when he toured and played with Percy Humphrey and Kid Sheik.

FRANK DEMOND (Trombone). Frank Demond has been playing with PHJB for over forty years. By the time he was first asked to sit in with the Preservation Hall Jazz Band on a visit to New Orleans in 1965, Frank Demond had already played with a host of New Orleans greats in his hometown of Los Angeles: Johnny St. Cyr, banjo master who'd played with both Louis Armstrong and King Oliver; Alton Purnell, the pianist who had been born in the building that would become Preservation Hall; George Lewis, legendary clarinetist and eventual Preservation Hall fixture. Frank and his wife Christie now divide their time between New Orleans and southern California, but his ties to New Orleans are deep, and as the senior member of the Preservation Hall Band, he is an important part of its legacy as well.

RICKIE MONIE (Piano). Born and raised in New Orleans' Ninth Ward to jazz loving church musicians, Rickie was inundated at an early age with the recordings of such great jazz and gospel pianists as Art Tatum, Oscar Peterson, and Teddy Wilson. After majoring in woodwind instruments at Dillard University, Rickie turned back to the piano and picked up work in every style of music. In 1982, Monie got his first call from Preservation Hall, to substitute for the legendary resident pianist Sweet Emma Barret after she suffered a stroke. To the delight of audiences around the world, he's stayed onboard ever since.