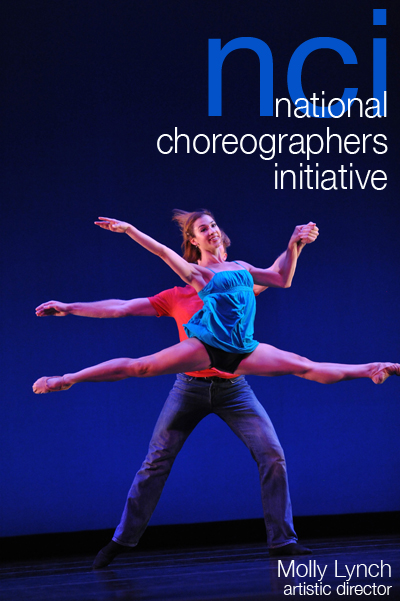 Be there for the birth of, not one, but four new ballets created as part of the intensive 3-week process of the National Choreographers Initiative. Director Molly Lynch has invited four choreographers of note – Melissa Barak, Thang Dao, Darrell Grand Moultrie, and Wendy Seyb - as well as sixteen professional dancers from ballet companies across the country, to participate. The project culminates in a public performance, NCI Discovery '12 that showcases the excitement of new creation.
NCI Discovery '12
Saturday, July 28, 2011 at 8pm
Tickets: $30 ($20 students)
For interviews contact:
Molly Lynch, 949.637.0108| mollylynch@earthlink.net
The 9th annual National Choreographers Initiative will take place this summer from July 9-27. During the three weeks of intense creative effort at the dance studios of University of California, Irvine, teams of choreographers and professional dancers will produce new dance works culminating in a public performance of NCI Discovery at Irvine Barclay Theatre on Saturday, July 28 at 8pm.
The choreographers invited by Director, Molly Lynch, come from a variety of backgrounds and are leaders in the dance community. The choreographers invited to participate this summer are: Melissa Barak, Thang Dao, Darrell Grand Moultrie, and Wendy Seyb. [bios follow]
The process for the National Choreographers Initiative begins with a three-week rehearsal period that takes place in the dance studios at the University of California, Irvine, culminating in a public performance, NCI Discovery, on July 28, 2012 at 8pm at Irvine Barclay Theatre. During the three weeks of intense creative effort, choreographers and dancers will produce 4 new dance works. Each choreographer is given complete freedom to choose the style and theme of the work. Artistic Directors from dance companies around the country have been contacted for their input and involvement and will be invited to preview the new works for possible inclusion in their company's repertoire. [The choreographers retain the right to promote and license the works they have created to other companies.]
Since its inception in 2004, 32 choreographers have been invited to create new work. Nineteen of those works have gone on to be performed with various companies around the country.
Choreographers:
Melissa Barak was born and raised in Los Angeles, CA. She trained at the Westside School of Ballet. In 1997 she entered the School of American Ballet in New York and joined the New York City Ballet as a company member in 1998.While dancing with the New York City Ballet, she began exploring her choreographic talents. She was invited by Peter Martins, director of the New York City Ballet, to participate in the first NY Choreographic Institute. Then he asked her to create a piece for School of American Ballet, Telemann Overture Suite, which was met with critical acclaim. Mr. Martins brought Telemann into the company's repertoire the very next season, and immediately asked her to choreograph again, this time on the company. She was only 22, making her the youngest choreographer in New York City Ballet history to be commissioned an original work. Melissa has been awarded the Mae L. Wien and Choo San Goh Awards for Choreography and was named one of the "Top 25 to Watch" by Dance Magazine. She has had numerous articles written about her in such publications as Pointe Magazine, Dance Spirit, TimeOut NY, ELLEgirl, Angeleno, and Los Angeles Times. She has created new works for American Repertory Ballet, Sacramento Ballet, and Los Angeles Ballet as well as the National Choreographer's Initiative and several New York Choreographic Institutes. In 2009 and 2010, she was invited to return to the New York City Ballet where she created two more works.
Thang Dao was born in Danang, Vietnam. He currently resides in New York City as a dancer and choreographer. Thang received his formal dance education from The Juilliard School and the Boston Conservatory. Thang holds a BFA in dance from The Boston Conservatory and an MA from New York University. He danced for the Stephen Petronio Company from 2001 to 2006, leaving to focus on his choreographic career. He has also worked for the Metropolitan Opera and Little Orchestra Society. Thang has presented his works in Boston, New York City, and Austin, with acclaimed reviews by The Boston Globe, Austin 360 and The New York Times. In 2006, his ballet Stepping Ground, choreographed on Ballet Austin for the 1st Biennial New American Talent/Dance, received the Audience Choice Award on all four nights. Thang is also the recipient of the 2008 Princess Grace Choreography Fellowship.
Darrell Grand Moultrie was born and raised in Harlem. Darrell is a graduate of Juilliard in 2000, and a proud recipient of the 2007 Princess Grace Choreography Fellowship Award. Darrell's work has been performed by Ailey 2, North Carolina Dance Theater, Cleo Parker Dance Ensemble, Colorado Ballet, Cincinnati Ballet, The Juilliard School, BalletMet Columbus, Milwaukee Ballet, Atlanta Ballet, Rasta Thomas and his Bad Boys of Dance, and Dance Theatre of Harlem. In October 2010, he was invited to participate in Sacramento Ballet's Capital Choreography Competition where his work Moved took home both the judges and the audience awards. Darrell has taught at many institutions across the United States including The Juilliard School, the Ailey School, Dance Theatre of Harlem, and Perry Mansfield, and served as the Director of Musical Theatre at the Harbor Conservatory of the Performing Arts. As a performer, Darrell was part of the original cast of the hit musical Billy Elliot on Broadway. He has also been seen in West Side Story, Radiant Baby, Sweet Charity, and The Color Purple. He was seen on Broadway in the smash hits Hairspray The Musical and AIDA.
Wendy Seyb is an alumna of Boston University where she received her bachelor's degree in archeology. Wendy creates in the worlds of theater and dance; her choreography has been seen in musical theater, comedic and dramatic plays, premieres and revivals. Her theater career includes choreographing The Pee Wee Herman Show on Broadway, Adam Guettel's Myths and Hymns, and the award winning The Toxic Avenger musical which garnered Wendy three nominations for her choreography: a Lucille Lortel Award, a Joe A. Callaway Award, and Toronto's DORA Award. She was nominated for a second Lucille award for her choreography in TheatreworksUSA's production of Click, Clack, Moo during the same season as Toxic, making her a double nominee for 2009-2010. Her company EveryDayMan Adventures has presented her dance comedies at Dance Theater Workshop, Joyce SoHo, Baryshnikov Arts Center, HERE arts Center, The Flea Theater, The Zipper Theater, St. Mark's Church, The Duke Theater, The Ailey Citigroup Theater and SUNY Purchase. Wendy proudly participated in the Lincoln Center Theater Director's Lab in 2009 and DanceBreak in 2008. In 2007, she was honored to be invited to show her work at the Dancers Responding to AIDS gala hosted by Bill T. Jones. Also in 2007, her Supernovas was awarded a Golden Nose Award; and she was nominated for an Innovative Theatre Award for her physical work and movement in the play The Great Conjurer. In 2007 and 2008 Wendy co-created and co-hosted Freshly Tossed, an evening of new innovative dance comedy choreography from a range of dance artists that was presented by the New York Musical Theatre Festival. She is a member of the Stage Directors and Choreographers Society.