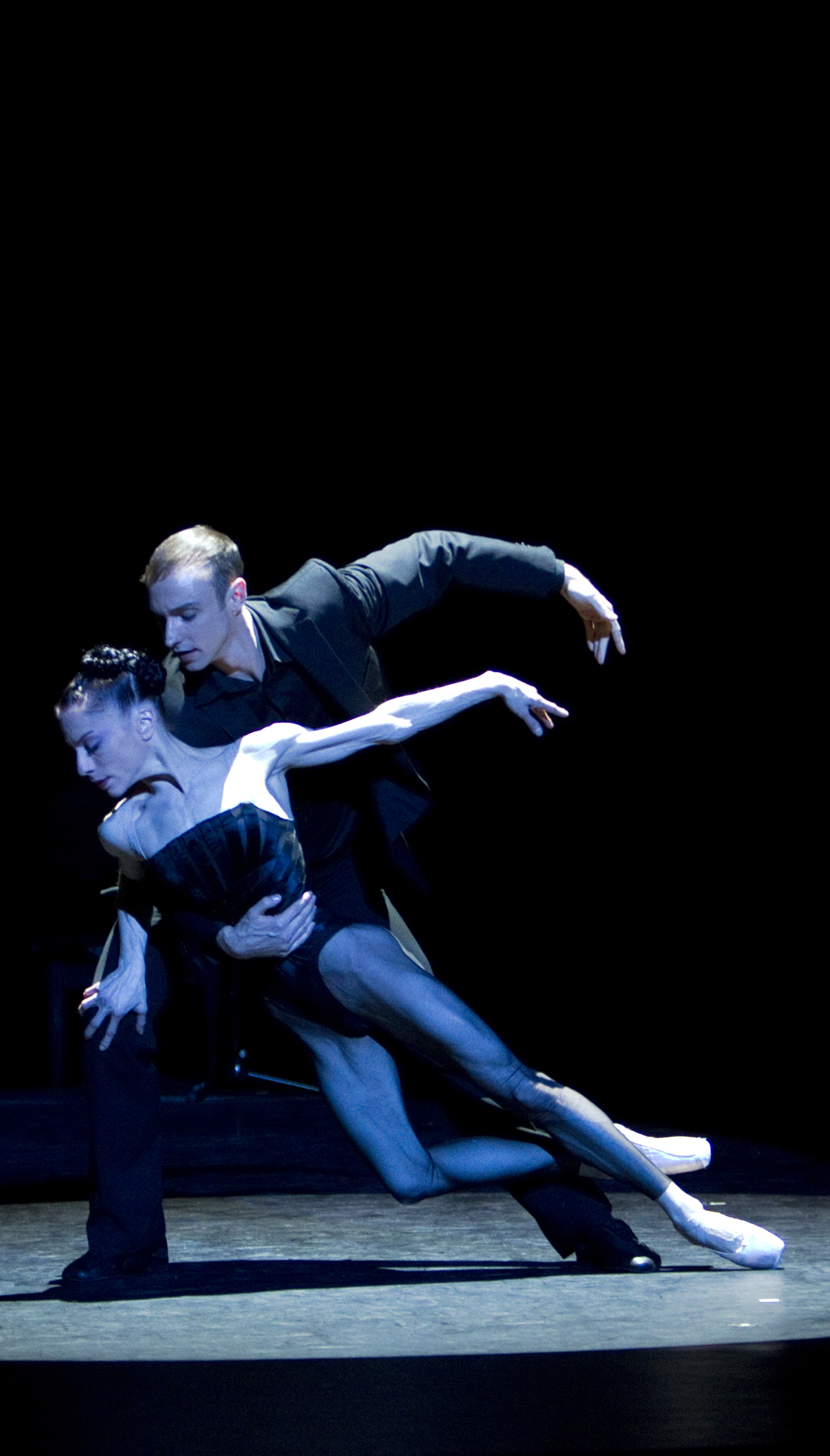 If it is possible to set a stage on fire with lightening-fast spins and unbelievably quick partnering, then Montreal-based La La La Human Steps is the company to do it. Edouard Lock's latest major work (called "The New Work") is inspired by two classic love stories, Dido and Aeneas, and Orfeo and Eurydice, but completely re-envisioned with Lock's powerful and hyper-dynamic choreography and movement. It has been a decade since the company's last appearance at the Barclay.
"They deliver at speeds no human being should be capable of; they are fearless and ultra-chic." (THE TIMES of London)
La La La Human Steps
U.S. premiere of Edouard Lock's New Work
January 26, 2012 at 8pm
part of the Barclay's contemporary dance series
performed with live music
tickets: $32, $38, $45
Mr. Lock created this new work in honor of the company's 30th anniversary. The world premiere took place January 5, 2011 at Het Muziektheater in Amsterdam, with Diana Vishneva performing with the company as a guest artist. [Ms. Vishneva will not perform in the U.S. tour] At just over 90 minutes long, the New Work is set to a score by Gavin Bryars and Blake Hargeaves, which will be performed live by a quartet of piano, viola, cello, and saxophone.
La La La Human Steps was founded in 1980 around a three-week series of performances in the small theatre l'Eskabel in Montréal's St-Henri district, which led the troupe to The Kitchen in New York City, the epicenter of contemporary dance at the time. Since then, the troupe has become one of the world's most recognized dance companies, thanks to the unique choreographic language it developed. Choreographic complexity, the alteration of ballet structures and the intertwining of choreographic, musical and cinematic strands are among the elements that create a sense of perceptual distortion and renewal, that encourage audiences to both reinvent and rediscover the body and its dance. The company requires that its dancers constantly redefine, question and renew themselves, to bring out performances that move from extreme physical challenge to the greatest of lyricism. The Montréal troupe has collaborated with institutions both prestigious and eclectic, from the Opéra de Paris to Frank Zappa. Since Human Sex in 1985, which catapulted La La La Human Steps to the forefront of the international dance scene, the troupe has performed: New Demons (1987), Infante, c'est destroy (1991), 2 (1995), Exaucé/Salt (1998), Amelia (2002) and Amjad (2007) on international tours in the major capitals of Europe, Asia and America.
Over the last 15 years, the company has received the co-production support from many international dance festivals to produce Édouard Lock's creations, such as Théâtre de la Ville in Paris, deSingel in Antwerp, the Het Muziektheater in Amsterdam, the ImPulsTanz in Vienna, the National Arts Centre in Ottawa, the Montréal High Lights Festival, the LG Arts Centre in Seoul and the Saitama Arts Theater in Japan.
Édouard Lock (La La La Human Steps Founder, Artistic Director and Choreogra­pher) began his choreographic career at the age of 20, creating works from 1974 to 1979 for a variety of Canadian dance companies and institutions, including Groupe Nouvelle Aire, Les Grands Ballets Canadiens de Montréal, the Montréal Museum of Fine Arts and the Musée d'Art Contemporain de Montréal. In 1980 he founded La La La Human Steps, a company that has garnered strong national and international recognition and that celebrated its 25th anniversary in 2005.
Over the years Mr. Lock has been invited to create works for some of the world's leading dance companies, including the Ballet de l'Opéra de Paris, the Nederlands Dans The­ater and Het Nationale Ballet of Holland. Mr. Lock co-conceived and was Artistic Director for David Bowie's world tour, Sound and Vi­sion, in 1990. He also collaborated with Frank Zappa on the Yellow Shark concert – an oc­casion that marked Mr. Zappa's final perfor­mances – alongside Germany's Ensemble Modern, Frankfurt's Alte Oper, the Berlin Phil­harmonic and Vienna's KonzertHaus.
At the invitation of the Opéra de Paris, Mr. Lock choreographed the 2003 production of Les Boréades, interpreted by La La La Hu­man Steps at Palais Garnier. Two art films based on Mr. Lock's work have also been made: La La La Human Sex duo no 1 in 1987, directed by Bernar Hébert and winner of six international awards; and Ve­lásquez' Little Museum in 1994, again by Mr. Hébert. In September 1997, the Toronto International Film Festival presented the documentary Inspirations by British director Michael Apted, featuring Mr. Lock alongside other major figures of contemporary art and architecture such as painter Roy Lichtenstein and architect Tadao Ando. Mr. Lock created choreography for David Bowie and Louise Lecavalier for London's Institute of Contemporary Arts celebration of its 10th anniversary. The piece was filmed by video artist Nam June Paik.
The film adaptation of Amelia, directed by Mr. Lock, had its American premiere at the 2004 Tribeca Film Festival and at Slamdance Film Festival in Park City, Utah, and its European premiere at the Karlovy Vary International Film Festival. The film has won awards from numerous international festivals, including the Chicago Film Festival, the Rose d'Or Festival in Switzerland and the Prague International Film Festival. The film was also nominated at the International Emmy Awards.
Mr. Lock was named a Chevalier de l'Ordre du Québec in 2001 and Officer of the Order of Canada in 2002.
The Barclay's Contemporary Dance Series continues with:
Diavolo on March 22, 2012
Pilobolus May 17-19, 2012