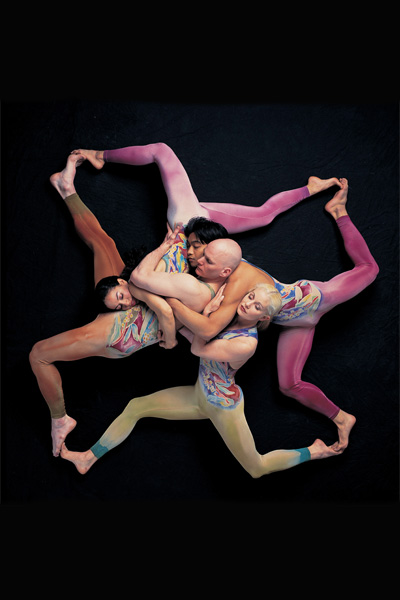 Pilobolus is a sun-loving fungus that grows in barnyards and pastures. It is also a remarkable American dance company with an international influence. Pilobolus' physical vocabulary is not drawn from traditional sources but is invented during intense periods of improvisation and creative play. The company has created over 100 collaborative works becoming an influential force in the world of dance. It is one of the most popular and enduring companies in contemporary dance. The program will include: Gnomen, All is Not Lost, Sweet Purgatory, Duet, and Megawatt. (See below for descriptions)
"Grace meets physical agility to create movement that is as lyrical as it is astonishing." ~ The Sunday Oregonian
Pilobolus is part of the Barclay's contemporary dance series.
Pilobolus
Thursday, May 17, 2012 @ 8:00 PM
Friday, May 18, 2012 @ 8:00 PM
Saturday, May 19, 2012 @ 8:00 PM
Tickets: $32,$45
Under 30 Tickets: $16-$22.50
Pilobolus (crystallinus) is a phototropic zygomycete - a sun-loving fungus that grows in barnyards and pastures. It's a feisty thing - only 1/4 inch tall - that can throw its spores nearly eight feet. Right over a cow. It is also a highly unusual dance company in its 41st year of evolution.
Pilobolus germinated in the fertile soil of a Dartmouth College dance class in 1971. What emerged was a collaborative choreographic process and unique weight-sharing approach to partnering that gave the young company a nontraditional but powerful new set of skills with which to make dances. Today Pilobolus is a unique American arts organization of international influence. It has not, however, forsaken its original impetus, and it remains a deeply committed collaborative effort with two artistic directors (Robby Barnet & Michael Tracy) and over twenty-five full and part-time dancers contributing to one of the most popular and varied bodies of work in the history of the field.
Robby Barnet explains: "We do have a lot of directorial voices and some differing approaches, but we all believe in giving the dancers as few directions as possible, with the thought that they will solve their own problems. If they seem lost or are making decisions that seem contrary to the work itself, we'll talk about it, but we encourage them to make it their own."
Nearly four decades of creative production testify to the company's position as an arts collective of remarkable fruitfulness and longevity.
The physical vocabularies of Pilobolus works are not drawn from traditions of codified dance movement, but are invented - emerging from intense periods of improvisation and creative play. In the words of Robbie Barnett, Pilobolus is constantly seeking "to construct ourselves into a group shape, something that we hope makes references beyond itself. Dance is just the encapsulation of the psychological and physical interactions within a certain group of people at a certain point in time. Like a good bottle of wine: If it's good, it captures the light of the harvest."
Pilobolus is based in Washington Depot, Connecticut and performs for stage and television audiences all over the world. Pilobolus works appear in the repertories of major dance companies - the Joffrey, Feld, Ohio, Arizona, and Aspen/Santa Fe Ballets in the U.S., the Ballet National de Nancy et de Lorraine and the Ballet du Rhin in France, and Italy's Verona Ballet - and the company has recently begun a series of major creative collaborations, including new productions with the famed writer and illustrator, Maurice Sendak; the Israeli choreographic team, Inbal Pinto and Avshalom Pollak; the remarkable American puppeteer, Basil Twist; and head writer for SpongeBob SquarePants, Stephen Banks.
Pilobolus has made television spots for Mobil, Ford, Toyota, Opel, and Hyundai; created live events for IBM, McKinsey, United Technologies, Dupont, and Merck; and has presented gala performances for Joe Boxer, Marithe Girbaud, MAC Cosmetics and Krizia, among others. In 2007, the company created and presented six acclaimed performances during the 79th Annual Academy Awards, and produced a series of original segments for the Oprah Winfrey Show; in 2008, it was featured on the Conan O'Brien show; and in 2009 it was nominated for a Sports Emmy for its work for the NFL Network. PCS has also produced two books for national distribution, Twisted Yoga and The Human Alphabet, and releases an annual calendar in collaboration with a number of noted American photographers.
Pilobolus and the music group OK Go were nominated for a Best Short Form Music Video Grammy Award for the "All is Not Lost" music video in 2012.
(Pilobolus dancers also appeared as background elements in Marilyn Manson's 1999 "The Beautiful People" video.) This project was based on "truly a full collaboration for us," Pilobolus' co-executive director Lily Binns said. "We share a similar sensibility with OK Go. We all like making the impossible look possible."
The company has continued to grow, expanding and refining its unusual collaborative methods to produce a body of over 100 choreographic works, and while it has become a stable and influential force in the world of dance, Pilobolus remains as protean and surprising as ever.
They have not been afraid to gamble on the collaborative process. Robby Barnet humorously adds, "We did start out with a kind of curious arrogance that we could collaborate with anyone, and we're starting to think we were right. No one's flipped us yet, so there's a kind of psychic jujitsu. We take people who don't think they want to collaborate and trick them into doing it anyway."
In fact, their work in shadows was initially suggested by the advertising agency that was working for Hyundai.
Pilobolus has received a number of prestigious honors, including the Berlin Critic's Prize, the Brandeis Award, the New England Theatre Conference Prize, and a Primetime Emmy Award for outstanding achievement in cultural programming. In June 2000 Pilobolus received the Samuel H. Scripps American Dance Festival Award for lifetime achievement in choreography and in 2004 the company was featured on CBS 60 Minutes. In 2007, Robby Barnett, Michael Tracy and Jonathan Wolken received the Kenneth and Harle Montgomery Endowment Fellowship from Dartmouth College.
ON THE PROGRAM:
GNOMEN (1997): This is one of Pilobolus' classic men's quartets. Gnomen's lyrical exploration of relationships emerges from an unusually inventive physical vocabulary and is dedicated to the memory of Pilobolus' friend and colleague, Jim Blanc.
ALL IS NOT LOST (2011): All is Not Lost is the live companion to Pilobolus' video collaboration with the Grammy-winning band OK Go. Playing with multiple perspectives, gravity, and dimensionality, the piece changes the way we look at dance through a kaleidoscopic view of human connection.
SWEET PURGATORY (1991): Created for Pilobolus' 20th anniversary. A response to the music of Shostakovich's Chamber Symphony, the remarkable orchestration for strings of his own 8th Quartet. The score suggests and the dance explores sequentially a hovering premonitory world, its descent into Hades, and the determined climb back toward Purgatory and finally, out of an ominous post-apocalyptic surroundings toward Hope.
DUET (1992): A classic, rarely performed duet that has not been shown in almost a decade, Duet was revived in 2011 for the company's 40th anniversary. Two women's intense attraction and affection turns into a struggle for power and domination. A tender, loving, and intense physical relationship is portrayed on stage, exploring themes of intimacy, misunderstanding and the hope of successful union.
MEGAWATT (2004): A full-throttle, full-company piece, blends startling energy with an ironic take on the excess and high-voltage state of the world we live in. Ultradynamic moves to the music of Primus, Radiohead and Squarepusher; a breathtaking display of the company's physical endurance and prowess.