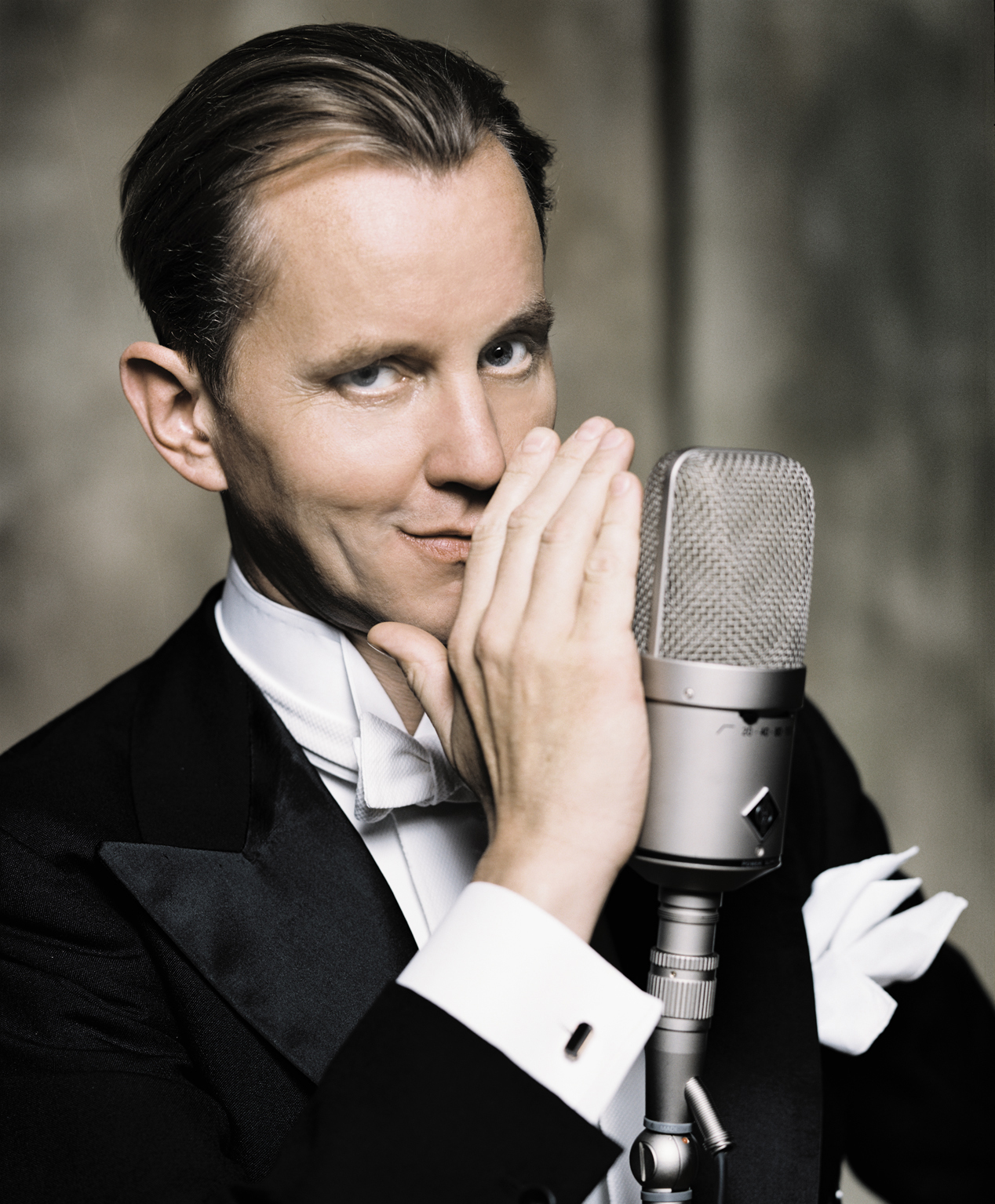 Putting on my top hat, Tying up my white tie, Brushing off my tails....
Enjoy a musical evening of wit and high style. Max Raabe and his ensemble evoke the musical glory of the 20s and 30s.
Max Raabe and Palast Orchester: One Cannot Kiss Alone
Wednesday, February 22, 2012 at 8pm
Tickets: $33, $38, $45
You can be sure of an evening of high-style, droll wit, and fabulous music when Max Raabe and his 12-piece Palast Orchester (Palace Orchestra) return to the Barclay. This urbane group from Berlin is renowned for recreating the musical glory of the Weimar-era, pop songs of the 20s and 30s, and exquisitely crafted modern love songs. Songs you've heard many times, and songs you will want to hear again and again. Max's winsome demeanor and playful banter have charmed audiences from Carnegie Hall to L.A. He sings with his tongue firmly in-cheek... but in high musical style.
The theatrical and charismatic baritone, Max Raabe is a singer and entertainer of incredible range and sly humor. He can capture the cunning of the cabaret star, the confidence of the bel canto hero and the nonchalance of the carefree jazz singer.
Performing tunes from the glory days of the American movies or "German chansons" from the turbulent Weimer Republic, Max Raabe has found a way to make the old sound new again. "It's music that pleases, that makes people happy," he says. "The music is timeless—the black humor, the elegance, the subtext under every line."
Raabe and his orchestra are slick and sophisticated, nostalgic but distinctly modern, expert and entertaining, and simply original.
Raabe's fascination with the music of the 20s and 30s began when he was 14.He was looking through his parents' record collection and discovered his first 78-RPM record. He remembers it being a funny, quick foxtrot called "I'm Crazy About Hilde."
"It was a happy song, but there was sadness in it, and that was curious to me. The music seemed so far away because of the arrangement and very bad mikes (used for the recording)."
His love of music only grew with time. He entered the Berlin University of the Arts in hopes of becoming an opera singer. But that was not meant to be.
"You have to be utterly disciplined as a classical singer and that is not me," Raabe says. "I'm more a pleasure-craving individual."
Then in 1986, he and a few fellow students at the Berlin University of the Arts came up with the idea of recreating the strict yet elegant sound of the Twenties with an orchestra. And the search for old hits began— in archives, at flea markets and in old book shops.
Indeed, the arrangements are faithful to the period. The ensemble has four saxophones, two trumpets, a trombone, a double bass, a tuba, drums, a piano, a guitar, a banjo and a violin. But no conductor.
"We have a music director who is also one of the musicians in the orchestra. During the concert all of the musicians pay attention to one another. Using internal signals and agreements we are able to change tempos radically without a conductor."
So what began with 20 performances in 1986 has blossomed into a Berlin institution of international acclaim with a repertoire that now encompasses more than 500 songs, including classics such as "I'll Kiss Your Hand, Dear Lady," "Cheek to Cheek," "You're the Cream in My Coffee," as well as more American and mostly German standards from that era such as "Ninon," "Salomé," "Irgendwo Auf Der Welt," and new stylistic adaptations of contemporary songs and original tunes such as his breakthrough hit "No one Ever Calls, No one Has a Care for Me."
The Palast Orchester performs roughly 30 concerts a year in their home city at the Berliner Waldbühne or in the Admiralspalast and enjoys regular invitations to such esteemed festivals and concert halls as the Vienna Festival, Concertgebouew in Amsterdam, and the Montreaux Jazz Festival.
In 1997, Palast Orchester celebrated their 10th anniversary with an audience of 20,000 at Berlin's Waldbühne. In 2000 the album "Charming Weill" was released on BMG Classics, a homage to the composer Kurt Weill, which was awarded the "Classic Echo", and "Super Hits" replaced the Beatles as the "No.1" album in the charts in Latvia. In 2002 the Palast Orchester had the honor of opening the Viennese Festival Weeks for an audience of 40,000 and in the same year this orchestra made its USA premiere at Royce Hall in Los Angeles and the Fox Theater in Atlanta GA. From its premiere at Hamburg's Thalia Theater in August 2003 to the last show in mid 2007 the lavish production Palast Revue with changing scenery, a stunning chorus line and video backdrop was seen by more than 300,000 people.
In Spring 2004, Max Raabe and his pianist Christoph Isreal made his New York debut in two sold-out solo concerts in the Neue Galerie on New York's elegant Upper East Side. This and the following tour of Max Raabe & Palast Orchester to Los Angeles, Atlanta and San Antonio really sparked off their US career. In 2005 Max Raabe & Palast Orchester made their Carnegie Hall debut at Zankel Hall. In the following yearly tours to the US, the Berlin based band performed in an ever increasing number of cities, winning more and more enthusiastic fans as they played themselves from success to success. The highlight for the German gentlemen and beautiful lady violinist were two sold out concerts in Carnegie Hall, of which The New York Times simply remarked "Fantastic!" and New York Daily News added "Max Raabe and his Palast Orchester may be one of the smoothest treasures ever to hit Carnegie Hall." Their 2007 Carnegie Hall concert was recorded live and released as Tonight or Never, reaching Gold-status in Germany.
Recent tours in the US have included stops in Philadelphia, New York, Boston, Cleveland, Los Angeles, San Francisco, Chicago, Pittsburgh, and Minnesota, among many other cities. In October 2010 Max Raabe & Palast Orchester also made their first tour of Israel. In February 2012, Universal Records will release their new album, One Cannot Kiss Alone in the US.