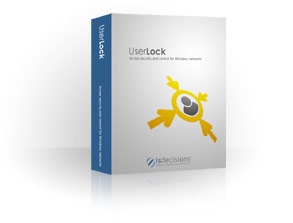 Biarritz, February 25th, 2009: IS Decisions, French security software vendor, today announced the launching of UserLock 5.0 Beta-Testing Program.

UserLock is a unique software solution that allows system administrators to:
- prevent or limit concurrent sessions,
- limit user access to the network per workstation or customizable IP addresses range,
- set time restrictions,
- be provided with session control, alerts and full connectivity analysis and reporting features.

More than 500,000 UserLock licenses are currently in use by hundreds of security demanding international organizations including:
US Department of Justice, BAE Systems, US Navy Marine Corps, US Department of Veterans Affairs, US Bureau of Alcohol, Tobacco, Firearms & Explosives, NY State Organized Crime Task Force, US State Department, Lockheed-Martin, Raytheon, United Nations Organization, Banco Santander, ...


WHAT IS NEW IN USERLOCK 5.0 BETA?

UserLock 5.0 beta comes with numerous enhancements and new features, including:
- entirely revamped Graphical User Interface (console and Web)
- dynamic display of the Active Directory tree
- protection of RAS and VPN (RRAS and RADIUS) sessions
- protection of Wi-Fi Access Points
- '


HOW TO JOIN USERLOCK 5.0 BETA-TESTING PROGRAM?

IT professionals interested in joining UserLock 5.0 Beta Testing Program just have to complete the brief registration process on IS Decisions' Web site:
http://www.isdecisions.com/en/software/userlock/beta-5.htm

They will be sent detailed information and provided with personalized Technical Support during their evaluation.