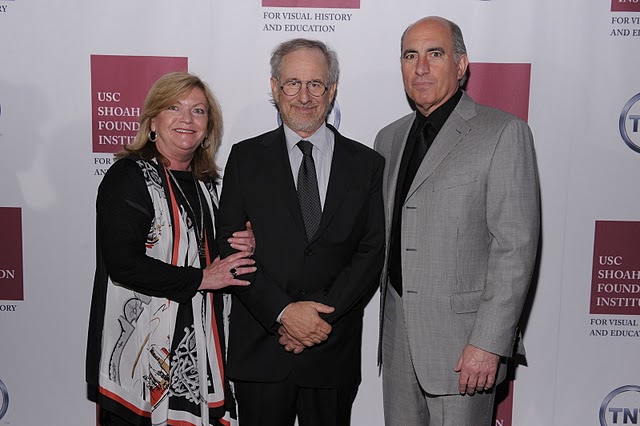 Philadelphia, PA -- MKS&D board members Cosmo and Janet DeNicola joined famed filmmaker and Hollywood powerhouse Steven Spielberg, who created a foundation to preserve oral histories of the Holocaust, in honoring the head of cable TV giant Comcast for his work as "an ambassador to learning."

Spielberg presented Brian Roberts, chairman and chief executive officer of Philadelphia-based Comcast Corp., with the Shoah Foundation's annual Ambassadors for Humanity award at a benefit gala in Philadelphia on Monday May 9th.

The foundation and Comcast have joined forces on educational initiatives to advance the organization's mission to promote tolerance.

The three-time Oscar winner in a statement called Roberts "a longtime advocate of finding and developing innovative avenues to reach and educate young people."

Spielberg was inspired by his 1993 Holocaust epic "Schindler's List" to establish the Shoah Foundation, which gathers video testimonials from Holocaust survivors and eyewitnesses to use as teaching tools for current and future generations.

Today, the foundation's Visual History Archive is one of the world's largest video libraries, with nearly 52,000 testimonials from 56 countries and in 32 languages. Its goal is to provide the videos to scholars and educators as a way of educating young people about the suffering caused by xenophobia around the world.

MKS&D formally launched in early March 2011, with the partnership between J. Mitchell Management (JMM) and the DeNicola Family.

Cosmo DeNicola, chairman of the board of MKS&D, is a technology entrepreneur, and owner of a national technology company, Amtech Software. The acquisition of MKS&D marked Cosmo's first major entree into the film and television industry, although past investments include film and music productions. He is also a member of the ownership group of the Philadelphia Soul of the Arena Football League.

Janet DeNicola, a member of MKS&D's board of directors, is a technology entrepreneur, and owner of two national IT companies, Futura Services, Inc. and Futura Healthcare Technology, LLC. She is an active member of the Women's Business Enterprise National Council and Women Presidents' Organization. From developing the strategic plan to overseeing the financial management of her companies, Janet has assembled a world-class organization to meet the ever-changing needs of Futura's customers. She is also an active investor in film and music productions.

About MKS&D: MKS&D is a talent management firm with offices in Beverly Hills and New York City. MKS&D represents actors and creative talent in the fields of motion pictures, television and theater. With over two decades of experience in the entertainment industry, the firm is dedicated to achieving both the professional and personal goals of its clients.