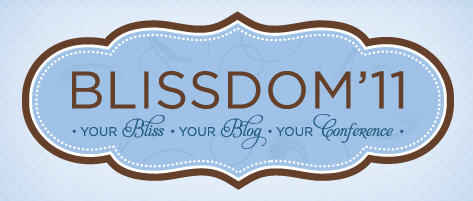 We're so excited to be a part of
Blissdom
this year: January 26-28, 2011, at the Opryland Hotel, in Nashville, TN.
Get in the know:
Blissdom is the premiere conference for women who find and express their bliss by publishing online. Blissdom '11, our fifth conference, is a welcoming oasis in the ever-changing blogging world. Speakers and panels featuring the best blogging, public relations and social media pros will be gathering to mentor new and old friends alike. -
Blissdomconference.com
Why we're excited:
We can't wait to talk with hundreds of amazing bloggers (our favorite!) about our brand,
Jockeyr products
, social media and our new blogger program. When it comes to buying products, who doesn't get sick of brands just blabbing away about how amazing their products are? (We really do think our products are the best, though.) Of course we want you to always trust our advertising and marketing, but we also want you to be able to hear what other people, who have tried our products, think about Jockeyr.
Nashville.Blissdom '11.Opryland Hotel.are you ready for the excitement that
Jockeyr
is bringing?!
Here's what we've got planned:
Welcome gift for every blogger
You'll get a coupon for a FREE
Jockeyr products
No Panty Line Promiser panty to wear to our "Light the Fuse" party. (Hint: you'll strut the red carpet panty and dance the night away with line FREE confidence). Don't forget to pick up your style at our
Jockeyr
booth on Thursday.
A secret code (shh). Stop by our booth and enter your secret code to reveal YOUR special gift! (The gifts are sooo good.)
Plus, a couple other treats. We have to keep something a surprise!
"Light the Fuse" Cocktail Party
A night of fun! You'll get to walk the red carpet (with
Jockeyr products
No Panty Line Promiser line FREE confidence), get interviewed about what you're wearing and pose for a photo opp! Let the party begin. Plus, we'll have a great
Jockeyr
giveaway that you won't want to miss.
See you there: Fuse Night Club, Thursday, January 27 at 6:30pm.
Our Jockeyr booth
Bring your "Light the Fuse" party coupon (in your welcome gift) to get your FREE
Jockeyr products
No Panty Line Promiser underwear style for the party! You'll get to pick from three great fabrics.
Redeem your secret code (in your welcome gift) for your special Jockeyr gift!
See our brand new
Jockeyr SPORT women's activewear collection
. You can try it on, too!
Plus, we're launching a brand ambassador program! Learn about becoming an "I wear Jockeyr" blogger.
Fitness Walk
Join us for a fitness walk, led by
MizFitOnline
, on Friday January 28th, at 7:00am. We'll be doing a power walk around the amazing Opryland Hotel. Plus, you'll get the chance to WIN our new
Jockeyr SPORT collection
. Stay tuned for details at Blissdom!
The official countdown to Blissdom begins! Safe travels and see you in Nashville!
p.s. Can't wait to see
@HeirtoBlair
, the fabulous, amazing, witty supermom that we're sponsoring. If you haven't yet, be sure to
check out her blog
.