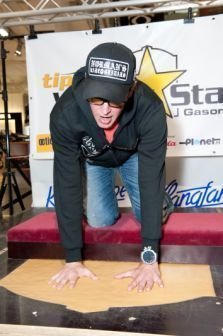 Joe Imprints at the Walk Of Stars in Vienna, Austria

Joe Imprints at the Walk Of Stars in Vienna, Austria
On July 3, 2012, Bonamassa brought an exclusive presentation to the Vienna Opera House. This All-Acoustic set was filmed for a new DVD to be tentatively released in March of 2013. While in Vienna, Joe visited the Klangfarbe Music Store, located in the historic Gasometer buildings, to meet fans; and was honored by the Vienna Walk Of Stars where Joe imprinted his hands, feet, and signature to be forever immortalized in cement for the City to behold. Other famous musicians inducted by the Walk of Stars include Deep Purple, Alice Cooper, Steve Lukather, Peter Frampton, Bryan Adams and Manfred Mann. Here is a video of Joe at the imprinting ceremony in Vienna:
http://bit.ly/M8b8U0
.
Fans loved the new all-acoustic show and posted raved comments on Joe's Facebook:
"Totally Amazing!"
"Speechless, an amazing performance. Waiting for the DVD to see it over and over again."
"Amazing scene, awesome atmosphere, I left speechless and full of emotion."
"It was an outstanding experience both for the music and the location. Truly extraordinary!"
"A perfect show! And a perfect view from the top right corner!"
During this once in a lifetime show, Joe was accompanied by an eclectic assortment of craftsmen of disparate World flavors, provided by top artists from around the globe including: Gerry O'Connor, a music historian and traditional Irish fiddler; Swedish multi-instrumentalist Mats Wester; Los Angeles keyboard maestro Arlan Schierbaum, and rounding out this cast is legendary Puerto Rican percussionist Lenny Castro.
The Vienna Opera House is a sublime cultural iconic venue steeped in history and heritage, and is the perfect backdrop for such a dramatic and original music presentation. Vienna is regarded as the City of Music because of its musical legacy, with more famous composers having lived there than in any other city. Bonamassa will now have the honor of playing on the same stage as other musical prodigies like Wolfgang Amadeus Mozart, Ludwig Van Beethoven, Franz Schubert, Johannes Brahms, Gustav Mahler and Joseph Haydn.
For years, Bonamassa has been wowing audiences with his acoustic guitar number that he currently features on his electric tour. This flagship acoustic song, "Woke Up Dreaming" has become an iconic staple of his tour around the world and a fan favorite. To see Bonamassa perform this song for a taste of what this acoustic tour will bring, and also get a free download of the single from the new album "Driving Towards The Daylight", visit
http://bit.ly/MXbQW0
.
For more information about Joe Bonamassa please visit:
www.jbonamassa.com