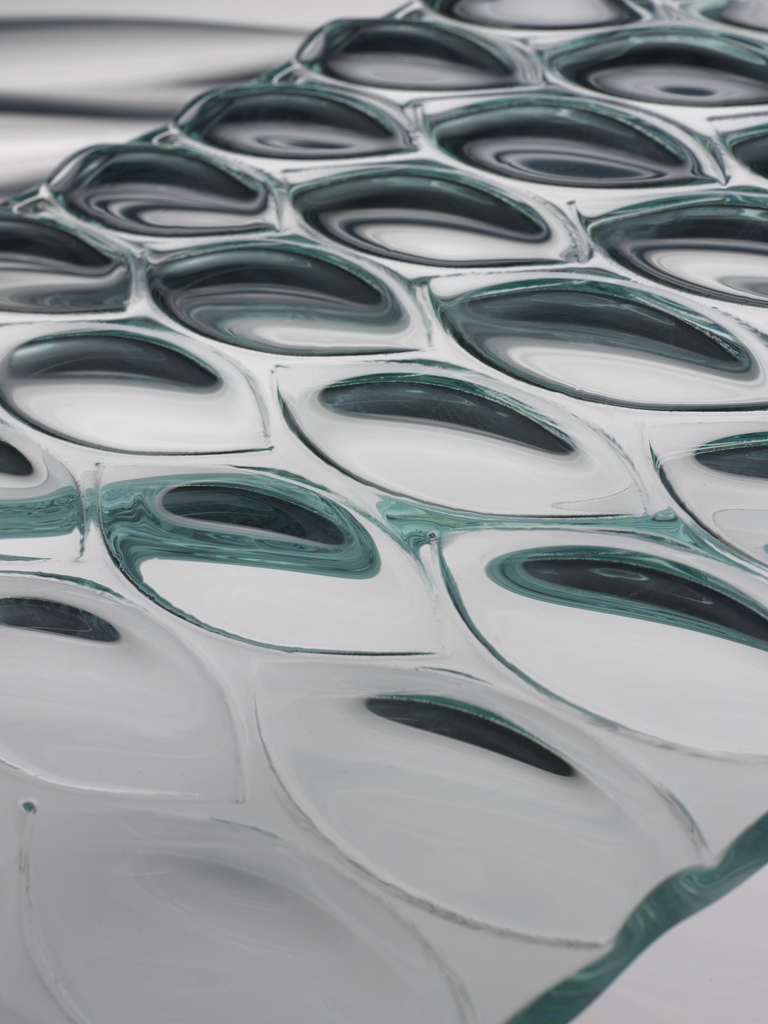 Vancouver -- Continuing to push the boundaries of kiln cast glass design, Joel Berman Glass Studios introduces Stilla, a three-dimensional, textured pattern. An extension of the award-winning BIG Collection, this effervescent and active texture is a scaled down companion to Ellisse, and expands the pallet of related textures in different scales available to designers and architects.
Stilla's accentuated three dimensional pattern is ideal for active hospitality environments including hotel lobbies, restaurants and retail spaces. The dynamic reflective effects of this clear textured glass heighten the atmosphere of these bustling environments by adding visual interest. Stilla can also be back-painted in many colors to suit specific color schemes in designed spaces.
Stilla can be used in feature walls, behind hotel and corporate reception desks to enhance and visually accent the area. Using Stilla as a divider screen, sliding door or wall cladding between spaces also offers a dynamically inspiring and visually bold three dimensional expression in glass. Available in panels up to 54" x 108", Stilla is suitable for interior and exterior application and can be tempered for safety and impact resistance.
About Joel Berman Glass Studios
Joel Berman Glass Studios is a world-renowned designer and manufacturer of glass art for the architecture and design community, and offers leading edge solutions and collaboration possibilities to take any glass art project from concept to installation. From its design studio and manufacturing facilities located in Vancouver, BC, Canada Joel Berman Glass Studios offers kiln-cast and pressure-formed glass, and related complementary products, crafted to the highest standards and featuring designer textures, colors, hardware and design services.