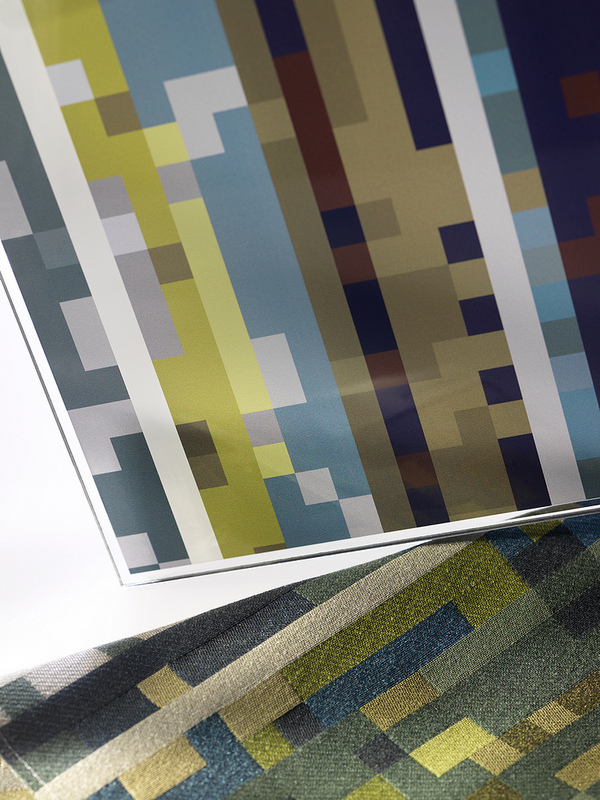 The Maharam Collection by Joel Berman Glass Studios

The Maharam Collection by Joel Berman Glass Studios
Joel Berman Glass Studios is introducing a new collection that translates Maharam's textile designs onto glass. Part of the growing Berman Graphics: Print offering, the Maharam Collection will debut at NeoCon 2012.
The Maharam Collection features four designs by the Maharam Design Studio—Anagram, Contrary, Disperse, and Fathom—with the potential to expand over time. The initial offering ranges in style from organic to geometric, all while representing Maharam's clean, graphic approach to modern pattern design. The Maharam Collection can be printed and scaled to suit site specific applications, in tempered, laminated, drilled, polished fabricated glass.
Using UV cured inks and a precision digital printing process, Joel Berman Glass Studios is able to accurately transfer Maharam's designs and colors onto large panels of glass that are scaled and produced on a custom project basis.
"This partnership is an exploration of colour, design and sustainability. Maharam's designs are timeless creations," said Joel Berman. "And printed on our glass, with our new digital printing techniques, the medium matches the message, and the technique encourages the use of these designs for building facades, back splashes, wall dividers and other applications."
Designers are now able to coordinate Maharam's signature designs in glass applications. Previously only available in fabric, this material palette allows designers to create spaces with a unified approach to color and pattern. The print can be translucent or opaque for privacy. The beauty of the textile on glass becomes a medium that reflects, transmits, or diffuses light and is suitable for interior and exterior applications.
About Joel Berman Glass Studios
Joel Berman Glass Studios is a world-renowned designer and manufacturer of glass art for the architecture and design community, and offers leading edge solutions and collaboration possibilities to take any glass art project from concept to installation. From its design studio and manufacturing facilities located in Vancouver, BC, Canada, Joel Berman Glass Studios has been offering kiln-cast and pressure-formed glass, and related complementary graphic patterns printed on glass.products, crafted to the highest standards and featuring designer textures, colors, hardware and design services or more than 30 years.
About Maharam
Maharam offers a comprehensive collection of textiles for commercial and residential interiors. A fourth-generation family business, Maharam embraces a rigorous and holistic commitment to design. The New York-based Maharam Design Studio takes an in-depth approach to the exploration of pattern, material and technique. Maharam textiles are included in the permanent collections of the Art Institute of Chicago and the Museum of Modern Art, among others. Maharam Agenda was published by Lars Müller in 2011.
# # #