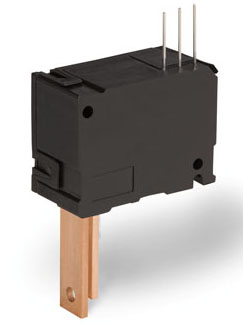 Stuttgart -- Johnson Electric today announced a disconnect relay product line for smart electric meters. The remote disconnect function in a smart meter aligns with the requirements of the electric power industry's smart grid initiative. The Ledex-EM product line is a bi-stable latching relay designed to provide the highest electrical performance in a compact package.
The Ledex-EM product line provides industry-leading switching performance and reliability, resulting from a unique design that minimizes contact bounce and resistance. This disconnect relay has the highest magnetic tamper resistance in any position, preventing switching by an external magnetic field. The Ledex-EM product line is designed with a circuit breaking capacity up to 120Amps. For smart meter design flexibility the product line can be customized for multiple control pin-out positions and special terminals.
"This innovative Ledex-EM product line results from design collaboration between our engineering centers in Germany, USA and China" said Jim Dick, Johnson Electric's senior vice president of Strategic Marketing.
For further information, please visit: www.johnsonelectric.com or e-mail sales@johnsonelectric.com.
About Johnson Electric Group
The Johnson Electric Group is the world's leading provider of innovative motion systems and components for automotive applications, domestic equipment, office equipment, industrial products, consumer products and medical devices. The Group is headquartered in Hong Kong and has over 40,000 employees in 23 countries. Innovation and product design centers are located in Hong Kong, China, Switzerland, Germany, Italy, Israel, Japan, UK and the USA. Production centers are located in China, Switzerland, Italy, Poland, Hungary, USA, Brazil, India and other countries. Johnson Electric Holdings Limited is listed on the Hong Kong Stock Exchange (code 179).