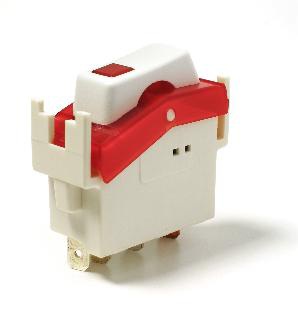 Hong Kong -- Johnson Electric today announced the TIPPMATICr product line of intelligent auto shut-off switches for coffee machines. The Tippmatic technology ensures compliance with Europe's "Eco-design directive for energy using products (EuP)."

The TIPPMATIC product line is designed to improve the energy efficiency of a wide range of coffee machines from the basic filter type to fully automatic espresso machines for domestic or commercial use. TIPPMATIC is made to simplify coffee machine design and assembly. The product line comprises four configurations to address the functional requirements of different coffee machine designs.

- TIPPMATIC Timer for filter type machines is an auto power-off switch with integrated electronics. A complete range of auto shut-off times is available to meet any requirement.
- TIPPMATIC iF for fully automatic machines is an auto power-off switch with integrated interface. Shut-off signal is provided externally by the coffee machine's control unit.
- TIPPMATIC Plus for fully automatic machines is designed with an internal drive unit and interfaces with the coffee machine's control unit that generates a shut-off command.
- TIPPMATIC iPlus for fully automatic machines has an integrated microprocessor, internal drive unit and interface. The processor supports for custom features, e.g. reservoir level indication, temperature, lime-scale, coffee-load and cover position.

"The TIPPMATIC product line is customizable for ease of integration within any coffee machine design," said Jim Dick, Johnson Electric's senior vice president of Strategic Marketing. "TIPPMATIC's switch technology with integrated electronics is a unique product to support EuP compliance," he added.

For more information about TIPPMATICr, e-mail sales@johnsonelectric.com

About Johnson Electric Group
The Johnson Electric Group is one of the world's largest providers of motion systems and components for automotive applications, domestic equipment, office equipment, industrial products, consumer products and medical devices. The Group is headquartered in Hong Kong and has over 38,000 employees and subcontract workers in 20 countries. Innovation and product design centers are located in Hong Kong, China, Switzerland, Germany, Italy, Israel, Japan, UK and the USA. Production centers are located in China, Switzerland, Italy, Poland, Hungary, USA, Brazil, India and other countries. Johnson Electric Holdings Limited is listed on the Hong Kong Stock Exchange (code 179). For further information, please visit: www.johnsonelectric.com or contact Jim Dick: at +852 2663 6629 or email jim.dick@johnsonelectric.com.