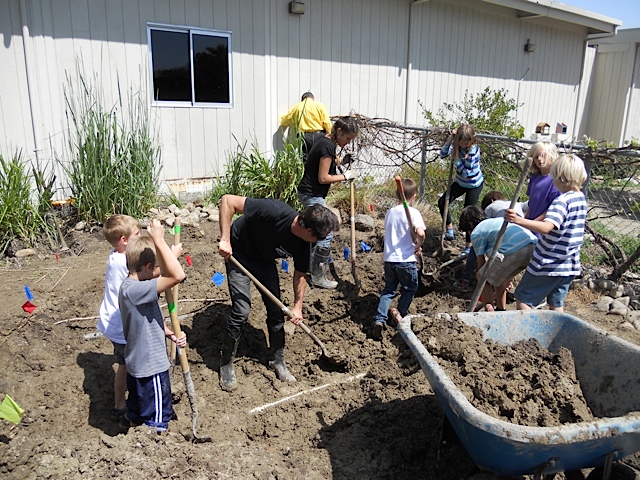 Journey School, Capistrano Unified School District's first public parent-initiated Waldorf charter school, installed a rainwater harvesting demonstration site at the front entrance of the school. The water conservation project was designed and initiated by 8th grade student, Cyreine Adams as part of her 8th grade project and Journey's eco-literacy curriculum.
Cyreine researched her project for several months, measuring and calculating how much rainwater falls on the school's office building. Her goal is to reuse the water to hydrate local native plants, attract habitat and food for local bees, butterflies, and lizards, as well as to beautify the school's entrance and to provide environmental education. Cyriene's rainwater project will be used as an educational demonstration site for the school and community to learn about water conservation and reuse.

Cyreine was inspired after hearing Brad Lancaster, author of Rainwater Harvesting for Drylands and Beyond who presented to the 8th grade students as part of Journey School's ecoliteracy curriculum.

Upon hearing about Cyreine's project, Brad Lancaster said "Cyreine was thirsty to learn, allowed the flow of water-harvesting wisdom sink in, got inspired, took action, and planted that knowledge to grow [Journey School] into a better place for students, teachers, staff, visitors, and the community—including plants, animals, and insects! [Cyreine] is giving all who encounter the project the opportunity to enjoy the functional beauty you've created, learn from your example, and spread your good work to their own homes, workplaces, and beyond. This is how change happens!"

Cyriene's project is part of a larger school initiative at Journey School. The ecoliteracy program teaches and engages students in the environment and prepares them for the 21st century. K-8th grade students learn about the principles of sustainability to include gardening, soil building, composting, worm composting, recycling, water conservation and reuse, rainwater harvesting, native skills, medicinal plants, permaculture principles and eco-leadership to name a few.
As part of the Waldorf public education curriculum, 8th grade students select an in-depth project designed to delve deeply into a subject that interests them. The students then do research, develop an initiative, acquire the new skills needed to complete the project, and foster a respect for working with physical materials. They are asked to design or build something that adds a "hands on" component to their intellectual work. Finally, the students are required to present their work to the school community.
School Director, Shaheer Faltas said he's excited by the outcome of Cyreine's rainwater project and it is an inspiration for the school and community. Mr. Faltas is a strong advocate for Waldorf public education. He has also championed innovative educational programs such as ecoliteracy, digital literacy and social literacy.
The rainwater harvesting demonstration and eco-literacy program are made possible by the generous financial gifts received from individual, community and corporate donors. The Home Depot, Paradise Designs and Tree of life Nursery donated the needed materials, and the physical installation of the rain harvesting site was led by Cyreine and Jodi Levine of Earthroots Field School, who were assisted by members of the community including student and parents from Journey School and SOKA University.
Journey School prides itself on being able to offer these innovative programs to its students and appreciates donations.